Oil based stains such as motor oil, grease and tire marks on concrete surface makes your them unappealing. Additionally, starch and protein based stains such as mold, mildew and lichens, animal wastes and more can degrade your outdoor investment.
To effectively clean your concrete surfaces and safely remove stains, an effective and gentle cleaner will do the trick. We have researched, test and use the following concrete cleaners and we reaffirm that they are the best.
ACT Concrete Cleaner 2.5lb
All-Purpose Masonry & Concrete Cleaner, 2 LB Pail - Cleans Driveways, Sidewalks, Patios, Garage Floors, Pavers & More
GP66 Green Miracle Cleaner, Gallon Cleans Over 1,000 Surface Types All-In-One Powerful NSF Approved
6 Best Concrete Cleaners
Scrubbing or power washing only deals with surface stains that may resurface. The method can also cause scratching and spalling of a concrete floor. Using a suitable concrete cleaner that penetrates into concrete pores to break down stains, dirt and grime offers an effortless way of cleaning your concrete patios, driveways, sidewalks, garage floors and more.
While there are varieties of cleaners out there, we help you land on the best. The following are the top rated and safe concrete stain removers:
1. ACT Microbial Concrete Cleaner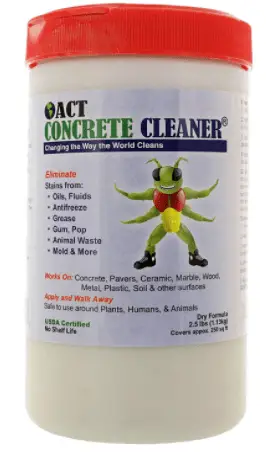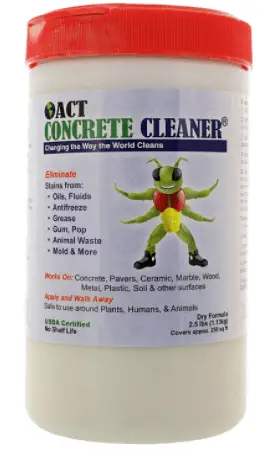 Why we like it
Non-toxic and eco-friendly
No power washing thus conserves water
Effortless cleaning without need to scrub
Eliminates odors as it cleans
has effective grease cutting power
effectively cleans stains on most surfaces
Most chemical cleaners such as bleach when used on concrete end up affecting plants, animals and humans around. ACT Microbial Concrete Cleaner is the safest cleaner that deals with both petroleum and protein based stains on concrete without damaging it or causing environmental problems.
This cleaner uses enzymatic microorganism to break down all types of stains such as mildew, grease, motor oil, pet urine, food spills and more into carbon dioxide and water only. It is safe to use on concrete, cement, patios, pavers, sidewalks, driveways, wood and plastic among other surfaces. In addition, it eliminates odor and prevents further contaminations to the surroundings.
How to use
ACT Concrete Cleaner is easy to use thanks to the cap designed to support shaking it onto the surface. Simply apply a small amount on the stained area and use a soft bristle broom or brush to spread it in one direction and then opposite.
Spray it with a little water to become damp and leave it without sweeping or washing it off. The formula and all the stains will dissipate over time. You may reapply after two weeks for a complete eat up of contaminations.
Concerns
This cleaner will not produce instant results. Being a microbial formula, it takes time to eat away contaminations. Be sure to follow label instructions on the bottle.
Verdict
Many users of this product are highly satisfied with how it eliminated stains from the concrete. ACT Concrete Cleaner is cheap per unit volume as compared to similar products. We highly recommend it for anyone who want to make their concrete look new again.
2. GP66 Green Miracle Cleaner


Why we like it
A multipurpose highly effective cleaner
Removes the toughest dirt, grease and grime
Safe and Eco-friendly product
NFS, O.S.H.A, EPA approved
This is a biodegradable, safe concentrated cleaner that can be used to clean anything in your home both indoors and outdoors. GP66 is an all-purpose cleaner approved as safe by NSF, OSHA, EPA, USDA, Department of Health and Human Hygiene, and even Aviation Administration.
This industrial and home cleaning formula has outstanding cleaning abilities and best to deal with any type of stain or dirt on every surface. In addition to removing petroleum and protein stains on your patio, driveways and garage floors, it also used for laundry, cleaning of kitchen items, bathrooms, furniture and other equipment.
How to use on concrete
Spray GP66 full strength on the stain and let it sit for at least 5 minutes. Gently scrub with a brush and rinse with water. GP66 Green Miracle Cleaner emulsify stains, grease, and all grime leaving your surface sparkling. Additionally, this formula removes any odor and gives a home a fresh smell.
Be sure to test on small area if you are dealing with a color sensitive surface. You may repeat the cleaning to get the most perfect outcome. For cleaning other surfaces or items in your home, read the label instructions.
Concerns
Some customers have expressed concerns about strong fumes especially when using indoors. Always open windows to allow air flow.
Verdict
An all-purpose cleaner that can be used for cleaning any item in a home brings convenience to users. Bing safe and environment friendly, this is the best cleaner for your concrete and other surfaces.
3. All-Purpose Masonry & Concrete Cleaner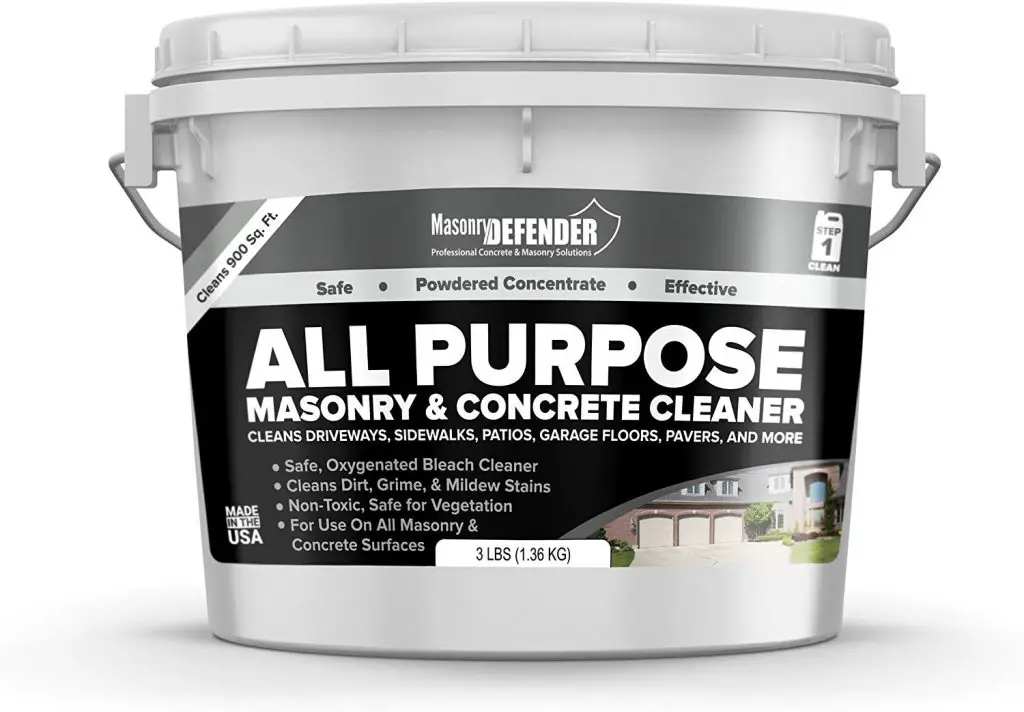 Why we like it
Safely cleans and restores concrete surfaces
Effective oxygenated bleach cleaner for concrete
Cleans tough dirt, grime, and stains caused by mold & mildew
Non-toxic formula safe for vegetation
Makes more cleaning solution when the powder is mixed with water
This is one of the best cleaners for eliminating stains, black spots, dirt, grime, mold, mildew and more from your outdoor concrete floors and masonry walls. The non-toxic formula can be used around animals and vegetation.
All-Purpose Masonry & Concrete Cleaner can safely be used on concrete driveways, patios, garage floors, sidewalks, pavers and more. After correct use as directed on the label, this formula makes your outdoor concrete investment to look new by restoring their original appearance.
The cleaner comes in a concentrated powder form. To use, you will have to dissolve it in water so that you come up with 6 gallons of a cleaning solution. Before use, follow the clear manufacturer's instructions.
Concerns
Some customers are unhappy about lengthy time it took to soak. Dealing with powder can be messy thus need to be careful.
Verdict
This product works very well in removing all tough stains from concrete without need to worry about vegetation around. We recommend this oxygenated bleach for restoration of your stained concrete and masonry walls.
4. EXIMO Waterless Concrete Cleaner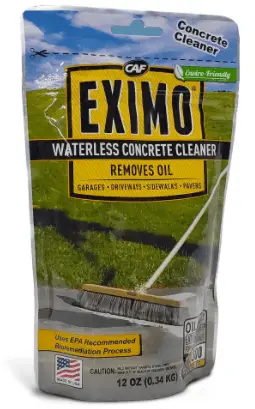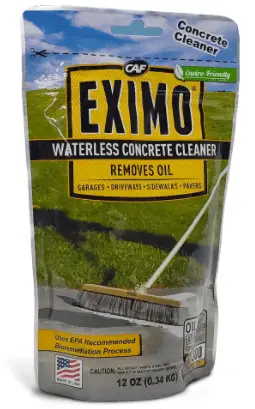 Why we like it
Effectively restores concrete color
Tough on stains but safe around plants, family and pets
Multipurpose cleaner for outdoor concrete spaces
Can be applied wet or dry
Easy to clean as no scrubbing is required
Eco-friendly cleaning formula
Environmental safety is a great concern when using any type of cleaner in our homes. EXIMO Waterless Concrete Cleaner is a powerful and natural solution that can be used safely without harming animals and surrounding plants such as grass and flowers.
This multipurpose cleaner uses microbial activity to break down and lift off petroleum stains such as oil, grease and other dirt contamination from outdoor concrete areas. This is the best formula for restoring the natural color of your driveways, concrete patios, garage floors, sidewalks, pavers and parking lots and similar surfaces.
Application of this cleaner is very simple and direct. You simply splash the powder on your wet or dry surface and leave it to only wait for results. Do not sweep up or wash off. After several days all the stains and dirt will be gone without scrubbing or pressure washing.
Concerns
Microbial formulas take time to clean a surface and therefore do not expect instant results. Splashed dry powder can be blown around by wind. If this is your concern, apply on a slightly damp surface.
Verdict
Environment friendly effective cleaner that restores your outdoor concrete without much effort. We recommend it for you especially if you don't time for scrubbing and rinsing your surfaces.
5. Oil Eater Original 1 Gallon Cleaner/Degreaser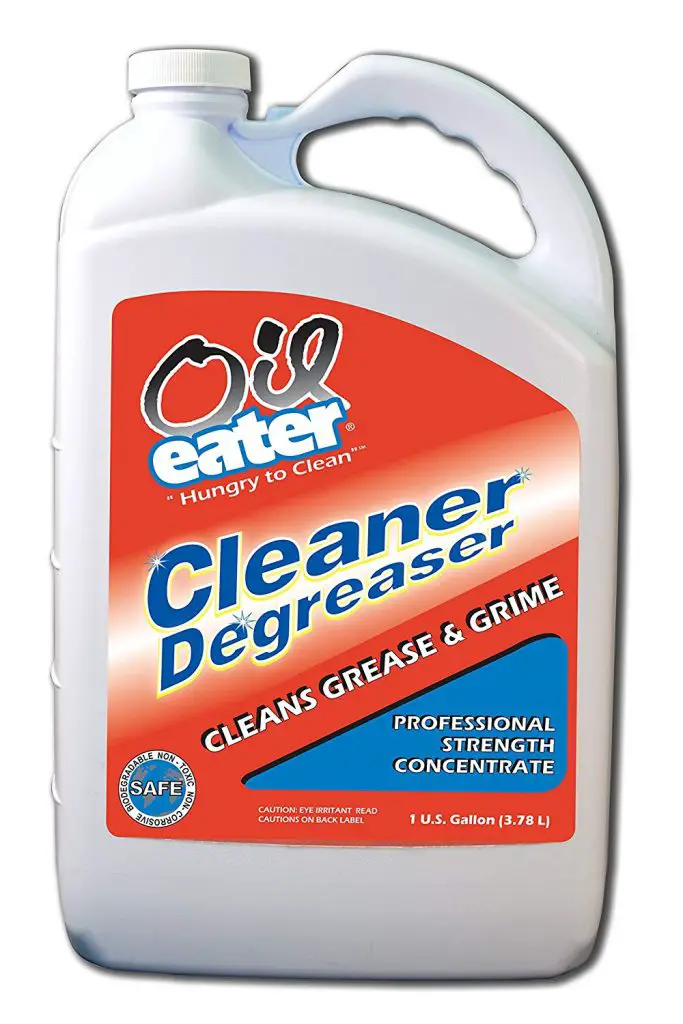 Why we like it
Contains no acids, abrasive or petroleum solvents
Non-toxic, non-corrosive, non-hazardous formula
Can be diluted to achieve maximum performance
Effectively dissolves dirt, grease and oil on concrete
Ideal for both home and industrial use
As the name suggest, Oil Eater has a superior grease cutting power to eliminate petroleum stains such as motor oil, grease, tire marks on concrete and other stains. This biodegradable, non-toxic, water based degreaser does not contain acids, abrasive or harsh solvents that are known to have damaging effects on concrete.
Oil Eater Original 1 Gallon Cleaner/Degreaser has been approved by various bodies such as USDA to be safe for home non-food surfaces and industrial use. At home, you can use on floors, concrete driveways, decks and more. In industrial set up this cleaner can be used on engines, machinery, garages, restaurants and many more.
While this product is regarded non-toxic, avoid eye or direct skin contact. Wear protective glasses and gloves to avoid irritation. If exposed, rinse with plenty of water and if things get worse seek medical attention.
Concerns
If you don't dilute as instructed on the label, you may end up with a solution not strong enough to clear tough stains. This product may also cause skin or eye irritation if you don't wear a protective gear.
Verdict
This is a multipurpose cleaner, biodegradable and effective remover for petroleum based stains. Most customers have expressed satisfaction after using this product. We recommend it especially if you are dealing with grease, oil and other stains.
6. Chomp Pull It Out Oil/Stain Remover for Concrete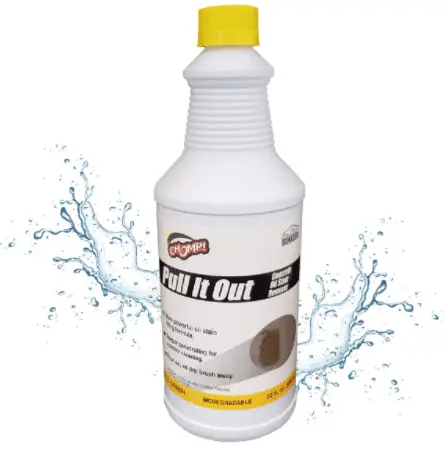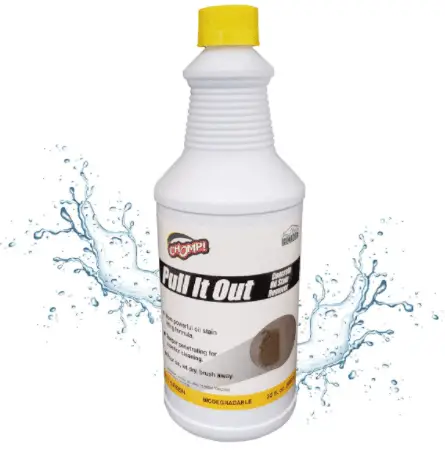 Why we like it
Easy and simple to use
Biodegradable and safe to use
Effectively cleans tough oil based stains
Can be used on multiple surfaces
Both for home and industrial use
Chomp Pull It Cleaner is a powerful oil and stain lifting formula ideal for cleaning porous surfaces like concrete and prick. This cleaner will easily remove oil or petroleum-based stains found on paver or concrete driveway, garage floors, parking lots and patios. They include oil, grease, brake fluid, tire marks and transmission fluid.
Pull It Out is a safe and simple product to use. It does not contain harsh chemicals such as bleach that is potentially harmful to surfaces and vegetation. To use this clean, simply pour a small amount on the stain to cover it and let it dry. Brush away the dried cleaner in form of chalk dust to reveal a stain-free surface.
Verdict
This is a highly effective all-purpose degreaser and cleaner that is biodegradable and safe to use in homes and business. We recommend it to anyone battling petroleum-based stains on surfaces.
How to Choose the Best Concrete Cleaner
Settling on your desired concrete cleaner will depend on a number of factors.
1. Types of Cleaners
Various types of stains and dirt respond differently to the pH level of a cleaner. This leads to formulation different types of cleaners namely; acidic, alkaline and bio-remedial (microbial). There are also few cleaners with neutral pH levels.
Bio-remedial Cleaners
These type of formulas use microorganisms such as bacteria or enzymes to dissolve stains. They are the most eco-friendly and easy to use cleaners. Although they take time to act on the contaminations, they eventually produce amazing results.
Bio-remedial or oxidation cleaners are the best for cleaning petroleum based stains, starch based and protein based stains. These are tough to treat stains that may resist other cleaners.
Alkaline Cleaners
Alkaline cleaners are also formulated to remove heavy oil, grease and grime. These cleaners break down hydrocarbons in grease and oil. Alkaline clears can also be used to neutralize any acidity on surfaces to neutral.
Acidic Cleaners
These are the best type of cleaners for dealing with efflorescence and other stains on concrete. The acidity also helps in combating odor and microorganisms such as germs and bacteria. Acidic concrete cleaners are good for disinfecting surfaces.
Neutral Cleaners
These are neither acidic nor alkaline cleaners that are commonly used for general indoor cleaning. They are not suitable to tackling heavy stains and dirt.
2. Environmental Impact
It is common to find plants such as grass and flowers bordering a concrete surface. Kids and pets like playing outdoor on those areas. Environmental effect human, vegetation, pets and wildlife is an important factor to put at the back of your mind when selecting a cleaner.
Most manufacturers are shifting to environment friendly products that non-toxic and safe to use around plants and animals. Nevertheless keep cleaners out of reach for children and pets even if they are labelled non-toxic or non-corrosive.
3. Purpose
Some cleaners are labelled 'All-Purpose or multipurpose' to mean they can be used on various types of surfaces. If you intend to clean various spaces in your home, a multipurpose cleaner may be the best to purchase. It gives convenience of use and a saving on the cost of cleaning in terms of time and money.
4. Budget
Cleaners come in different sizes and strength and so does the variation in price. Above all, effectiveness and the size of space to be cleaned are important factor that consider. If you are dealing with a large project, you will need a bigger package whose price may be higher and true to the converse.
The Bottom Line
It feels at home to relax outdoor on a clean patio. Walking or driving home on a beautiful clean driveway or sidewalk is also welcoming. This is only possible if you invest in a good concrete cleaner that removes stains, grime and dirt from your concrete surfaces.