Mosquitoes are stubborn and dangerous insects that should be kept away from your home. Besides spoiling your evening outdoor relaxation or patio gatherings, mosquitoes will leave you and your family with severe skin bites or with an infection.
While there are various ways of keeping mosquitoes away from your yard, mosquito repellents and sprays are instant and easy to use. After researching and testing, we found the following to the best mosquito repellents and sprays that are safe and effective in keeping away mosquitoes, gnats and other bugs from your yard.
Our Top 3 Best Picks
OFF! Deep Woods Insect Repellent Aerosol, Dry, Non-Greasy Bug Spray with Long Lasting Protection from Mosquitoes, 4 oz, 2 ct
Repel Plant-Based Lemon Eucalyptus Insect Repellent 4 Ounces, Repels Mosquitoes Up To 6 Hours
Wondercide - Ready to Use Flea, Tick, and Mosquito Yard Spray with Natural Essential Oils – Mosquito and Insect Killer, Treatment, and Repellent - Plant-Based - Safe Around Pets, Plants, Kids - 32 oz
Top Best
OFF! Deep Woods Insect Repellent Aerosol, Dry, Non-Greasy Bug Spray with Long Lasting Protection from Mosquitoes, 4 oz, 2 ct
Also Great
Repel Plant-Based Lemon Eucalyptus Insect Repellent 4 Ounces, Repels Mosquitoes Up To 6 Hours
Best Mosquito Repellents for Yard
Even with a good control method, it is impossible to completely eliminate mosquitoes in your backyard. They can easily originate from your neighborhood and come around your property. Mosquito repellents become a great solution to such a problem.
There are varieties of mosquito repellents you may want to give a try – from sprays, candles, electrical bug zappers, coils to shields. Before you decide on a repellent to use, it is necessary to consider the size of area you want to target, safety and effectiveness. Here are details and reviews of our top best mosquito repellents.
1. Off Deep Woods Insect Repellent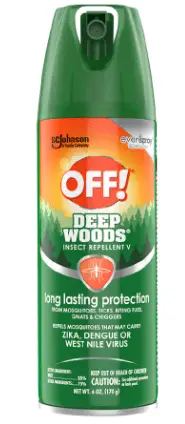 This is a DEET-based bug spray that will keep mosquitoes and other bugs at bay. Off Deep Woods Insect Repellent contain DEET an incredibly effective insect killer compound. DEET forms a vapor barrier at the skin that deters mosquitoes and other bugs from perching on the skin. It typically offers up to 8 hours of protection when applied correctly.
If all you want is a peaceful night outdoor full of fun, this is the right formula that will give you long-lasting protection from mosquitoes, biting flies, gnats, ticks and chiggers among many more. Deep woods is made to repel bugs in the harshest weather conditions. This makes it a great option for camping, fishing, hiking, or hunting escapades.
Why we like Off Deep Woods Insect Repellent
Provides effective protection against mosquitoes and other biting insects
Provide long hours of protection in a single application
Best for outdoors, camping, hiking, fishing and in heavily wooded areas
Contains 25% DEET effective for killing mosquitoes
A non-greasy formula that won't stain
Concerns
A strong smell and a slight sensation are some of the concerns expressed when using Off Deep Woods Insect Repellent. Be sure to read label instructions before using.
2. REPEL Plant-Based Lemon Eucalyptus Insect Repellent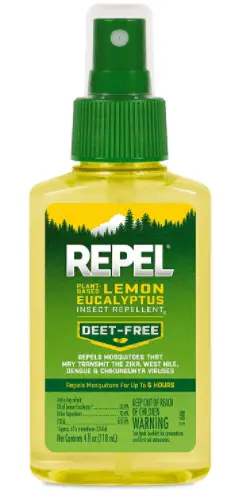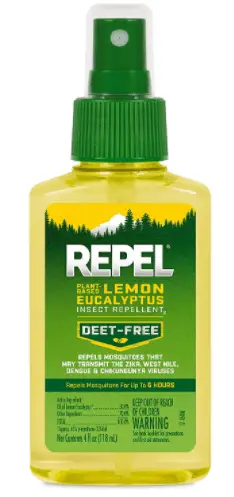 Here comes another effective yard mosquito repellent that will keep you and your family protected for hours while you are having fun on your patio. This is a DEET- free all natural insect repellent with powerful protection power.  
REPEL Plant-Based Lemon Eucalyptus Insect Repellent is made with lemon eucalyptus oil, a plant based natural insect repellent ingredient. When applied correctly, this non-sticky formula offers 6 hours protection from mosquitoes. Its refreshing scent leaves you feeling cool without any skin irritation.
Why we like REPEL Insect Repellent
Repels mosquitoes for up to 6 hours
Has a refreshing scent that leaves you feeling cool
Natural product made with oil of Lemon Eucalyptus
Non-greasy or sticky formula
3. Wondercide Natural Mosquito and Insect Killer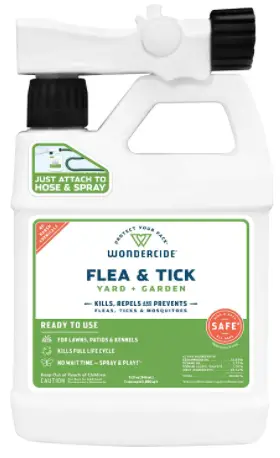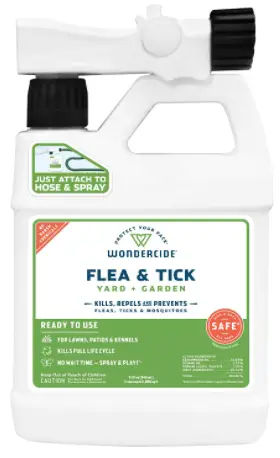 This is a highly effective natural insect killer and preventer that will protect your family and pets against mosquitoes, flea, tick and other dangerous insects such as ants, roaches, flies, scorpions, chiggers, crickets, chinch bugs, japanese beetles, gnats and more.
Wondercide Natural Ready to Use Mosquito and Insect Killer is naturally derived from cedar oil a plant based ingredient. While packaging may vary, there is no artificial colors nor fragrances added. This makes it a safe alternative to chemical sprays and zappers which are dangerous to use around pets and children.
This natural pesticide can be sprayed outdoors without harming pets, kids and beneficial insects such as bees and butterflies. Further, Wondercide Natural Mosquito and Insect Killer can safely be used on lawns, vegetable and flower gardens, patios, dog kennels, siding and brick among many more areas.
To use this product, simply attach directly to a garden hose and spray your backyard. It will cover approximately 5,000 square feet although this coverage may vary depending on water pressure and your working speed.
Why we like Wondercide Insect Killer
A natural repellent for mosquitoes and other bugs
Safe to use around kids and pets
Has a revitalizing lemongrass scent
Does not contain harsh chemicals
4. Flowtron Electronic Insect Killer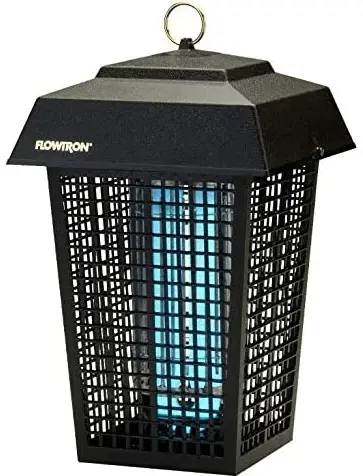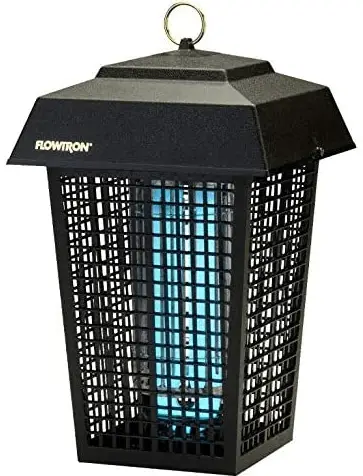 Flowtron Electronic Insect Lantern features a high intensity UV light and a high voltage electrified grid that attract and kill flying insects and bugs without harmful effect to the environment. It is a decorative lantern that also adds to the beauty of your outdoor. Using an electronic insect killer saves you continuing expenses usually associated with sprays and oils.
Flowtron Electronic Insect Killer is made with rugged weatherproof materials resistant to rust, cracking or fading.  It's built with a heavy-duty ring for a firm hang on any nearby post or wall. It's solidly constructed so that it remain safe from pets and children, who are likely to play in your yard.
To use, simply plug it in after mounting and after few minutes you will hear insects getting zapped once they enter the lantern. To completely avoid mosquitoes and other insects near you, set it at least 25 feet away from where you're sitting.
Flowtron Electronic Insect lantern is maintenance free and doesn't require any special skill to operate or replace bulb. Upon buying this product, you get a two-year limited warranty.
Why we like Flowtron Insect Zapper
Eco-friendly outdoor insect control device
Best for large areas, it can protect up to 1 acre
Esthetically designed, styled and attractive
Durable and weatherproof gadget
Attracts and kill insects including mosquitoes
5. Lasko High-Velocity Floor Fan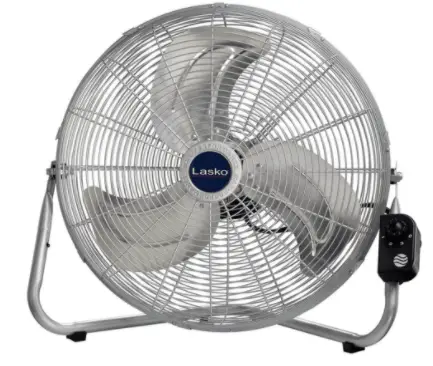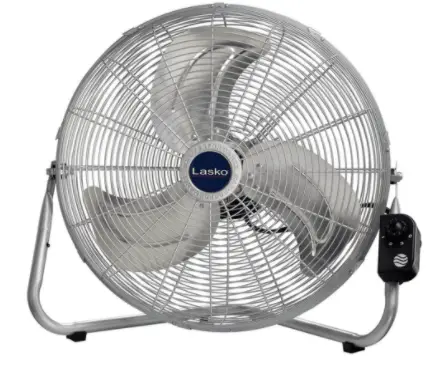 Fans are incredibly good at deterring mosquitoes and other weak flying bugs. Mosquitoes become notorious during warm weather and so does heat. To kill two birds with one stone, simply install a high velocity ceiling or floor fan.
For that case, we found Lasko High-Velocity Floor Fan effective in keeping mosquitoes away from your patio or deck. Its powerful motor and metal blades blow enough wind to scare or destroy weak insects. Its pivoted head makes it possible to receive a cooling breeze from every direction you desire.
It includes brackets and you can effortlessly convert it from a floor fan to a wall fan. Its stand clips right into the wall-mounted brackets and in a matter of few minutes you are enjoying the breeze from your side wall. No special skill is required to do all these, simply follow the included instructions.
Why we like Lasko Floor Fan
The fan converts easily from floor to wall use
Has 3 powerful speeds to deliver cool air at the level you want
Has easy-to-carry handle for easy portability
The front-mounted controls are easy to access and operate
Durable, all-metal construction for durability
Effectively keeps away mosquitoes and other flying insects
6. Pic Mosquito Repellent Coils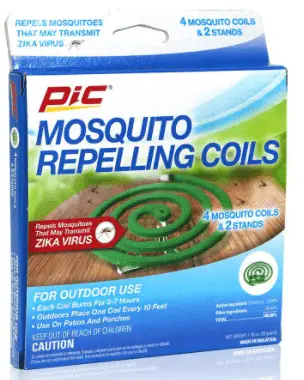 PIC's Mosquito Repellent Coils effectively repel mosquitoes and other flying bugs from patios and porches. Each package comes with 4 mosquito repellent coils and 2 stands. PIC Coils should be positioned every 10 feet to strongly repel mosquitoes.
Use the enclosed metal stand for positioning the coil above the surface of your patio or any other non-flammable surface. Strictly follow the label instructions when using this product to keep mosquitoes away from yard. Note that, it is a violation of Federal law to use Pic's Coils in a manner inconsistent with its labeling.
Why we like this Mosquito Coil from PIC
Provide protection for long hours, each coil burns for 5-hours to 7-hours
Effectively keeps away mosquitoes outdoors on patios, porches and decks
A budget product that also repels other flying insects and biting bugs
7. Repel Insect Repellent Mosquito Wipes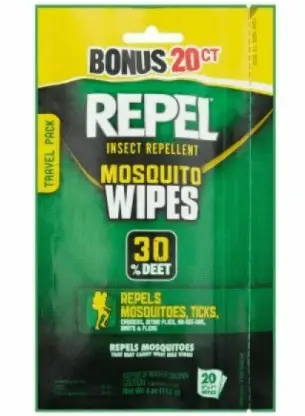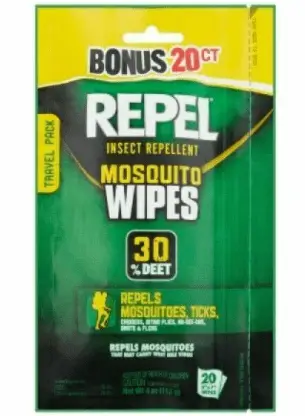 Help make your backyard living enjoyable all night long by use of these special insect repellent wipes. Repel Mosquito Repellent Wipes contain 30% DEET that offers a lasting protection from mosquitoes and other biting insects in your outdoors for up to 10 hours.
Repel Insect Repellent Mosquito Wipes 30% DEET repels mosquitoes, ticks, biting flies, gnats, chiggers, no-see-ums and fleas with wipe-on protection. Each pack contains 15 wipes that are convenient to carry and use anywhere you go.
Why we like REPEL Mosquito Wipes
Effectively protects against mosquitoes and other biting insects
Provides longer hours of protection
Convenient and ready to use wipes
A budget deterrent product for mosquitoes
How to choose the best mosquito repellent – Buying Guide
There are many types of yard mosquito sprays and repellents. Your choice for one comes down to the following factors.
Environmental impact
Safeguarding our environment is essential for our own survival, other animals and the future generations. Using chemical laden products causes environmental degradation that may be difficult to reverse or amend. Further, such noxious products can end up harming our family members including children and pets when they are not properly handled.
With all these at heart, we remain with a big responsibility of using natural and environment friendly products or methods of controlling insects and pests.
Size of the yard
Certain types of bug repellents only work effectively under a small area. A large yard may require a serious pest control method which may also come with a severe environmental impact. Controlling mosquitoes entirely in a region requires an entire community effort and involvement of pests control experts.
It does not make sense to treat your backyard for mosquitoes and in few days they are already migrating from your neighbors' backyard to your home. This will be a total waste of money and time. Controlling mosquitoes in your backyard or on patio is thus a continuous process that may never come to an end.
Safety
Using chemical pesticides around pets and children can be harmful. If your guest or family members fall under that category, then the best option for a mosquito repellent will be an all-natural product. This would be a plant based ingredient that does not constitute any danger to your family.
Additionally, some people may be allergic to certain sprays and oils. Using them on their skin may cause a serious allergy that may as well spoil the evening party mood. This is where you may go for electronic options.
Effectiveness
There are some products that are hyped to kill or repel mosquitoes but in real sense they don't. Example of such products include citronella candles and mosquito repellent plants. While citronella is a highly effective ingredient for repelling mosquitoes, it is not strong enough when release from a burning candle or from a potted plant around the yard.
Frequently Asked Questions
When do you spray for mosquito in the yard?
Mosquitoes are mostly active in the evening, all through the night up to early in the morning. The best time to spray is when mosquitoes are highly active, that is the late afternoon and early in the morning.
How do you mosquito-proof your yard?
Mosquitoes breed in water puddles found in your yard and they hide under shrubs, thick grass and dark areas of your home during the day. To mosquito-proof your yard, drive away any standing water in your yard, cut tall grass short and spray a pesticide into dark areas of your home.
How do you spray for mosquitoes in yard?
Wear your protective gear and spray your yard as directed by the product manufacturers. Usually a pesticide comes with a sprayer or you may be required to attach it to a water hose.
What attracts mosquitoes on a patio?
Mosquitoes are blood thirsty creatures that will hunt for it when they are hungry. Additionally, the carbon dioxide we emit attracts mosquitoes. Some types of lights are also attractive to insects including mosquitoes.
Final Thought
Getting rid of mosquitoes from your yard is a continuous process and thus better you choose a budget yet effective mosquito repellent or spray. For the safety and joy of your family members including friends and pets, opt for en environmental friendly method of controlling mosquitoes and other pesky bugs.