Summer comes with soaring temperatures that can make you to miss great outdoor events. To comfortably enjoy cool patio parties, barbeques and picnics, it is worth investing in a misting fan. Fans also help in deterring pesky flying insects such as flies and mosquitoes.
Outdoor misting fans come in variety of types and designs including portable, wall mounted, floor standing, handheld and misting kits. We know how difficult it can get in choosing a misting fan for your patios, decks, porches or garden. Here we present a collection of versatile, durable and fast cooling outdoor misting fans.
Our Top Picks
Lasko 7050 Misto Outdoor Misting Fan - Features Cooling Misters, Ideal for Camping, Patios, Picnics, & more
High Velocity Outdoor Mist Fan - For Patio Cooling, Restaurant Misting, Industrial Cooling - Rated for Indoor and Outdoor Applications - 3 Speed Fan, 18 Inch, White, 12-4 Ring
HandFan Portable Misting Fan, 55ml Large Water Tank, Rechargeable Handheld Personal Mister Fan, Battery Operated Water Spray Mist Fan, 180°Foldable, for Travel, Camping, Outdoors, Makeup(Green)
Best Floor Standing
Lasko 7050 Misto Outdoor Misting Fan - Features Cooling Misters, Ideal for Camping, Patios, Picnics, & more
Best Wall-Mounted
High Velocity Outdoor Mist Fan - For Patio Cooling, Restaurant Misting, Industrial Cooling - Rated for Indoor and Outdoor Applications - 3 Speed Fan, 18 Inch, White, 12-4 Ring
Best Pedestal, Floor standing Outdoor Misting Fans
These are freestanding fans attached to a base for stability. Her are our top picks for pedestal floor standing misting fans.
1. Lasko 7050 Misto Outdoor Misting Fan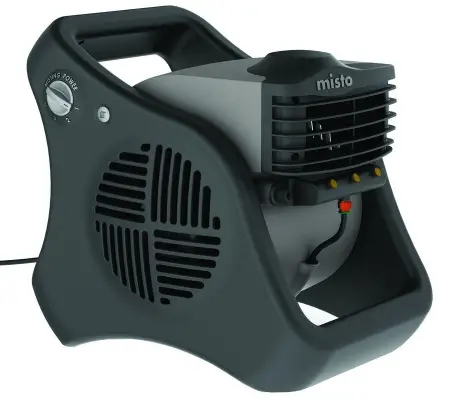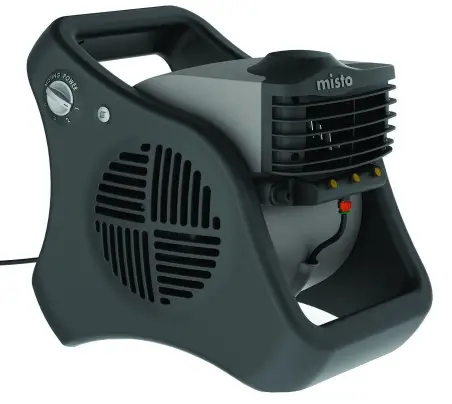 Misto Outdoor Misting Fan offers a quick relief during the hot dry summer weather. The fan uses a standard garden hose to provide a gentle refreshing misty breeze that keeps you comfortable when outdoor temperatures soar.
This fan is compact and you can use it anywhere you need. You will effortlessly set up this fan without using any special tools. Build to last, this is a weather, UV are rust resistant unit that also has a sealed ball-bearing motor for long operating life. Its low profile provides for great stability outdoors.
Lasko 7050 Misto Outdoor Misting Fan features 3 refreshing speeds and a 90-degree pivot function to control or direct mist flow. Further, the fan uses a GFCI safety plug that is designed to detect and immediately shut off electric power if there is any fault. This prevents electric shock and damage to the equipment.
Why we like it
Produce fine mist that keeps you cool in hot weather
Reduces air temperature up to 25 Degree
90 Degree pivot function directs mist flow
Weather, UV, and rust resistant model
Automatic louvers create wide sweep
Three refreshing speeds offer cooling versatility
Low profile for outdoor stability
Simple set up, no-tool for assembly
9 ft. hose easily attaches to standard garden hose
Misting kit detaches without tools for easy cleaning
Additional misting nozzles for low flow mist option
Concerns
When operated at high speed, this misting fan can wet your patios unless you adjust the fan head to an upward angle. Alternatively you can place it on a raised surface such as a table so that mists can evaporate before they get time to land on your patio or deck. However, most customers like the product.
2. NewAir AF-520B Misting Fan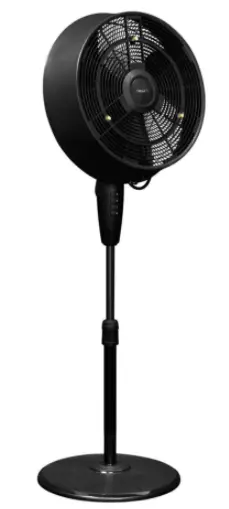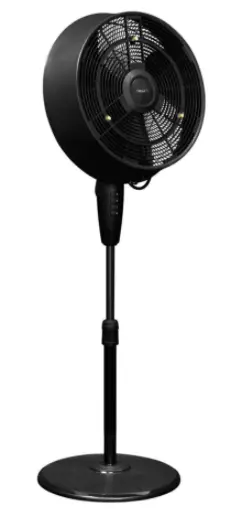 NewAir AF-520B is a powerful stylish fan perfect for cooling your patios, deck and garden during the hot weather. This floor standing fan features an extra-large 18 inch oscillating head that provide cooling to large areas up to 500sq.ft. This is the ideal fan if you are planning for large outdoor gatherings.
There is comfort and flexibility in using this misting fan with its adjustment of height and direction of the air flow. Featuring three speed settings, you can also personalize the amount of mist that you and your friends or family need. Further, you can turn off the misting and enjoy only the fan for cooling on humid days.
Compatible with standard hose, this fan is easy to set up. The easy-to-follow instructions also help with assembly and guidance on how to use. The good quality of the material and excellent customer service provides you comfort and peace of mind when using the product.
Newair AF-520B Outdoor Misting Fan has trusted built-in safety features for added peace of mind. There is a leakage protection device helps to shut the fan off upon detecting a potential water leak, and the GFCI plug that works to prevents electrocution accidents.
Why we like it
Beautiful design with bronze fan blades
Oscillating to provides cool, refreshing mist everywhere
 Adjustable tilt setting circulates air and mist evenly
Slim, lightweight design that fits almost anywhere on your patio
Three speed options for a convenient cooling
Adjustable height for optimal comfort
Can be used as dry air or misting fan
Concerns
Some customers have reported more water than fine mists coming from the nozzles which may make you wet. Purchasing a new set of nozzles can solve this. However, majority of the customers are happy purchasing and using the product.
3. Frigidaire Outdoor Misting Fan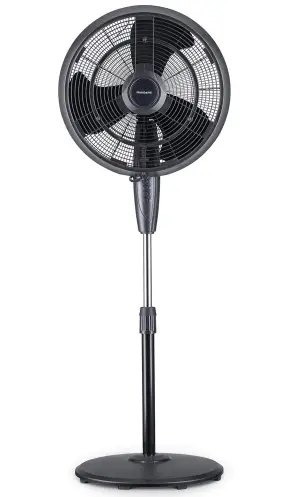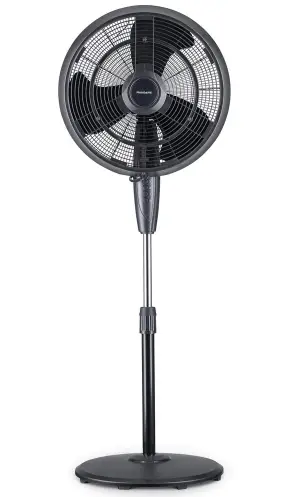 This is a two way fan that allows you to enjoy a cool mist during hot sunny days or a plain breeze on a humid day. The 18 inches oscillating head provides cooling on large areas up to 500 sq. ft. You can also tilt the head and adjust the height so that the mist is directed where you need.
Frigidaire Outdoor Misting Fan features adjustable 3 speed controls to allow you to personalize the amount of mist you want to receive. It easily connects to a standard hose in your garden and the integrated GFCI plug that connects to any standard outlet ensures safety when you are adding water.
Why we like it
Lightweight, portable design to use anywhere
Adjustable fan head and height
Covers large area of up to 500 square feet
3 speed settings for a personalized mist experience
Designed with durable materials for outdoor
Connects to any standard garden hose
Concerns
Some customers have reported defective units that stop working within few weeks and others find it difficult connecting it to the base. Otherwise majority of customers have expressed satisfaction in the product.
4. Oscillating Fan with Misting Kit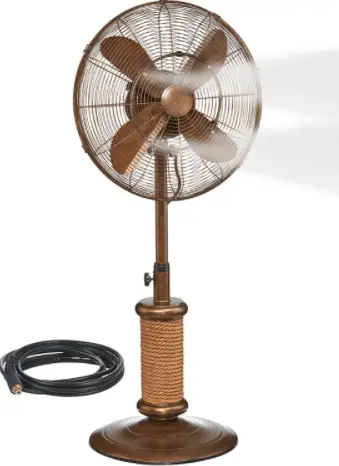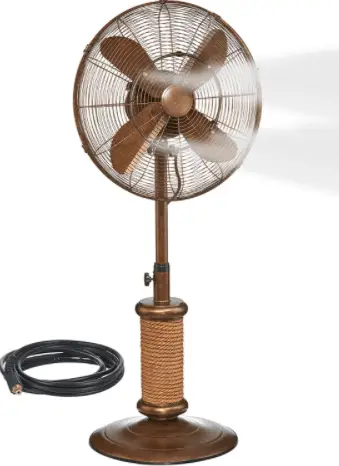 This is a stylish and versatile fan you can add on any patio, deck, porch or yard for a faster cooling experience. Oscillating Fan with Misting Kit comes with a 19" oscillating head suitable for cooling large outdoor areas. With three speeds settings and adjustable height you can get a great personalized cooling. You can comfortably control the amount and direction of the mist.
Designed for outdoor use, this fan is coated with a weather and UV resistant paint. The weighted base also makes it more stable even in windy areas. Equipped with a CFGI plug, that automatically cut off power when a fault is detected. More importantly, the fan has a "Wet Listed" safety rating to assure that it can be used outdoors without any worries electrocution.
Why we like it
Has adjustable height
Large 19-inch oscillating head
Three speed function to choose from
Wet Listed safety rating
Garden hose water supply
A powerful and versatile fan
Easy assembly and use
Designed with outdoor in mind
Concerns
The fan can be loud and cause wetness when operated at high speed setting. You can minimize this either by using moderate speed.
5. Windchaser outdoor misting fan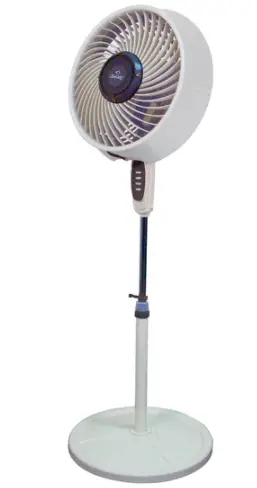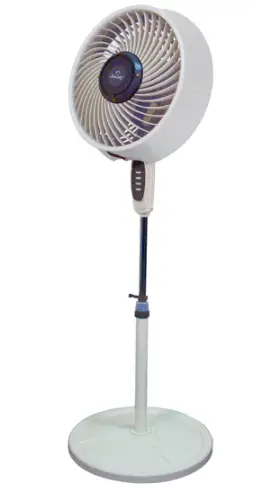 This is a reliable misting fan you can add in your backyard during the hot days of summer. Windchaser outdoor misting fan features a high speed powerful shower-proof motor with three speed settings. You can set to low, medium or high cooling. Temperature can be reduced by up to 25 degrees.
The 16 inches fan head attached on a height adjustable pole provides great cooling coverage and you can personalize mist direction. The wide base provides for stability and you can comfortably use the fan even in winds. Windchaser outdoor misting fan can also be used indoors without the misting function.
Built to last outdoors, all the fan's components are resistant to UV rays and rust. This unit easily connects to a standard hose and power outlet without need for special tools. The three-pronged power cord is structured for safety and there should be no worries while using this fan. This product includes 4 extra nozzles.
Why we like it
Features a high velocity shower-proof motor
Every component is UV rays and rust resistant
Has three speed settings to choose from
Can also be used indoors without misters
Height can be adjust between 47" and 58"
Showerproof motor and covered switches
Includes for extra nozzles for misting
Concerns
Some customers find this product to be delicate and can easily damage when improperly handled. Proper handling during assembly or transportation is thus necessary. However, most customers have expressed satisfaction in using the product.
Best Handheld Misting Fans – Battery Powered
Handheld misting fan offer great convenience when travelling due to their lightweight and compact size design. Here is our top picks for best handheld misting fans for personal use.
6. HandFan Handheld Misting Fan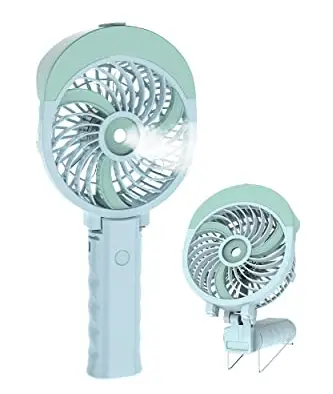 This is a small portable fan you can use to keep you face or skin moist anywhere you go. It is compact and you can place it in your purse or bag when travelling, hiking, exercising, camping or other places. HandFan Handheld Misting Fan includes a metal bracket and you clip it on your car, treadmill or baby stroller. Further the fan can be used in office as a desktop fan, in classrooms or indoors.
The battery powered fan is easy to get charge via USB plug on PC, power bank or car charger. HandFan Handheld Misting Fan has 3 speed level from Low, Medium to High speed. You simply tap power button repeatedly to change the speed level. The travel fan has 7 different LED colors that you can select from by pressing the power button twice.
Why we like it
Compact size and portable
Easy to charge via USB plug in
Cools faster with water spray
Has multiple speed controls
Colorful night LED lights
One button control
Concerns
There are no great concerns about this product. Most customers are happy after using this handheld portable misting fan.
7. TianNorth Misting Fan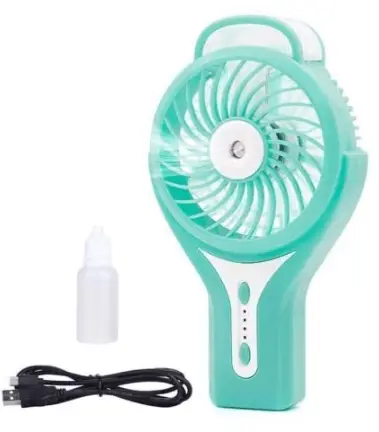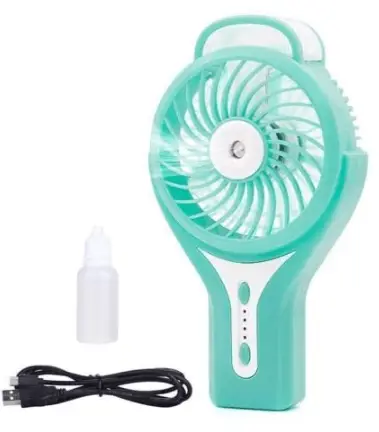 Designed with mini water tank, this personal misting fan offers great cooling air combined with tiny droplets of water. It weighs only 190 g equivalent weight of a small cell phone. Light-weight and compact size design makes this travel fan easy for you to carry with wherever you go.
TianNorth Misting Fan operates on lithium battery that can be recharged using a power bank, laptop, PC or any USB outlet device. Featuring a brushless motor, this fan is quiet and you can increase or reduce the cooling with its 3 speed function.
Why we like it
Plug and play, no installations required
Lightweight and compact size portable design
Powered by rechargeable battery
3 modes of wind speed
Instant cooling anywhere
Concerns
There are no great concerns about this product. Most customers are happy and find it useful to have this product.
Best Wall-Mounted Outdoor Misting Fan
These are residential or commercial grade fans that are wall, ceiling or pole mountable. Our top picks for best wall mounted misting fans include:
8. High Velocity Outdoor Mist Fan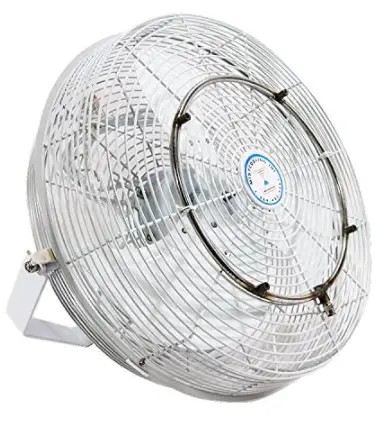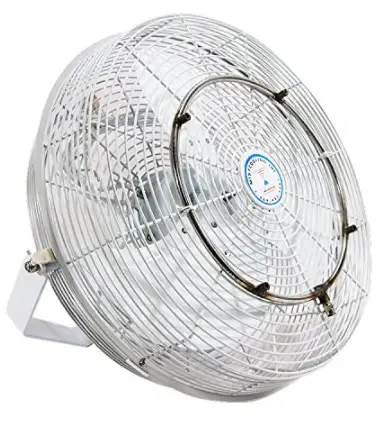 This is a high velocity fan by Mistcooling suitable for patio cooling, restaurants misting and industrial cooling. Rated for indoor and outdoor applications, this 18 inch fan is suitable for fast cooling of large areas. A bracket is used to secure it on the wall allowing for side to side movements.
High Velocity Outdoor Mist Fan includes 4 brass/stainless steel mist nozzles with misting fan ring for great coverage of rapid cooling. The misting system is compatible with both high and mid-pressure misting pumps. There are also three rotating speeds that are swiftly selected using a chain pull.
Built to last, the fan has corrosion resistant finish thus tough in elements. This product is UL507 certified and with a commercial grade sealed and thermally protected motor there is no worries using this fan in wet and damp conditions.
Why we like it
Easy wall mounting
Three speed 18 inch fan
Powerful misting nozzles
Suitable for residential or commercial use
Rust and corrosion resistant
Pull chain to adjust or operate
Large coverage area
Concerns
There are no concerns about the product but we noticed that it does not come with the water pump.
9. Wet Location Fan 18 Inch Indoor/Outdoor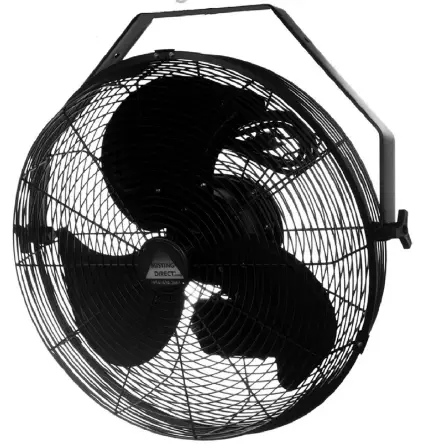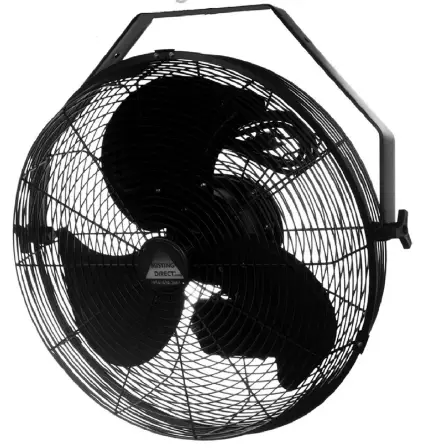 This is a sturdy safe and UL507 certified fan for use in wet and damp conditions. Featuring a commercial grade sealed and thermally protected motor, this is a great fan for outdoor use on patios, porches, restaurants, sport arenas and more. Further corrosion resistant epoxy finish makes it to last in elements.
Wet Location Fan 18 Inch fan has aluminum made blades which can be used at three different speeds. With a simple pull of chain you can have low, medium or high air flow as you need. This fan can be converted to a misting fan with addition of a misting kit which is sold separately. Power is supplied from an 8 ft. heavy duty cord with a GFCI three-prong plug.
Why we like it
Includes 3 speed settings
Has a corrosion resistant finish
Durable sealed motor for outdoors
Can be converted to a misting fan
Easy to operate chain pull control
Wide coverage 18 inches blades
Can be used indoor or outdoor
UL and OSHA approved
Concerns
A misting kit has to be bought separately which makes the total package pricey. Additionally, the fan does not oscillate. However, most customers find this product effective, durable and excellent for outdoor events.
Best Misting Kits for Outdoor Fans
You can use a misting kit to convert your standard fan to a misting fan. All you need is a water spigot and power outlet. Our top pick for a misting kit include:
10. Azcoolmist Misting Fan Ring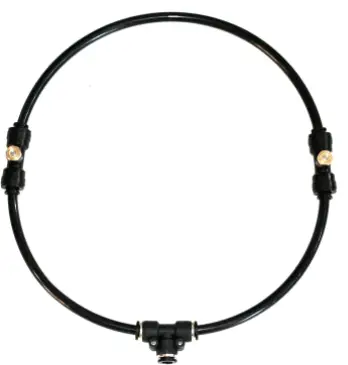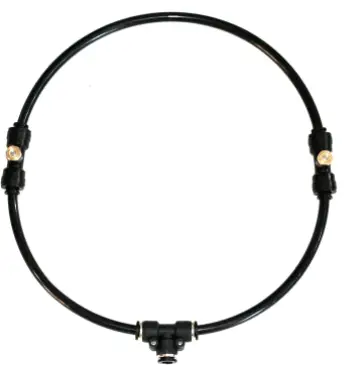 This is a versatile kit that comes in four different sizes to fit most fans ranging from 8 inches to at least 18 inches. The misting ring is attached to a fan using special clips. Included dual O rings are great for preventing any water leaks.
Azcoolmist Misting Fan Ring come with a 20 feet leader tubing ¼ inch in diameter for hooking on water source. The tubing is made from linear, low-density polyethylene which makes it strong and durable. The brass/nickel plated nozzles that includes a stainless steel opening are also durable.
Why we like it
Comes with a long connection tubing
Attaches to most fan sizes
Includes clips for attaching to fan
Include O-rings to prevent leaks
Concerns
Without regular cleaning, nozzles will clog and this will require high pressure to dispense fine mists.
How to choose the best misting fan
Misting fans come in plenty of designs, sizes and power ratings. To choose the best misting fan, here are important factors to consider.
1. Types of misting fans
Misting fans come in four main categories that include:
Floor standing Misting Fans
The fan head is connected to a base for stability. Most standalone models have oscillating, angle tilt and height adjustment function. They include a hose connection for water supply and a plug into electrical outlet for power. Standalone fans are great for outdoor gatherings and events as they effectively cover large areas.
Wall-Mounted Misting Fans
The fan is fixed to a wall or ceiling. They can be connected to a water supply or use water from the attached refillable reservoir. Most wall mounted misting fans have a tilt function for a required angle of spraying mist. These types of fans are great for both indoor and outdoor.
Portable Misting Fans
These are small compact fans that can comfortably be transported anywhere. They can be powered by rechargeable batteries or by an electrical outlet. The water supply can either be from their own internal tank or from a hose. Portable misting fans are great for camping or when travelling anywhere.
Misting kits
These are special attachments you can use on a standard fan to get a cool refreshing mist. The kit include a misting ring with nozzles, a hose for water supply and special clips for a firm attachment on your outdoor fan. Misting kits are also great for cooling a backyard.
2. Size of the fan
Depending on where you want to use your fan, size is a very important factor to look at. Large outdoor spaces require relatively large misting fans which are capable of providing a wide coverage. Powerful fans tend to have larger heads and large base as well for stability.
Small fans are usually best for indoor use and in most cases does not have a misting function. Personal misting fans are also small in size and usually handheld or wearable in the neck. They are great for travelling and personal outdoor relaxation purposes.
3. Adjustable features
Adjustable speed, pole height and angle tilt and some of the important settings that makes you to personalize fan cooling experience as you wish. Three speed function speed function is a special feature that allows to select a low, medium or high cooling.
Oscillating head is also something you should look at as it helps in even distribution of mist in a given area. An adjustable pole is also essential when you want to experience the breeze at a given height. It also helps in moving the head up away from the surface especially when they start getting wet.
4. Safety
Misting fans use water and electricity in the same system. This means that any small fault can cause electric damage to the device or electrocution of the operator. Special safety functions such as GFCI safety plug and three-pronged power cord are very important in preventing accidents.
5. Durability
This is usually determined by the design and type of material used. Outdoor misting fans should be protected from elements so that they can last. A durable outdoor product should have UV rays, weather and rust resistant components.
Frequently Asked Questions
What is a misting fan?
This is a type of fan that uses misting nozzles to create tiny air droplets that are distributed throughout the air with the help if airflow from the fan. The water is drawn from a reservoir within the device or supplied from a garden hose. Misting fans come in flexible designs with adjustment for speed, oscillations, water pressure and height among other features.
How do misting fans work?
Misting fans use evaporation to cool the air around. The tiny water droplets mix with warm air and they evaporate carrying away the heat around them. The energy exchange process continues until the whole area is cooled. This is an efficient way of cooling a large area without using much energy.
Conclusion
Summer is a great time to enjoy your outdoor living. However, soaring temperatures can put a stop to this. One of the convenient ways of cooling yourself, family and guests outdoors is to invest in a misting fan. In our collection for the best outdoor misting fans we have listed top picks of pedestal floor standing, handheld, wall mounted and misting kits you can purchase for cooling your outdoors.