Patios are excellent areas to have fun and spend together with your loved ones. A covered patio spruce up everything by keeping things cool, offering privacy, protection from weather elements and gives you a space where you can add some visual features overhead such as lights and decorations. Here are amazing patio cover ideas:
Best Ways to Cover your Patio
There are plenty of ways to add a shade or privacy to your patio. Here are the best covered patio ideas that guarantees a perfect enclosed shade that also makes your outdoor to look beautiful.
1. Pergola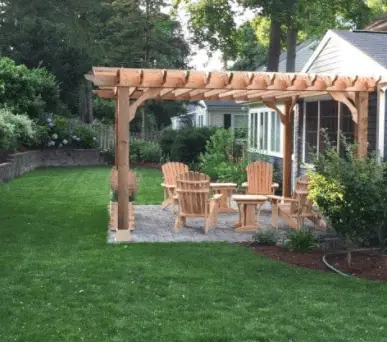 A pergola is a simple structure that can tremendously transform your backyard into an excellent outdoor living space.
The wooden or metallic beams can be installed on a patio or deck for a shade that offers protection from weather elements and creating a place where you can relax with family or friends.
To add some privacy, drapes, screens or latticework can be added on the sides of a pergola.  If you live in an area that gets a lot of sun or rainstorm, it will be a good idea to have your pergola covered . Here are creative pergola cover ideas:
Grow vines that climb to the top
Growing vines to cover your pergola is the simplest and natural way of creating a shade the will protect you from sunburn and UV radiations during a hot sunny day. There are plenty of fast growing vines for pergolas and arbors that will also enhance visual appeal of your outdoor.
Climbing plants such as ivy, grape vines, honeysuckle and wisteria can be grown to climb the top of a pergola to create a beautiful natural ceiling. Choose a good vine that is not too invasive or that which will give you hard time collecting leaves every morning.
Vines are not ideal for rain protection even with a lot of foliage. To address the issues of rain and wetness, it's good to think of other options in this list.
 Make a Pergola canopy
This can be a stationery or a retractable canvas placed on the beams to prevent your cookouts from soaking. Retractable canopy can let you flip it over and enjoy the sunlight. It is a relatively simple thing to put up when you have the relevant materials.
Although some fabrics may not be fully rainproof, you can still get some protection for rain. There are also waterproof pergola covers that are more expensive to acquire and install but they fully offer good protection anyone and everything on the patio.
Install a Tin Roof
This is an expensive but versatile option that offers lasting solution to rains and hot sun. Tin roof is also durable and you can enjoy your outdoor for years without any problems. It may come in various designs to make your outdoor even more attractive.
Pergola Roof Panels
Like a tin roof, these panels offers protection from rain and UV rays from the sun. They can be tinted or clear to allow in some light. Installation may take some time but they offer a lasting solution to sun and rain issues.
Wood Planks
Treated wood can be used to roof a pergola and create amazing shade that offers protection from rains and sun. The wood should be pressure treated and professionally installed at an angle to enhance water run-off.
Wood is a beautiful natural material that can really spruce up your backyard. Use strong wod species that are treated to prevent wood rotting.
2. Gazebo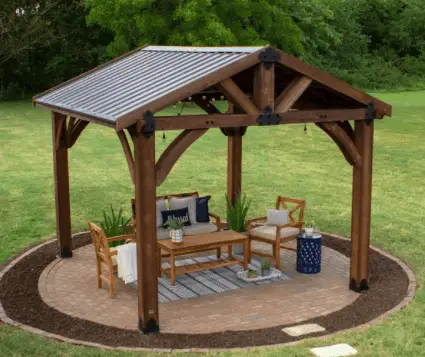 A gazebo is a free standing pavilion structure you can be constructed on a patio, in a garden or on a deck. They are usually open on all sides but offers excellent protection from harsh weather elements.  
The wooden or steel gazebos also provide structural and visual significance to an outdoor space.
To add a sense of privacy and more protection from bad weather, a gazebo can be covered on the sides with lattice panels, outdoor curtains or drapes. While a gazebo is traditionally a stationary structure, there are also portable gazebos for temporary outdoor events.
Visual appearance of a gazebo can be enhanced by pot plants, string lights and ornamental furnishings. With varieties of shapes and designs, gazebos can add a statement feature to a home.
3. Patio umbrellas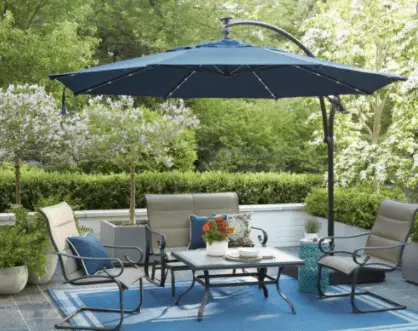 A large patio umbrella in your backyard will offer a great protection from UV radiations from the sun and rain.
The umbrella has to be larger than your table to cover most of the sitting area. A good patio umbrella should be lightweight, sturdy, stain proof and easily foldable.
The base of an umbrella is also an important factor. It should be heavy enough to secure the umbrella from winds. Its ventilation should be good enough to avoid trapping of heat and by enhancing free flow of air.
If you have a large patio lounging area for many guests, cantilever umbrella will be a great choice. These umbrellas are made to cover a large area. They are extremely sturdy and therefore more expensive.
Benefits of a Covered Patio
A covered patio has many advantages over an open one. Here are the benefits of installing a shade over your patio:
1. Protection from weather elements
A covered patio offers protection from heat and UV radiations from the sun during a hot summer. You can have your daytime patio party or family get together without worrying about sunburn or dehydration. It is also easy to install outdoor cooling systems such as fans and misting units in a covered patio unlike in an open space.
Extending your patio gatherings into late night can be a challenge on an open patio. It is even worse during a cold winter. One of the best ways of keeping your guests warm on a patio is to install a shade. A pergola, gazebo or patio umbrella will also provide rain coverage, protection from frost and mist that usually wet or cause mildew on outdoor furniture.
Outdoor electric patio heater does well when placed under a shade. There is little wastage of heat to the surrounding air. Being an electric appliance, a shade is important in protecting it from rain water which can cause an electric short circuiting.
2. Protect your outdoor furnishings and electronics
Furnished outdoor areas cost a lot of money and exposing them to weather elements makes them to take a beating. Protecting your outdoor furniture, rugs and decorations from rain, UV radiations, dust and pollen makes them to last long, remain beautiful and reduce their maintenance costs.
An outdoor TV is another great form of entertainment which can easily be damaged by harsh weather elements. Although made from weather resistant materials, an outdoor TV requires protection from rain, sun and dust. To also have a clear picture view, your TV should be placed in a shade.
Trying to protect your outdoor T.V.? Check out our in-depth article on cheap ways to protect your expensive electronic equipment.
3. Keeps away bugs and other insects
Nights flying bugs and insects are nuisance to any outdoor gatherings or relaxation. These bugs get attracted to outdoor lights while others such as mosquitoes seek blood to feed on. To put a stop on this, simply cover your patio with retractable screens or drapes.
Besides bites, mosquitoes can spread deadly diseases. Keeping off bugs and night flying insects from a patio will make you spend more time outdoor with peace of tranquility.
4. Adds value to a home
A covered patio or deck increases value of a home, this is according to a research. Most home buyers love homes with unique outdoor spaces such as patios, porches and decks. The kind of beauty these areas create makes your home a poignant assent for attracting buyers.
5. Creates a definite space
A covered patio creates additional space where you can do may other distinctive things. You can convert it to an outdoor kitchen, dining or as an entertainment joint. To spruce up visual effects of your home, you can add plants and flowers on the sides and ceiling of your pergola.
6. Adds privacy
Adding a cover to your patio is one of the cheap ways block to neighbors view when you are attending a private outdoor gatherings or lounging. Drapes, screens or latticework are good additional to a pergola or gazebo for privacy.
Conclusion
Enclosed covered patio may seem an expensive idea but in real sense it is will transform your outdoor living, save you future patio maintenance costs and above all adds value to your home. Decide on a patio cover idea within your budget and have it installed.