A bit of shade will allow you to extend your outdoor living even in the hot sunny days. A patio umbrella is what will provide a quick relief from the heat, little rain and UV rays. Here is a collection of the best patio umbrellas that will offer shade and protection on your garden, patio, lawn, deck, backyard & Pool.
Our Top 3 Best Picks
Abba Patio 9ft Striped Patio Umbrella Outdoor Umbrella Patio Market Table Umbrella with Push Button Tilt and Crank for Garden, Lawn, Deck, Backyard & Pool, Turquiose Stripe
Sunnyglade 9' Patio Umbrella Outdoor Table Umbrella with 8 Sturdy Ribs (Red)
Blissun 9 ft Solar Umbrella 32 LED Lighted Patio Umbrella Table Market Umbrella with Tilt and Crank Outdoor Umbrella for Garden, Deck, Backyard, Pool and Beach (Cerulean)
Top Best
Abba Patio 9ft Striped Patio Umbrella Outdoor Umbrella Patio Market Table Umbrella with Push Button Tilt and Crank for Garden, Lawn, Deck, Backyard & Pool, Turquiose Stripe
5 Best Patio Umbrellas
There is no doubt adding an umbrella in your backyard gives you the comfort to enjoy your pool party, barbecue or patio gathering even in intense sun. However, there are hundreds of patio umbrellas on the market, and we know how difficult it is to choose one for your home or business. To help you out, we have a collection of the top rated patio umbrellas for outdoors.
1. Abba Patio 9 ft Patio Umbrella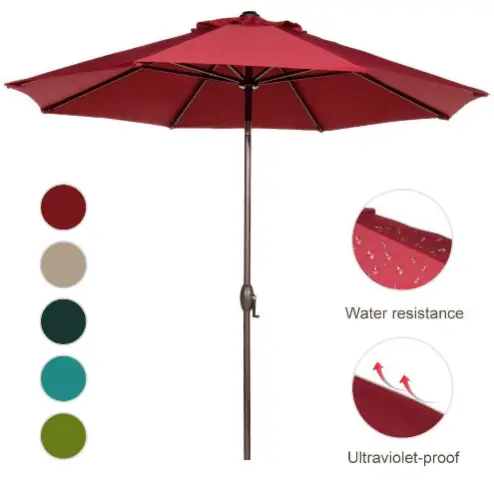 Abba provides a fantastic shade solution for any backyard, restaurant or pool side with this 9 feet diameter wide Outdoor Market Table Umbrella. With over 10 different color option, you will typically find the perfect choice for your outdoor decor. Abba Patio Umbrella is a great choice for rectangular, oval or square tables ranging from 42 to 54 inches with capacity of 4 to 6 chairs.
Constructed to last, Abba Patio Umbrella features a reinforced end screw design that keeps it sturdy and secured from any breaking if it accidentally falls over. The canopy is made of pure polyester that is weather and UV resistant. Further, the iron pole and steel ribs are powder coated with bronze to prevent them from rusting.
The build-in crank system makes the opening and closing of the canopy an effortless task. Additionally, you can enjoy protection from sun at any angle by simply pushing a button to tilt and rotate the umbrella canopy. You can thus enjoy shade at any time of the day regardless of the position of the sun.
To make enhance its stability in windy areas, Abba Patio Umbrella has a vented canopy that allows free flow of air. The vent also make you to enjoy a cool breeze without heat getting underneath the canopy. Although the package does not include a base, you should consider adding as a way of securing the umbrella in winds.
Why we like it
The high quality pure polyester effectively protects against UV
Made from weather and rust protected materials
Has a vented canopy for improved air circulation and stability
Inbuilt-crank for easier opening and closing of canopy
Can be tilted to block direct sun from any angle
Comes in varieties of color
2. Sunnyglade 9′ Patio Umbrella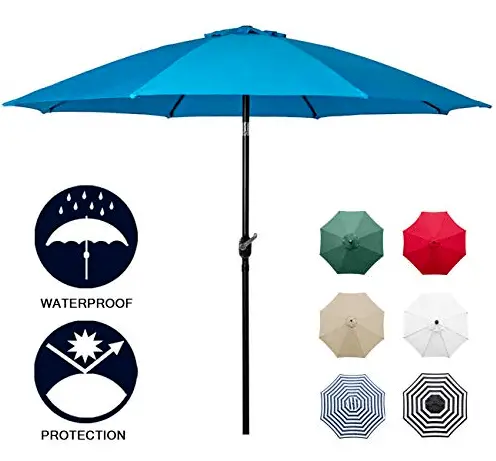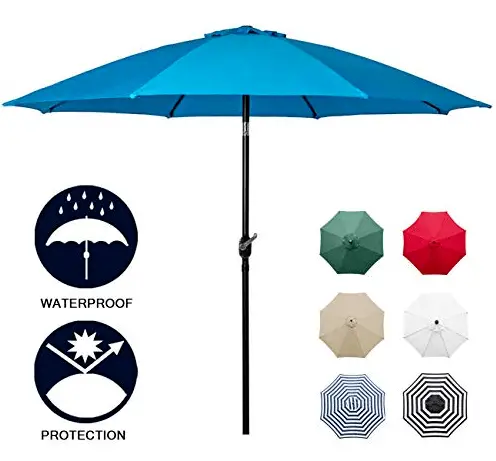 This is a high quality umbrella for keeping your outdoor areas cool during the warm summer days. It features a 9 feet in diameter durable polyester canopy wide enough for 42″ to 54″ round, square or rectangle table with 4 to 6 chairs. Further this waterproof canopy is UV protected and easy to clean too.
Sunnyglade Outdoor Patio Umbrella is a sturdy design construction for strength and durability. The 8 sturdy ribs, powder coated aluminum pole and a wind vent provides great stability even in windy areas. Not included in packaging is a sunnyglade umbrella base that should be purchased for anchoring of the umbrella.
To enable easier opening and closing, the umbrella is fitted with a smooth hand crank system. There is also a tilt button which is pressed when you want to adjust the angle of the canopy for directional protection from the sun.
Why we like it
Comes in varieties of colors for most outdoor decors
Has a weather-resistant polyester canopy
8 canopy ribs for improved stability
The top wind vent allow free flow of air
Smooth hand crack for opening and closing
Push button for tilting the canopy
Powder coated aluminum poles for durability
3. Blissun 9 ft Solar Lighted Patio Umbrella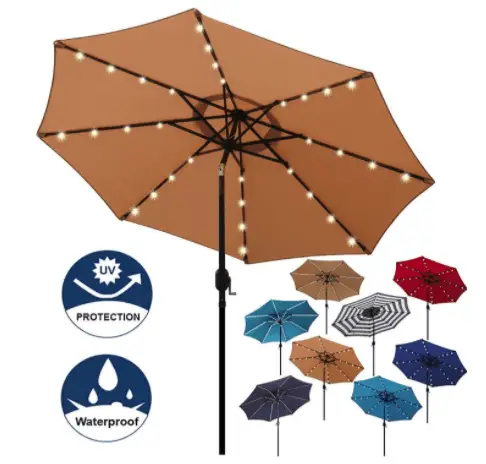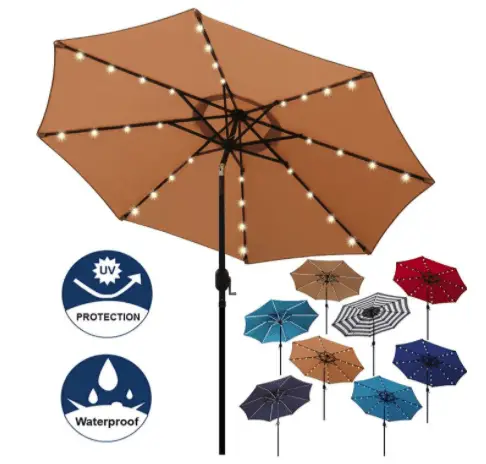 This is a 9 feet wide patio umbrella featuring 32 LED solar powered lights, is a great choice for garden, deck, backyard, pool and beach relaxation. While the solar lights brightens up evening gatherings, the umbrella keeps you and your friends cool during the hot daytime sun.
Blissun Lighted Patio Umbrella comes with a breathable polyester canopy that protects you from harmful UV radiations from the sun any time of the day. It can be tilted to any angle using the push button. Opening and closing has also been made easy with the fitted hand crank.
The pole is made of powder coated aluminum that resists corrosion and gives the umbrella excellent stability. Further, the canopy has a wind vent on top and uses eight ribs to support the fabric and improve the strength of the umbrella in winds. Although base not included, you should obtain one for anchoring your umbrella.
Note: The solar power panel should be charged for 6-7 hrs in the sun to gain the enough energy to power the LED lights during the night. Also switch off the on-and-off buttons during daytime to conserve enough energy for night time lighting.
Why we like it
Excellent shade and UV protection
The LED lights brightens up outdoors during the night
Has 8 ribs and a vent for improved stability
Crank and tilt button makes it easy to operate
Made with durable rust resistant frame
4. Le conte 10 ft Patio Offset Cantilever Umbrella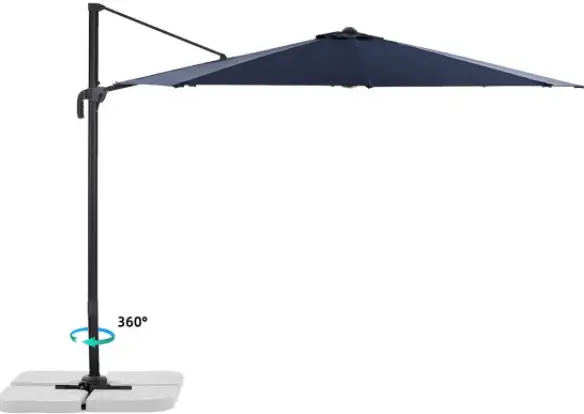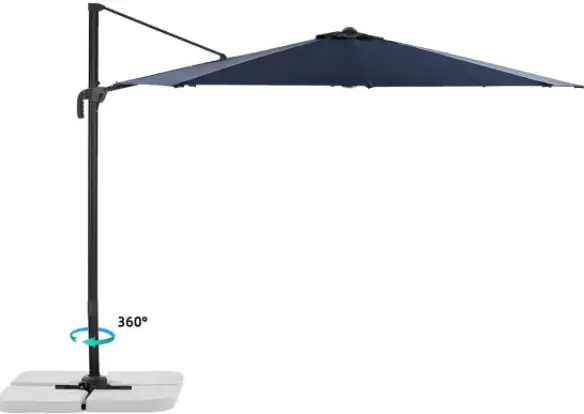 This is 10-feet wide patio umbrella suitable for outdoor seating areas, restaurants and office buildings. It has a thick canopy comprising a high quality polyester fabric in 5 layers for excellent protection from UV rays and little rain. The inner layers of the fabric create a wear resistant barrier that protect the canopy from early fading and abrasion.
Le conte Patio Umbrella's framework comprises of thicker powder coated iron poles and all iron ribs that offers strong resistance against wind. The air outlet on the top allows air and heat to freely circulate. This reduces wind pressure to enhance stability and cooling.
Opening and closing of this umbrella has been made effortless with a fitted hand crank. Further, the umbrella can be tilted with a just push button to provide shade throughout the day regardless of the position of the sun. There is also multiple height options for multi-angled shade requirements.
The umbrella should be secured by a weighted base that is sold separately. Alternatively, you may use sandbags to weigh it down, or bolt it down to the ground. During off-season, use the provided nylon straps to close it. The product has a 90 day warranty in addition to 24 hours online customer service.
Why we like it
Has a durable weather resistant fabric
All-iron ribs and anti-rust powder coated pole
Provides excellent shade from sun and little rain
Has an air vent for free flow of air and stability
Push-Button tilt function and height adjustment
Easy crank opening and closing system
Comes with nylon straps for quick closure when not in use
90 day warranty and 24 hours online customer support
5. Bluu 10ft Patio Offset Cantilever Umbrella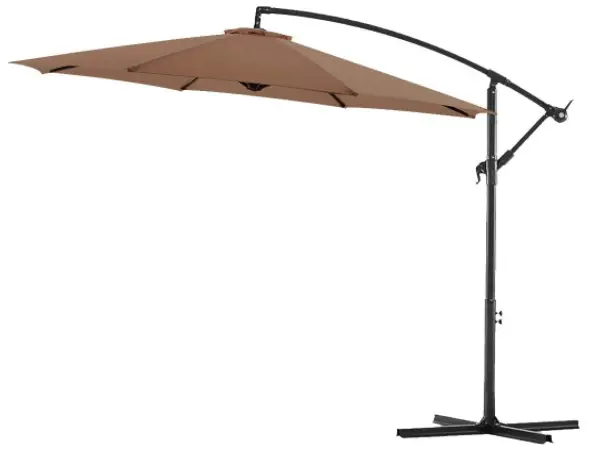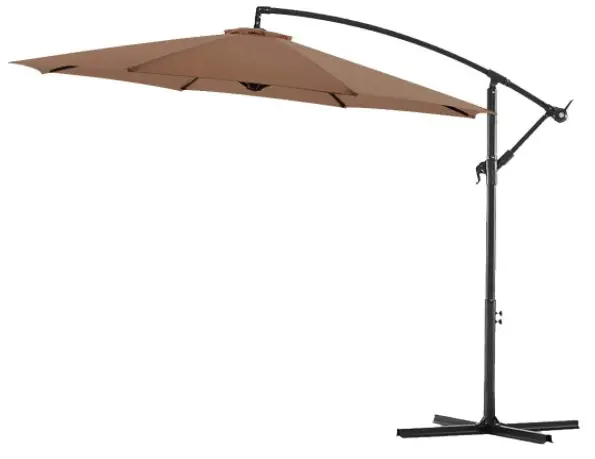 This is a beautiful outdoor patio umbrella that comes in more than 10 colors to give you a wide choice option for your decor. Bluu Offset Umbrella is equipped with a 10-feet diameter canopy that offers a wide range of shade and protection over tables, swimming pools and hot tub in your backyard or restaurants.
Its layered polyester fabric forms a durable barrier that protects against UV rays and rainfall. This wear resistant fabric is also equipped with anti-fade technology to keep it looking new all year round. The long lasting fabric material is also tested to guarantee maximum UV protection throughout your garden, deck, yard, lawn, balcony, or restaurant
Stability and durability of this umbrella has been enhanced through a sturdy iron pole attached to 8 ribs. The lightweight framework is also coated with a layer of anti-oxidation paint that create a shiny surface with a rust-resistant finish. There is also an air vent at the top for free flow of air and heat making it stable in windy conditions.
Bluu Offset Cantilever Umbrella features a crank handle that allows easy opening and closing of the canopy. There is also a flexible arm tilt feature that makes it effortless to adjust the canopy to the direction of the sun.
While this umbrella does not include a base, you should purchase one to secure it from winds. Alternatively, you can use heavy bricks or bags of sand. Bolting it down is also an option. To ensure the longevity of your patio umbrella, Cover and store at night or during extreme weather conditions.
Why we like it
Sturdy Heavy-duty arm & pole construction
Tilt function for a wide range of shade
Has Easy-to-turn crank and flexible arm tilting feature
UV resistant, waterproof and fade resistant fabric
One year warranty service
How to Choose the Best Patio Umbrella – Buyer's Guide
Patio umbrellas come in varieties of types, styles and sizes. To get the perfect umbrella for your backyard, you should take a keen look at the following factors.
1. The type of patio umbrella
There are two main types of backyard umbrellas. The market patio umbrellas and the cantilever tilt patio umbrellas.
Market Patio umbrellas are the most used types due to their affordability, large sizes and strength. The umbrella has a straight pole that is positioned in the center of the umbrella and sits in a base on the ground. The pole can as well be placed in the center of a patio table.
Cantilever tilt patio umbrellas also known as offset umbrellas are versatile backyard umbrellas with the pole off to one side. Most offset umbrellas pivot from side-to-side or rotates fully round to provide shade from any direction of the sun. This happens with press of a push button or manually by a hand.
Choosing either market patio umbrella or offset umbrella typically depend on personal preference and the nature of the areas where you want to provide shade. Market patio umbrellas are best choices for a dining set while offset umbrellas offers excellent shade in conversation and relaxation areas.
2. Size of the umbrella
The size and arrangement of your backyard should help you in deciding on the type of umbrella you want. You will find both small and large umbrella sizes on the market but your umbrella should have a diameter 5 feet larger than the area it's intended to cover.
3. Umbrella shape
Common shapes of patio umbrellas include round (octagonal), rectangular or square. Your choice for a shape will depend on the area you are providing shade, the available space and your personal preference. Round or octagonal shapes are best for a dining set with a hole in the table.
4. Base stand
This is a very important thing to look at. While most of the umbrellas don't come with a stand, you should know if it can fit in any universal base. The weight and stability of the stand also matters especially if you come from windy areas.
A heavy sturdy stand should provide maximum support of your umbrella during winds or light rains. But if you just need a stand that will anchor your umbrella in a place, you will find plenty of them. Ensure it is made of durable rust resistant material.
5. Fabric quality
Patio umbrellas come in wide varieties of fabrics whose prices vary based on the quality of the outdoor material. You will want to think about their resistance to fading as a result of UV radiations and quality for its durability. Fabric Sunbrella is one of the most popular material for outdoor patio umbrellas. It is a weather resistant fabric that does not stain or fade.
Other materials you will find include canvas, acrylic, polyester and olefin. Polyester also has impressive performance against fade, stain or mildew. It comes in wide selection of colors and patterns. Olefin is a budget option that offers better fade-resistance like polyester. With proper care the highly synthetic olefin fibers will last long. Acrylic is also standard material for outdoor use you will also find used on some umbrellas.
6. Skeletal material
The framework material typically determines the umbrella's resistance to weather, its strength and appearance. Commonly we have wood, aluminum and steel poles. Aluminum is the most durable and versatile pole material that is strong, rust resistant and classic.
Similarly steel is stronger but not weather resistant as aluminum. With time, steel will corrode or rust unless it is coated with anti-rust material. Wood is also an option for umbrella poles but not popular. Wood poles lack flexibility features and may get affected by elements unless the wood is treated.
When it comes to ribs, aluminum and stainless steel are commonly used. Aluminum and stainless steel are durable and rust resistant materials which will support the fabric without staining it. Powder coated or painted iron is also excellent for making sturdy ribs.
7. Operating mechanism
Umbrellas that uses a crank to open or close canopies are easier to operate and last longer. It is a quality, flexible and durable mechanism to have on an umbrella. Patio umbrellas operated like rain umbrellas are tedious and inconvenient to have in a home. These push-up-to-open types of umbrellas are likely to weaken and breakdown easily.
8. Wind resistance
We have already looked at key features that makes a patio umbrella resistant to wind. If your home or area where you intend to provide shade is located in windy areas, you will want to look for an umbrella with strong and sturdy skeleton material, air vent and with a tough and durable fabric and above all weighted stable base.
How do you maintain an outdoor umbrella?
To keep your umbrella looking good and functioning for longer, consider the following tips
Don't force your patio umbrella open. If it doesn't open gently there may be something caught up and forcing it could damage the ribs or the mechanics.
Close the canopy when not in use or when the season turns cold. This will reduce the chance of broken ribs in extreme weathers.
To add years to your umbrella's life use a cover which helps in blocking out sun and moisture
Store your patio umbrella in the garage or a storage shed during the off-season or when you are not using.
Add umbrella lights, this adds ambiance to your outdoor living space in the evening. You can purchase umbrella with lights integrated right into the ribs or you can add lights as an accessory
Consider installing umbrella base table which hold the umbrella pole and at the same time offers a surface where you can place your drink.
Clean your umbrella once in a while to remove dirt, mold and mildew.
How do you clean your outdoor patio umbrella?
Dust, pollen, mold and mildew can take a heavy toll on your outdoor umbrella. Cleaning after several months not only make it to keep looking new but also make it to last for years to come. To clean your umbrella, you will need a soft-bristled broom, a cleaning solution (White vinegar solution or mild dish soap) and a garden hose.
Remove the umbrella from the pole and place on a tarp. Use the soft bristled brush to remove debris, dust and pollen from the fabric. Spray a mild dish soap to soak the umbrella and gently scrub using your soft-bristled broom. Rinse off the cleaner using a hose and let it dry in the sun.
If there are stains or mildew, mix 3 parts of warm water with one part distilled white vinegar. You may also add few drops of mild dish soap. Apply the solution on the stain and let it sit for 15 minutes before you scrub using a soft-bristled broom. Rinse and let the umbrella to air dry.
Conclusion
Summer is the best time to spend outdoors but the intensive sun can be too hot for that. A patio umbrella is the least expensive way of adding a shade to your patios, garden, lawns, balcony, restaurant or business.
Umbrellas have a versatile canopy that will offer shade and at the same protecting you from UV rays and light rains. We hope from our collection above you have found the best patio umbrella you have been saving for.