Weeds are unsightly and can dramatically reduce the aesthetic value of your outdoor spaces such as patios, driveways, lawns and garden. To control weeds permanently you need to use a highly effective herbicide. Here is a list of the best weed killers and preventers for your hardscapes:
Roundup Super Concentrate Weed & Grass Killer - Includes Easy Measure Cap, 35.2 oz.
Doctor Kirchner Natural Weed & Grass Killer (1 Gallon) No Hormone Disrupting Chemicals
RM43 43-Percent Glyphosate Plus Weed Preventer Total Vegetation Control, 1-Gallon
8 Best Weed Killers
Varieties of herbicides are available out there, but how do you know the best one? Based on effectiveness, ease of application and customer satisfaction, we have the following collection of the best herbicides for killing weeds on your outdoor spaces:
1. Roundup Super Concentrate Weed and Grass Killer
This is a highly effective weed killer to use on driveways, patios, walkways, mulch beds, along fences, foundations and edging. It is guaranteed to kill weed to the root so they won't grow back. When applied, it is absorbed through the leaves and goes all the way to roots for a permanent kill.
Roundup Super Concentrate can be used around flowers, shrubs and trees. To perform better, mix ½ oz. per 1 gallon of water and use a tank sprayer to apply. Between 2- 4 days, you will see weeds turning yellow and wilt. Rain or watering 30 minutes after application does not affect its effectiveness.
For safety reasons, this chemical should not be sprayed near or on edible fruit or vegetables. Keep children away and pets while spraying until it is completely dry.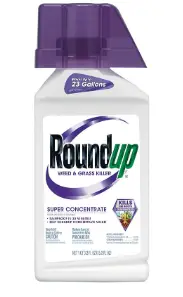 Why we like it
Fast action with guaranteed results
Highly effective for widespread weeds control
Waterproof in 30 minutes
Best for large areas including garden preparations
2. Doctor Kirchner Natural Weed & Grass Killer
This is an Eco-friendly natural weed killer that is made from ocean salt water, vinegar and soap. It is a ready to spray formula without mixing with anything else. Doctor Kirchner Natural Weed & Grass Killer is the best alternative to chemical herbicides that are highly noxious.
This product is applied by simply spraying on the weeds to the wetness. Within 12-24 hours, you will see weeds turning yellow and completely withering. You are advised to read and follow application instructions for a perfect outcome. This weed killer is not recommended for lawn because it will dry your grass.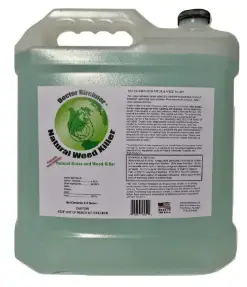 Why we recommend it
Environmental friendly
Fast action weed killer
Long shelf life
Safe around kids and pets
3. RM43 43-Percent Glyphosate Plus Weed Preventer
This vegetation controller kills weeds and at the same time preventing them from growing back for up to 1 year. With undoubted abilities to stop weeds from germinating and growing, RM43 43-Percent Glyphosate Plus Weed Preventer is the ideal solution for stubborn invasive plants on your gravel paths, driveways, sidewalks, patios, around fences and farm buildings.
You can use this herbicide for total vegetation control or spot control of brush, vines and weeds. After spraying expect good results within a week. Do not use this herbicide on your lawns, on your desired plants or places you want plants to grow. Use away from children and pets until it is completely dry.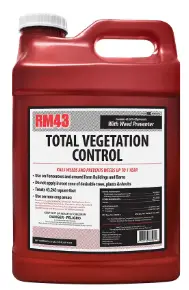 Why we recommend it
Economical for large coverage
Guaranteed results
Highly effective formula
4. Preen Garden Weed Preventer
One of the best ways of tackling weeds is before they germinate. Preen Garden Weed Preventer has been formulated for this purpose. While this herbicide does not kill existing weeds, it prevents growth of new weeds for up to 3 months. Therefore, it is important to remove existing weeds and unwanted grasses before applying it. Reapplying after every 9-12 weeks guarantee ever clean spaces.
Unlike other weed killers, Preen Garden Weed Preventer does not affect other plants. It can be used around established flowers, vegetables, trees and shrubs but not on lawns. After applying, simply water the granules to get into the ground. Preen is not affect by rain and can be used in any season including spring, summer or fall.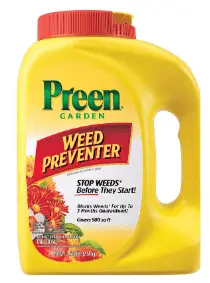 Why we recommend it
Guaranteed weed prevention
It can be used any time of the year
Does not have effects on other plants
Easy to use and active for 3 months.
5. Compare-N-Save Concentrate Grass
This is an ideal product for controlling weeds and unwanted grass on driveways, walkways and along fences. Compare-N-Save Concentrate Grass can also be used around flower beds, fruit and vegetable gardens and on landscaping. Do not spray in lawns to avoid killing your grass.
It is a powerful product that kills to the root with visible results between 2 and 4 days. Although rain proof in 2 hours, apply it on a warm sunny day guarantees best results. Mix 1.5 oz. in 1 gallon of water for regular weed control and 2.5 oz. per 1 gallon of water when dealing with tougher weeds.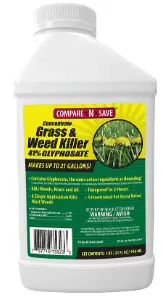 Why we recommend it
An effective herbicide
Good for large coverage
Does not affect your plants
Budget weed killer for best results
6. Spectracide Weed & Grass Killer Concentrate
This is another highly effective weed killer that will eliminate unwanted plants from your driveways, walkways and patio. It can be used around fences, flower beds, trees and shrubs in your yard. This is a fast acting formula that produces results in as little as 3 hours. Weeds are killed down to root.
Spectracide Weed & Grass Killer Concentrate is a ready to use formula. For best outcome, apply during a dry warm sunny day and completely cover the leaves of the targeted vegetation. The herbicide has 15 minutes rainproof.
Do not use in lawns, cover your desired ornamental plants with a piece of plastic or cardboard to avoid contact. If accidentally sprayed, wash with water immediately. This product should not be used around edible feed or food crops. Keep kids and pets away until the spray is completely dry.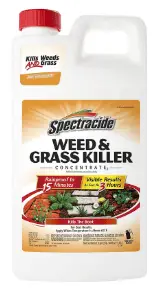 Why we recommend it
Removes stubborn weeds
Effective and fast action formula
Ready to use thus easy to apply
7. Roundup Ready-To-Use Weed & Grass Killer
This is ready to use formula for terminating weeds on your driveways, patios and sidewalks. It can also be used around flower and vegetable gardens, landscape and mulched beds. Roundup Ready-To-Use Weed & Grass Killer requires no mixing and it comes with an extendable wand and a protective shield for to target weeds without affecting desired plants.
The herbicide goes through the leaves all the way to the root for a complete kill. You are guaranteed results in 3 hours after spraying. The product is rainproof in 10 minutes. For the best results read and follow label instructions.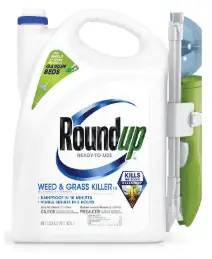 Why we recommend it
Instant ready to use formula
Comes with an applicator
Guaranteed results within 3 hours
Rainproof in 10 minutes
Can be refilled
8. BioAdvanced DuraZone Weed & Grass Killer
This is one of the best herbicides for driveways, patios, sidewalks, along fences and other outdoor spaces. It kills unwanted weeds and prevents new ones from growing up to 6 months. Do not use BioAdvanced DuraZone Weed & Grass Killer on lawns because it will kill grass.
Available in 3 easy-to-use formulas that include:
Concentrate – Use with standard garden sprayers
Ready-to-Use – Battery operated sprayer with Ergo-grip handle
Ready-to-Use – Hand trigger spray for small applications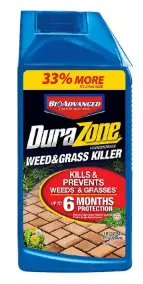 Why we recommend it
Effective formula for weed control
Kills and prevent weeds
Offers long lasting protection
Easy to use
What to look for in a weed killer
To get a good weed and grass killer, the following are important factors to consider.
1. Active ingredients
Every brand comes with a different set of active ingredients targeting a specific types of weed. Before you make a purchase, be able to know the types of weeds or grass you want to target. While there are products that kills every plant they come into contact with, we also have those that target a specific species of weed.
Products come with a list of weeds they can tackle. Read the list and instructions on how to apply for an effective outcome. Going through product reviews can also be helpful in achieving this objective.
2. Selectivity
Herbicides can either be selective or non-selective. Selective herbicides target specific plants without affecting others. They are the best to use when you want to protect desired plants.
Non-selective weed killer tackle any type of plant it comes into contact with. They are ideal for clearing weeds from a large area or spaces you completely don't want to see any plant. Non-selective herbicides are the best for eliminating weeds on driveways, patios and walkways.
3. Application
Various brands of herbicides come with different methods of application which include the following:
Trigger spray application: They are usually ready to use formulas that has a gun-like spray bottle. The solution is sprayed directly on plant leaves or foliage without mixing with water or other solutions.
Pump applicator: The herbicide may be a ready to use solution or a concentrate that may require mixing before spraying. You require a sprayer tank to apply especially when you are dealing with large coverage.
Granules: Weed killers may also be available in form of powder or crystals which are applied without dissolving them and followed with splash of water. This helps the granules to penetrate and dissolve into the plant.
4. Quantity
Large areas such as driveways require relative large quantity of an herbicide. You may also require a pump sprayer for faster application. The best type of weed killer for such a case is a concentrate that can be diluted to have more quantity which is then applied using a sprayer pump.
For small patches of weeds or undesired grass, go for a ready to use weed terminator which usually comes with an applicator. Granulated herbicide may be used for both small and large spaces without much problem.
5. Residual activity
Residual activity defines how long the formula can remain active after application. Driveways, patios and walkways require herbicides with high residual activity. These are spaces you don't need to see weeds growing at forever.
Low residual activity herbicides are ideal for lawns, gardens and landscapes when you intend to grow your desired crop. These type of weed killers can be replant – applied before planting, pre-emergent applied before germination or post emergent – applied on grown weeds.
6. Safety
Commercial weed killers require high levels of precaution when handling them. Most of them are noxious, inhaling or ingesting them can be dangerous to one's health. Key safety measures include:
Wear protective gear to avoid contact with your body
Do not spray while kids, pets or other family members are around
Properly dispose of empty herbicide bottles or containers
Store away from the reach of children.
Do not spray on edibles such as fruits, vegetables
Always read and follow label instructions before using
If you cannot safely handle a chemical weed killer, involve a professional weed control service or consider other natural ways of getting rid of weeds between pavers and cracks in your hardscapes.
Final Thought
Weeds are notorious and can defy a weak herbicide. Do not let your money go down the drain as you watch weeds take over your investments. Protect your outdoor spaces with any of our recommended weed killers and you will be a happy home owner.