Elements are usually not kind on outdoor investments. Rain or humid conditions can cause outdoor patio furniture to rust, decay, discolor or grow mold and mildew. This can lead to costly replacements or restorations. This brings us to a question; is Patio Furniture Waterproof?
Outdoor chairs, tables and sofas are not waterproof but water resistant. They can resist water penetration to some degree. You'll need to store it inside during rains, cover it, or apply special waterproof sealants if you want it to last longer.
Is Patio Furniture Waterproof?
Outdoor patio furniture made of teak, aluminum, recycled plastic, or resin wicker have good resistance against rain and humid conditions. With some care and maintenance, these type of outdoor furniture will remain looking beautiful in any weather for years to come.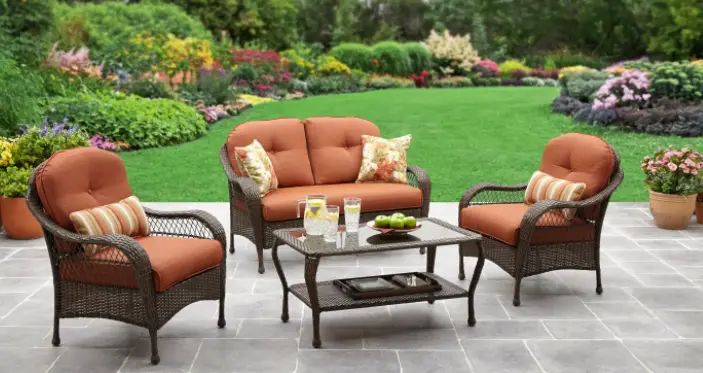 Patio furniture come in hardy materials that does not easily decay, rust or warp due to rains or humidity. The following are water resistant materials for outdoor patio furniture.
Teak
Teak is a hardwood of the choice for outdoor furniture and other constructions. It effectively resist wet and humid conditions, the reason you should choose it for your outdoor patio furniture. The material can certainly thrive torrential downpours without decaying or growing mold and mildew.
Teak's waterproof prowess comes from high amount of oil in its fibers. Additionally, it has tight grain that does not allow penetration of moisture or water. This is why teak trees thrive in weather monsoon storms and humid climates.
Outdoor patio furniture made of teak will as well need periodic care to prevent the wood from absorbing moisture and help it to retain its dark, super luster. Without treating your outdoor teak furniture, overtime the wood will fade to light gray or crack.
A protection sealer or outdoor wood paint will give the wood a protective layer against UV rays, mildew, and moisture penetration.
Aluminum
Of all the metal outdoor patio furniture, aluminum is rated as the best for rainy or humid climates. Unlike steel or wrought iron, aluminum will not be oxidized when exposed to moisture. Instead, the metal will form a protective layer on its surface that also fend off moisture-induced corrosion.
Although aluminum does not require special attention to remain durable, you can rejuvenate the metal on outdoor furniture to always look new. This is done by sanding, cleaning, priming and painting the metal. Be sure to use a self-etching primer designed for aluminum if you want paint to stick well.
Resin Wicker
Resin wicker is a synthetic material that stands up to elements thus a great choice for patio furniture. While it mimics the appearance of rattan, this waterproof material stands up to wet conditions. Organic rattan may look more charming and natural, but it is very vulnerable to moisture damages.
Recycled plastic
Commonly known as polywood, this material is obtained from recycled plastics and used for making various items including Adirondack chairs, picnic tables, garden benches, gliders and armchairs. Recycled plastic patio furniture is eco-friendly, attractive, easy to maintain and highly durable.
Polywood will not promote the growth of mold, decay or attract stains even in ever wet weather. You'll only need to clean it with soap and warm water. Due to the lightweight nature of the material, you will need to secure your patio furniture from speeding wind during storm or heavy rainfall.
Sunbrella Fabric
Sunbrella is an all-weather type of fabric with great water resistance abilities. This is the best material you'll want for your outdoor cushions, pillows and umbrellas. There is no much needed in maintaining a sunbrella fabric. Occasional cleaning with soap and water or a recommended cleaner is enough to keep the material looking its best.
Outdoor cushions or pillows will always last longer when stored indoors during rain or winter season. Clean your outdoor patio cushions and store them in a clean dry place in your basement, attic or garage. This will secure them from outdoor bugs or growth of mold and mildew.
A waterproof spray can also be used to protect outdoor fabric from moisture. If you choose this root, then use a recommended product for your specific fabric material and apply as directed by the manufacturer.
How to Weatherproof Outdoor Furniture
Even with the best weather resistant material, outdoor patio furniture will need some care and maintenance especially during wet or rainy conditions. Here is what to do:
Clean it: Occasionally clean your patio furniture with warm soapy water to remove dust, debris and water marks. Use a soft rug to tackle stains and hose the chairs and tables before you dry them with a towel.
Cover it up: Wrapping your patio furniture in a cover reduces the severity of elements on them. There are even waterproof furniture covers you can use if you don't have space for storing them indoors.
Dry it up: After rain or cleaning, clear up excess water puddles from your outdoor furniture. This will reduce chances of wood warping, paint flaking or water stains.
Revitalize it: Always check for rust, mold, flaking paint or broken parts on your patio furniture and embark on immediate restoration process before it gets too late.
Final Thought
Investing in the right material for outdoor patio furniture is the first step in braving harsh outdoor conditions for your investment. On top of that, provide some care and maintenance and you will enjoy your backyard furniture for longer without need to undertake costly replacements.