A pergola is a great addition to a patio or deck for shade and character but the open latticework or vine roof doesn't provide any protection from sporadic showers. Installation of a pergola roof cover is an excellent solution to this problem. Here are the best pergola cover ideas to keep rain out and prevent UV rays on your outdoor spaces.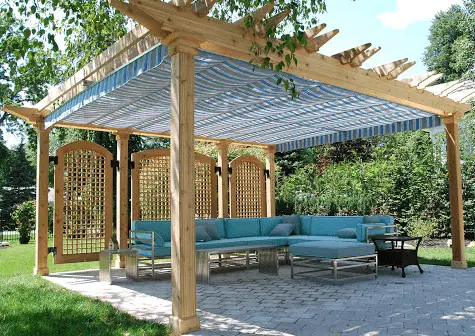 Best Pergola Cover Ideas
Covering your pergola with a waterproof cover not only keep out rain but also protect your structure from water based damages including rust, mold and rotting. The cover also block the harmful UV rays from the sun. Here are great pergola roof cover ideas for shade, privacy and protection from rain, UV rays and snow.
1. Waterproof shade sails
Shade sails are the most popular covers used on pergolas as they are both attractive and affordable. This pergola shade cloth is breathable and can be installed on the top or sides of a pergola for shade and privacy. However, the standard fabric cloth is not waterproof and as soon as it rains water will be allover in the structure.
Waterproof shade sails are advanced versions that offer excellent protection from rain and UV rays from the sun. The woven polyester yarn coated with PVC is not subject to mold and other water damages. The shade sails come in varieties of sizes and colors and you can effectively use any over your patio, driveway, carports and other open outdoor areas.
2. Louvered Roofs
Also known as opening roof, adjustable patio cover, or motorized pergola, a louvered is an advanced and latest way of adding shade on your outdoor areas. The structure uses blinds or shutters with angled slats/panels to regulate light and air while keeping out rain and direct sunshine.
Unlike retractable awnings a louvered roof opens to your desired angle, adjusting the shade or sunshine as needed. You can close it completely to prevent any direct rays from the sun or rainfall into your patio or deck. Closed louvers channels the rain on the edges to spill over.
These patio covers are available in varieties of materials, sizes and designs. The rotating louvers are commonly made from treated aluminum, glass, wood, or metal to resist rust and mold. You can choose any color you like to match your outdoor décor.
A louvered roof patio cover is motorized and uses a remote control device or a phone app to control the opening and closing settings. Its structure consists of corner posts and main horizontal beams that are connected with louvers, which are basically a horizontal slats angled either to shut out or open.
3. Corrugated / Flat Panels
Corrugated or flat panels can be installed on a pergola to block rain or direct sunlight. To allow sufficient amount of light into your structure, clear or slightly tinted panels will be a great option. Solid dark covering will typically change the whole concept of a pergola and you won't be able to enjoy a clear view of nature.
These panels come in variety of materials including fiberglass, PVC and polycarbonate. Of the three, fiberglass panels are affordable but there is a concern that they are likely to cloud easily thus changing the appearance and amount of light that goes through.
PVC panels are quite an improvement but can be brittle. Polycarbonate panels are strong and the most durable but they are very expensive. Most polycarbonate panels come with a special coating on the upward side that prevent UV rays from the sun. They are the most suitable for residential application.
Corrugated panels tend to be more rigid as compared to flat panels and they hardly become floppy. They are also easy to install and water will move smoothly through the groves during a heavy downpour without putting any pressure on the sheet.
Clear panels come with few downsides, they can easily get scratched especially during cleaning when any abrasive material is used. Further, you will be able to see anything that falls on them including bird droppings and plant leaves.
4. Waterproof Canopy
Canvas is a popular material for a waterproofing a pergola. Unlike shade cloth, a canvas is tighter in construction and can also be treated with a water repellent or waterproof compound. This material can be used for simple DIY pergola cover needs or in high end settings.
A canvas can be attached to the top of a pergola using ropes or screws to form a fixed canopy that blocks even a heavy rain. However, there are concerns that water may be trapped in some creases or corners which may cause the structure to rot.
A retractable canopy is an advanced version of covering a pergola for a compact weatherproof solution. The canvas is installed over tracks where it can be pulled to one side using ropes and closed when needed. This pergola retractable roof can also be motorized for easy rolling.
There are various designs in which this canopy is set to ensure proper flow of water on the edges. A retrofit to the existing structure or series of battens can be created to offer a lasting solution to rain problems.
5. Tin/Metal Roofs
Metal roofs are excellent at providing more protection and shelter against various harsh weather conditions. Metal roofs for pergola are more favorable in areas with torrential rainfall and where hot sunlight stays for long. Metal or tin sheets are easy to shape according to the size and shape of a pergola.
There is a wide range of metals that can be used for roofing a pergola. Metal roofs with protective coating are more durable, long lasting and offers excellent protection against elements. Few problems with metal roofs include nose, costly and some people don't like their appearance.
Final Though
Covering your patio allows you to spend more time outdoors, it adds value to your home and protects your furniture and furnishings from UV rays or water damages. While simple pergola covering can be a do it yourself project, high end projects need professional installation as a way of providing a permanent outdoor weatherproof solution.