Outdoor patio screens are helpful in keeping bugs out for a peaceful outdoor living. Various innovative ideas have transformed how the screening is installed to get more than just keeping pesky insects away. Retractable patio screens provides privacy and protection from elements including wind, heat and sunlight.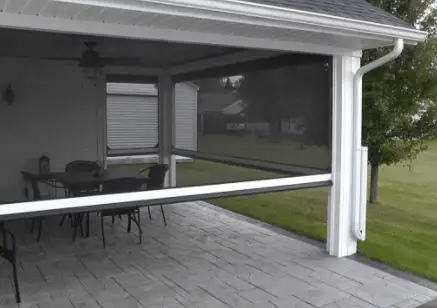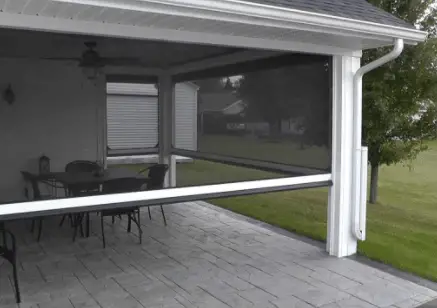 Retractable screens are hidden from view, and they are only visible when you need them. Just like retractable awnings, these screens are motorized or can manually be slide back into casing hidden within walls, columns or archways.
Decorative screens are also available in varieties of sizes and colors for enhancing the visual appeal of your spaces.
Retractable Patio Screen Pros
Retractable outdoor screens can remain out of sight when not needed. You can therefore enjoy the breeze and nature without obstructions.
They are available in various designs and colors which can be used to add style and décor on a patio or porch
Offers protection from pesky bugs and insects such as mosquitoes and flies thus a peaceful outdoor enjoyment
Retractable patio screens can also be used to control the amount of sunlight entering an area to avoid overheating or fading of furnishings and surfaces due to UV radiations from the sun
Helps in lowering energy bills due to outdoor air condition, cooling or heating
Patio screening increases the value of your home or property
Can also be helpful in keeping animals away from your patio or porch
Retractable patio screen cons
Retractable screens are expensive to install as compared to fixed patio screens. A motorized retractable patio screen is even more costly to purchase and install
Can be a safety hazard to pets and kids especially when they try to force their way inside. In the process, the screen can also get damaged and you may be forced to replace it or repair which are all expensive affairs.
Patio screening gives you a limited choice for a type of outdoor heater to use. It may not be wise to use a propane patio heater in a screened patio or porch.
Retractable patio screen Ideas
When it comes to style and designs, retractable patio screens come in wide range of variety. However, the following ideas can help you make the perfect choice of an outdoor patio screen.
Sun Control Screening
This is an ideal option for also managing the amount of sunlight entering your covered patio or porch. Sun control screen not only keep bugs away but also prevent your patio floor and furnishings from fading due to UV radiations from the sun.
These screens also help in cooling down your porch or covered patio especially during the hot months of summer. This not only keeps you comfortable but also lowers the energy bill for cooling. Sun control screens allow light to pass through while it also looks beautiful from outside.
Pet-Resistant Screens
Homeowners with pets should consider pet-resistant screening. Dogs and cats can damage your screening accidentally or while forcing their way in. A standard patio screening will typically get damaged or harm your pet.
Pet-resistance screening is made with tough and strong materials that can sustain an impact. These types of screens are expensive but does a good job in coexisting with your pets.
Prefabricated screen panel
These outdoor screens come in variety of materials including weathered steel, power coated aluminum, and hardwood. They are strong and offers a more elegant appeal than most standard outdoor screens. The decorative panels are designed to allow visibility and also high level of privacy.
Fabricated screen panels also come in a variety of colors and you can have a choice for your exterior décor.
Fiberglass standard screen
This is a less expensive and popular type of screening for patios and porches. It offers great visibility without much glare. Fiberglass screens comes in variety of colors all which are easy to work with.
How to stop dog from going through screen
You can prevent your dog or other animals from going through a patio or porch screen in the following ways.
1. Pet-screens
Although looking like the standard screens, pet-resistant screens are way far strong and tougher. A dog or cat cannot tear them up with their claws or nothing happens when an animal accidentally bumps into them. Although expensive, they are worth installing if you have a pet.
2. Pet Grills
A grill can be placed on the outside of the screen to prevent any animal from going through. The grills are usually made of strong material although not expensive as compared to pet screens. Pet grills come in various colors and you can purchase one that suits your outdoor décor.
3. Magnetic screen doors
Screen doors allows pets to move in and out of an area on their own. The door automatically closes behind you or a pet to prevent bugs from entering. Magnetic screen doors are safe, effective and a great option for enclosed patios and porches.
4. Visual barriers
If your pet or animals accidentally crush into your screen, it is time to add some visual barriers. Something like a neon-colored tape or a screened pet gate can help in alerting your dog to slow down.
Final Thought
Installing a retractable patio screen gives you the flexibility and comfort to enjoy your outdoors with your friends or family without any interference from bugs and elements. While outdoor screens come in a wide variety of designs, colors and styles, choose one that befit your situation.