Stamping patterns into a newly installed concrete is a beautiful way of decorating and finishing a concrete surface. Concrete can be patterned or textured to resemble brick, flagstone, wood, slate or other masonry material. The wide variety of colors and patterns make stamped concrete popular for sprucing up patios, driveway and pool decks among other areas in a home.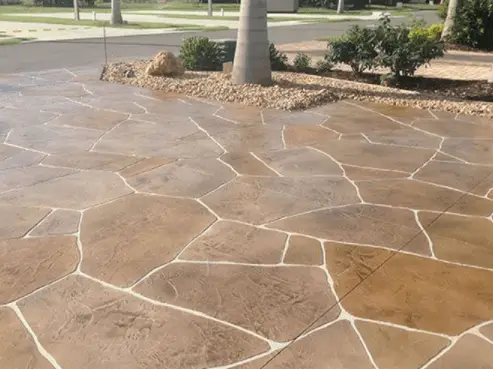 Unlike ordinary poured concrete, stamped concrete is durable, weather resistant and takes less to maintain. Further, stamped concrete adds style and elegance to your outdoor surfaces without spending much as compared to pavers or flagstones.
Before we delve deeper into design options, let us look at the advantages and disadvantages of a stamped concrete compared to pavers vs plain concrete.
Pros
Increases return on investment value of a property
Stamped concrete adds high end looks into outdoor spaces
Purchase and installation is cheaper as compared to pavers
Offers a wide variety of patterns and color choices
The design (Color, texture and pattern) is customizable
Stamped concrete is weather resistant, durable and long-lasting
Does not have crack for weeds and grass to growth through
Can be treated with antiskid coating
Easy to clean and maintain
Cons
Not easy to do it yourself in installation
Can crack with a shift in ground beneath
Requires regular cleaning and sealing
Can be damaged by deicing salts
Expensive to repair or replace
Can become slippery when wet
Stamped Concrete pattern Ideas
Stamped concrete is becoming a popular hardscape material that pull off a high-end look without spending heavily as for pavers or natural stones. Further, there is no worry about grass and weeds growth through cracks and crevices. Surprisingly, designs is customizable and you can be offered what you like.
Here are amazing popular stamped concrete patterns:
Random Flagstone Pattern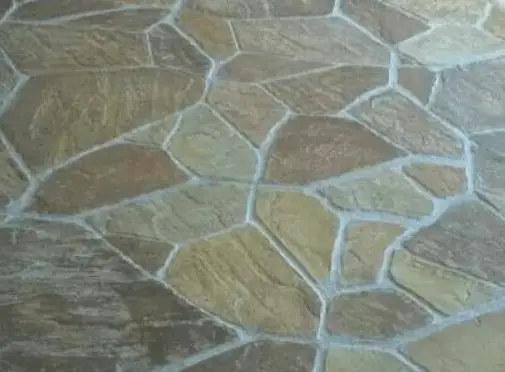 This is a simple and easy to install pattern that adds a natural rustic charm to a patio, driveway or walkway. The embossed concrete resembles a randomly assorted flagstones.
Slate Tile pattern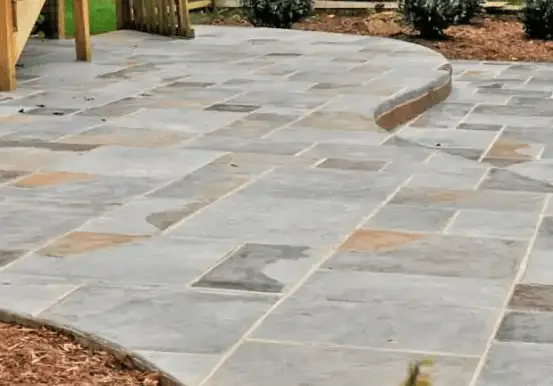 This a unique pattern where a stamped concrete looks like slate tile. The natural looking material forms a great area for summer barbecue and parties. Some variations in colors in this design will offer a low maintenance and easy to clean concrete.
Coble Field Brick
This pattern can hardly be distinguished from natural brick pavers. Coble field brick pattern is an amazing design for any landscape. Achieving the same looks with pavers would require a heavy budget, time and manpower.
Stained Weathered Wood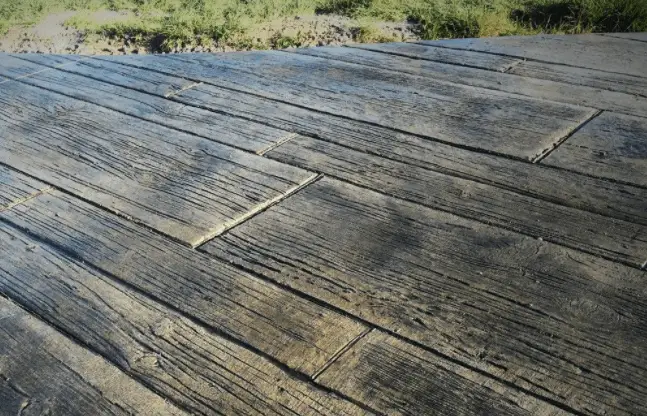 This pattern perfectly mimics the grain and finish of a real natural wood. You can hardly tell the difference between weathered wood stamped concrete and a hardwood flooring. However, this pattern requires a re-stain after every few years to bring out the 'wood grain'
English York stone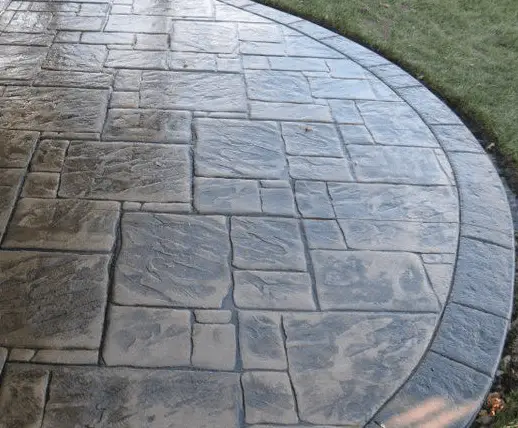 A stamped concrete surface is made to look like a natural fractured stone. The art is done in a manner that it becomes so difficult to realize that the surface is a concrete. The random interlocking design is achieved by a special tool that create broken edges shapes and rounded corners that provide the exact appearance of authentic, hand-cut stones.
Stamped Concrete Color Ideas
The most popular colors for a textured concrete are grays and earth tones for stone patterns. Brick patterns are often reddish or in russet. However, extreme colors can be attained by mixing colors, or layering the patterns with stains or tints.
It is also possible to use multiple colors within the same project for achieving a realistic stone appearance, decorative borders or bringing a contrast in the available color patterns. Needless to say, varieties of colors can be used to create special effects in a landscape or in a home.
How to Maintain Stamped Concrete Surfaces
With proper maintenance, stamped concrete is bound to last many years without any problem. Efflorescence, weathering, dirt or traffic can dull the surface of a stamped concrete. However, periodical cleaning will minimize any change in appearance.
Stamped concrete that has been neglected for years can also be restored to look new again by a thorough cleaning. Additionally, sealing a stamped concrete after 2 or 3 years protects it against elements, fading and other chemical related damages.
Basic cleaning using a garden hose or pressure washer, with some mild detergent and a push broom is all that is needed before resealing the concrete. To further help in preserving the concrete and use little effort in cleaning, it is wise idea to remove oil, grease and other spills immediately before they penetrate into the seal or concrete.
How much does Stamped Concrete Cost?
The cost of a stamped concrete varies based on the cost of materials and labor in your location, design details and the surface area to be covered. Typically it cost between $ 10 and $15 per square foot to install a basic design. The cost of a detailed installation can range between $18 and $20 per square foot.
Using one color and pattern will cost you less as compared to a multi-pattern designs. Nevertheless, stamped concrete is cheaper than natural stones or pavers but slightly higher than poured concrete. If your budget is tight, you can still get the impressive driveway, patio or walkway by using a plain concrete and adding a boarder using a stamped concrete.
How is stamped concrete installed?
Installing a stamped concrete is faster although requires a professional service. Before the project kicks off, adequate planning is required. All the tools, manpower, diagrammed patterns and materials should be put on the go. Since stamping is mostly done on the newly poured concrete, timing will be essential in achieving consistent results.
Once the concrete is poured color hardeners and release agents are applied. When set, the concrete is tested and the stamp pattern is created. Detailing and cutting of control joints is done to finish the job. Stamped overlay can also be applied on an existing concrete as long as it has been proven to be in good condition.
Can a stamped concrete crack?
Professionally done stamped concrete will not crack. However, miner cracks and lines may form but will be difficult to notice as they are likely to blend in with the patterns. Using deicing salts, liquid salts, and other ice-melting products can cause concrete spalling, scaling, fading or delamination.
Applying color hardeners and concrete sealers help in making the surface tougher, more resistant to abrasion, and help in preventing the penetration of water, stains, dirt and chemicals. Further avoid using products containing ammonium nitrates and ammonium sulphates on your stamped concrete.