There are a whole host of elements that can cause damage to wooden outdoor furniture over time. One of most common issues that you will see with wooden outdoor furniture is mold. When mold grows on wooden furniture, it can spread fast and affect the integrity of the wood. So, how do you protect your outdoor wood furniture from mold?
Mold on outdoor wooden furniture can be a tricky problem for any homeowner. Luckily, however, there are a number of methods that you can use to help protect your outdoor wooden furniture from mold. These methods including using chemicals or natural products to clean the wood, using a sealant and making use of good storage practices.
Preventing mold growth on your outdoor furniture doesn't need to cost you a lot of money or even require that much effort. Read on to learn about seven different methods you can use to protect your wooden furniture from mold!
How To Prevent Mold Growth On Outdoor Wood Furniture?
Outdoor wooden furniture is a great addition to any home and can act as a centerpiece in your garden if you maintain it well. This furniture comes in many beautiful designs that can brighten up your yard and give you extra seating when you have close friends and family over for a BBQ.
However, as this wooden furniture is kept outdoors and is exposed to the elements, some problems can develop. Mold growth can be a huge problem for outdoor wooden furniture, so it's extremely important to know how to protect your furniture against this unwanted nuisance.
Thankfully, you have many options for protecting your outdoor wooden furniture from mold growth. Let's go through these options to choose the best one for you.
1. Keep The Wood Furniture Clean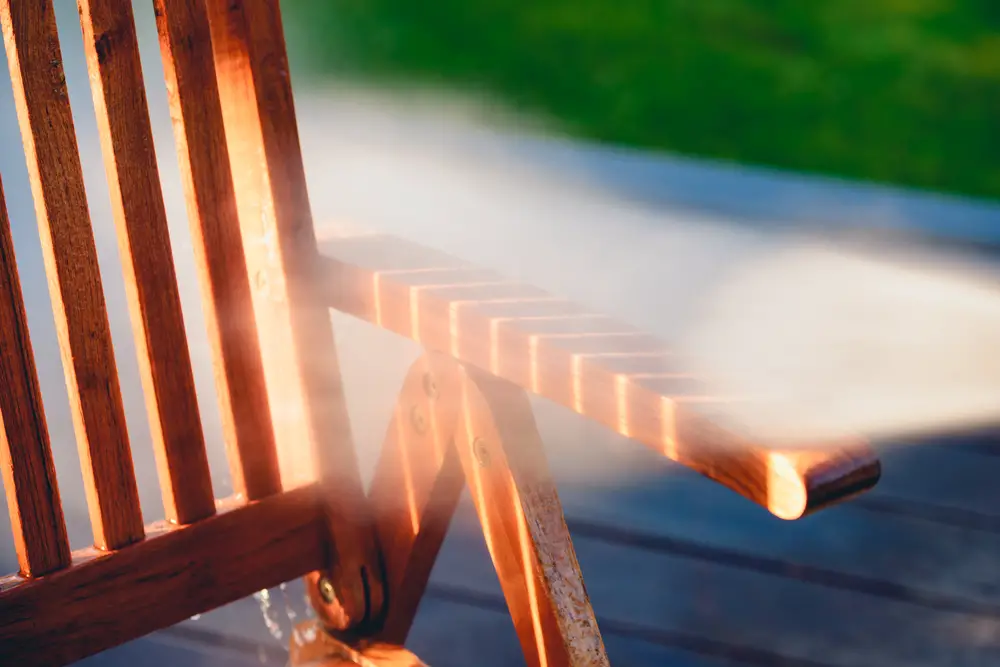 Mold begins to grow on wooden outdoor furniture when mold spores have gathered and developed. One way to get rid of these mold spores before they can develop is to keep your wooden furniture clean.
Mold can grow on wooden outdoor furniture much faster than indoor furniture, so optimally you should maintain a cleaning schedule for your outdoor furniture. You should try to clean your outdoor wooden furniture once every two weeks to prevent mold growth.
You can clean your wooden furniture with a mild detergent and clean, fresh water. Scrub the furniture down to ensure the mold spores are killed and removed, and place the furniture in a sunny location to dry.
2. Seal The Wood Furniture
When you have outdoor wooden furniture, you need to ensure the wood is sealed correctly and with the right sealant to help protect the wood. If your wood furniture is not sealed, water can become trapped inside the wood, which will offer mold the perfect space to grow.
Applying a sealant to your wooden furniture won't tarnish the natural wood look of the furniture, but it will help protect the furniture from the elements and prevent mold growth. You should seal all parts of the furniture, including the joints and the bottom of the legs.
You should ensure you fill any cracks in the wood with sealant to prevent water and mold spores from getting into the wood and causing problems.
One important thing to keep in mind about outdoor wood sealant is that it is available in a variety of different colors and sheens. If you don't want to change the look of your furniture, get something clear and low sheen like a Flat or Satin.
3. Paint Your Wooden Outdoor Furniture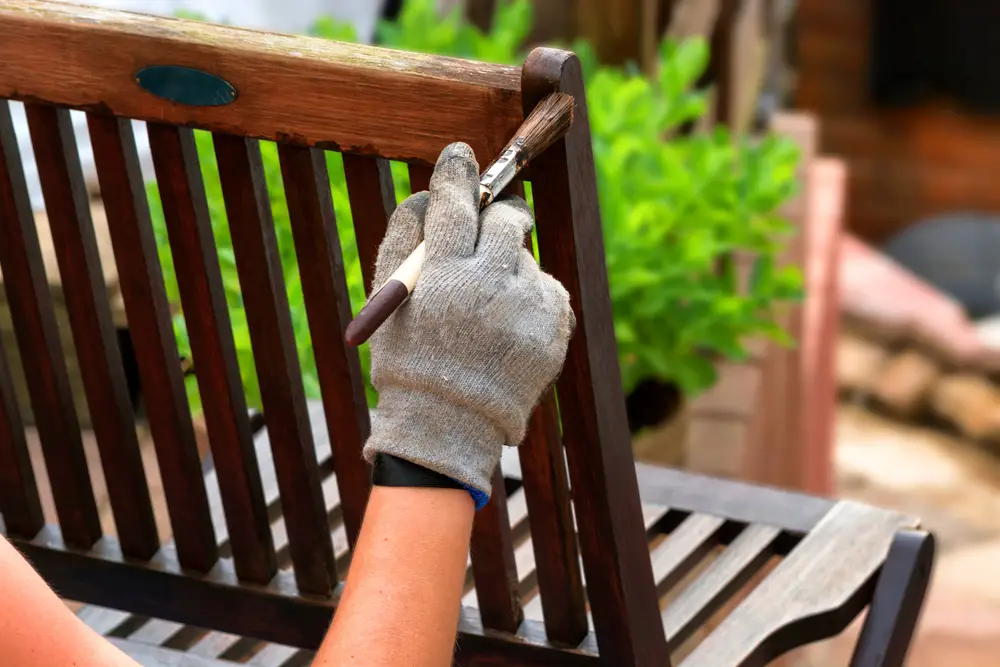 One of the easiest methods to prevent mold growth on your wooden outdoor furniture is to paint the furniture. Paint will help protect your wood furniture from the weather and acts as a barrier to the outside world. Paint will also protect your furniture from UV rays and discoloration.
Paint will prevent mold spores from getting close to the wood and growing. Exterior grade latex paints are by far the most common option today and they have come a long way over the years in terms of quality. There is now a wide assortment of high quality exterior latex paints that will hold up for several years.
Keep in mind, that correct application of paint will require a some process. You will need to first clean the furniture and remove any mold. If the furniture has been previously painted, you should use fine grit sandpaper (between 150-200 grit) on the previous coat. The objective is not to strip it down, just to rough up the surface enough to increase adhesion of the new coat of paint.
4. Spray Vinegar On Your Wooden Outdoor Furniture
A cheap and natural method of preventing mold from growing on your outdoor wooden furniture is to spray your furniture with a diluted vinegar spray. Vinegar is lethal to many species of mold and will kill most mold spores before they develop into a bigger problem.
Spray the diluted vinegar on the furniture in the areas where mold is likely to grow, like the joints and underneath the furniture.
This will make your outdoor wooden furniture smell like vinegar, which can be unpleasant to some people, so we only recommend to use this method when the furniture will not be used for a few days.
5. Use Borax On Your Wooden Outdoor Furniture
Borax is a cheap chemical product that is lethal to mold and mold spores, so you can use it to help prevent mold growth on your outdoor wooden furniture. You need to be careful with this method, as borax is considered unsafe to consume and can cause irritation if breathed in.
Wear gloves and protective glasses when working with borax. Mix one cup of borax with about one gallon of fresh, clean water. Place this mixture in a spray bottle and spray down your wooden furniture, ensuring to spray every inch of the wood.
Leave the wooden furniture to dry, as the chemical will kill mold spores as long as it stays on the furniture's surface.
6. Keep The Wooden Furniture Well Ventilated
Mold can easily be transferred from surface to surface, meaning it can spread easily. If you live in an environment where mold grows easily, you need to ensure your wooden furniture is well ventilated. You might be thinking, well, it's outside furniture, so isn't it already ventilated?
This depends on what is around your outdoor furniture. Is the furniture pushed against a wall or wooden fence? Are the different furniture pieces touching each other? All this can prevent ventilation in the area of the furniture that is covered by other materials.
You should pull your wooden furniture away from any nearby walls or fences, and keep them a fair distance away from each other, too. This will help keep the furniture well ventilated and decrease mold growth in those locations.
7. Cover The Wooden Furniture When Not In Use
When you aren't using your wooden outdoor furniture, you need to cover it with a proper outdoor furniture cover. This cover will protect the wooden furniture from moisture, UV rays from the sun, rain, and other bad weather that could be the catalyst of mold growing on your furniture.
Sale
Duck Covers Ultimate Waterproof Patio Loveseat Cover, 79 Inch, Mocha Cappuccino
Fits patio sofas up to 77"W x 35"D x 35"H
Two-year limited warranty
Get waterproof protection from rain, dirt, wind, and snow with durable fabric and taped seams
A combination of click-close buckles and an adjustable cord lock secures cover in place
Please refer to your furniture's care instructions as some finishes, sealants, or coatings may react to PVC backed covers. To reduce this possibility, we recommend a Duck Dome (sold separately) to elevate the cover. Do not use with concrete furniture.
These covers are generally easy to find, and you should be able to find one that fits your furniture pretty easily. When you are done using the outdoor furniture for the day, cover it up to help protect it.
What Is The Best Way To Prevent Mold Growth?
The aforementioned methods to preventing mold growth all have their place, however, some of these options are better than others and a combination is by far the best option.
We recommend for wooden furniture longevity best results you should either paint or stain your outdoor furniture and then clean it with a mild detergent or borax every few weeks during the months that your furniture is in use.
During the winter months, our recommendation is to store our outdoor furniture in a garage, basement or anywhere where they will be protected from the elements. If this is impossible, then we suggest that you use a good quality outdoor furniture cover.
Conclusion
Wooden furniture makes a great addition to your patio or garden, and it can be easy to protect from mold as well. All the suggestions in this article will help you prevent mold growth on your outdoor furniture.
However, it's always best to use more than one method as this will increase your chances of preventing mold from growing. Good luck with your wooden outdoor furniture!
References
https://www.doityourself.com/stry/how-to-prevent-wood-garden-furniture-from-getting-moldy
https://www.doityourself.com/stry/how-to-prevent-wood-garden-furniture-from-getting-moldy