Every homeowner wants to enjoy their patio during the warm Spring and Summer months. It's a wonderful time to fully enjoy your outdoor living, parties, and most importantly – barbeques. Unfortunately, Summer weather also brings with it temperatures in many parts of the United States in excess of 90 degrees Fahrenheit. I can personally attest to the severe heat and humidity in North Carolina during a typical blistering August day.
A party or barbeque can be simply impossible without devising some ways to keep your patio cool during the Summer months.
To help you and your guests stay cool on your patio during a hot day, let's take a look at a few options we have to mitigate soaring temperatures.
1. Install A Patio Misting Systems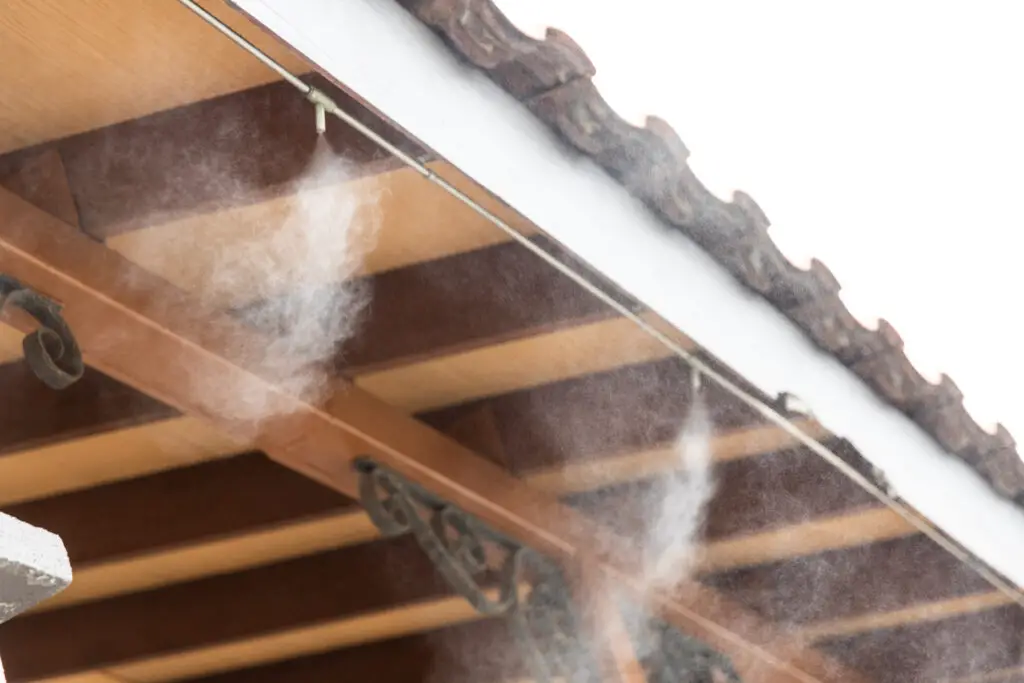 Patio misting systems are by far my favorite way to beat the heat. It's not necessarily the misting idea in particular, in general I just like getting hit with water when it is 90 degrees outside.
Summer heat in the South can be absolutely blistering and a patio misting system is a great option to help cool down guests on the patio.
Misting systems are typically hooked up to an exterior water source such as a garden hose. The misting system will then pressurize the water through nozzles and lightly sprinkle an area. The mist gets absorbed into the area surrounding the patio which creates a cooling effect that can lower the immediate outdoor temperature by more than 20 degrees!  
One important thing to note is that misting systems typically perform better in low humidity environments. High humidity can inhibit the evaporation process.
What Is The Cost Of A Misting System?
Low-pressure patio misting systems are surprisingly extremely inexpensive. They can be purchased for well under $100 and installation can be performed by a homeowner relatively easily.
Unfortunately, there are some drawbacks to the low-pressure misting system. Namely, these misting systems do not produce as fine of a mist so they will not cool the area as quickly. In addition, since the mist is denser than the higher pressure systems they leave more residue, i.e. water droplets.
Mid and high-pressure misting systems use pumps to increase the water pressure from your home. Mid-pressure systems will cost up to $1,200 and high-pressure systems can cost up to $4,000 and will likely require professional installation. These systems are also more expensive to operate, as they draw on more electricity and more water.
2. Outdoor Misting Fans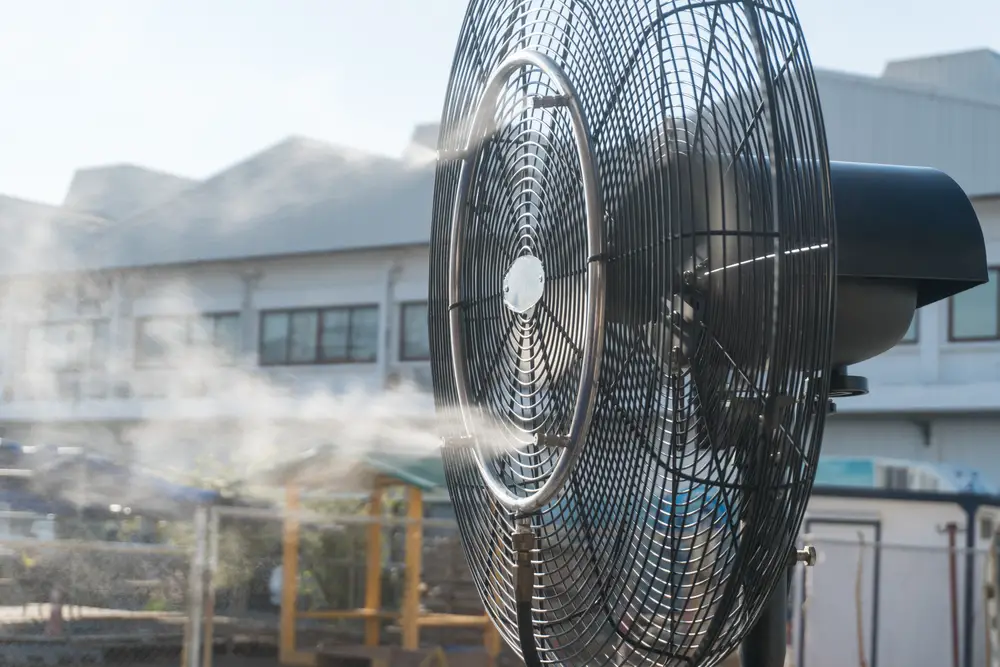 Another great option to consider is an outdoor misting fan. These are large outdoor fans that feature several mist jets which dispense water along with airflow. These can typically be purchased for less than $150 and just need to be plugged in to an outlet and connected to a garden hose.
Misting fans act very similarly to misting systems in that they will also decrease the temperature of the surrounding area and your guests won't get wet while they are getting cooled off!
Unfortunately, they are also similar to low-pressure misting systems in that they do not function as well in high humidity environments.
3. Portable Evaporative Coolers
Similar to misting fans, evaporative coolers combat high temperatures through evaporation of water. Evaporative coolers, also known as swamp coolers, use water soaked pads to cool the air. A fan pulls in hot air and passes it through a series of pads which evaporate the liquid into a gas that is then blown out cooler than it came in.
In extremely dry climates, the process of evaporative air cooling also adds air conditioning benefits. Swamp coolers are energy efficient and are thus another great option for keeping your outdoor patio cool during summer.
Unfortunately, swamp coolers are also not a great option for high humidity environments.
4. Take Everything To The Pool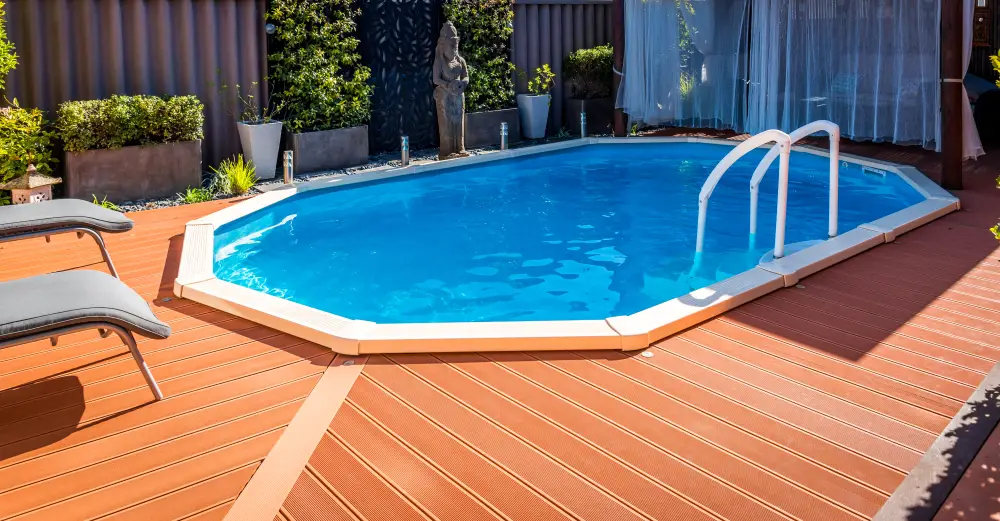 Building a pool in your yard certainly is not the most inexpensive option on this list, but it is one of the most pleasurable ones! Relaxing inside a swimming pool during summer helps in calming the body heat. During a hot sunny day, you can go for a pool party and other related activities to counter the high temperatures of the day. Swimming also comes with additional health benefits.
Although building a pool comes at a steep price tag, this can be significantly reduced by installing an above ground pool. A typical in-ground pool will come at a price tag of at least $30,000, whereas an above ground pool can vary between $4,000-$15,000.
Pools are certainly a high-cost option to stay cool but they are also a great option for the family and guests, and above ground pools are significantly less expensive.
5. Stay Hydrated
This is an extremely basic but also an important tip. Temperatures have been getting hotter more frequently during the summer for years and heat waves have become an all-to-familiar experience.
One simple way to combat the heat (and the risk of a heat stroke) is to hydrate before and during Summer outings on the patio. Unfortunately, this is not a green light to drink as much alcohol as possible as alcohol tends to dehydrate not hydrate. Just consider mixing in a few water bottles in-between beers or cocktails when you are out at patio gatherings during the day.
If you would like to read up on more information regarding hydration and summer heat you can check out this article from Healthline.
6. Keep Your Grill/Cooker Away From Guests
No Summer patio event is complete without a grill or cooker. However, just before you fire it up you should consider its location in relation to the individuals on your patio.
Outdoor cooking or patio grilling will add heat to the surrounding area. To prevent heating up your guests who are nearby you should consider moving the grill or cooker approximately ten feet away from where you expect your guests to congregate.
7. Avoid Using Fire Pits and Heaters
This one does not need a lot of explanation but I have seen odd things before so I will briefly mention that no one should be turning on fire pits or heaters during a Summer day. During the cold months of the year, installing an outdoor fire pit or outdoor patio heaters carries the day, however, this is not the case during the Summer.
One caveat is that it is totally understandable if it's nighttime and the temperatures have cooled down and you want to turn on a fire pit. The only concern here is that you should be aware whether your local area is currently experiencing dry conditions as a few accidental sparks from your fire pit could start an accidental fire in your yard.
Something else to keep in mind is that even if your local temperatures drop significantly at night, you likely will not need a fire pit or heater. This is because your paver, brick or stone patio will absorb a lot of heat from the sun during the day. When the night sets in, they will start giving off this excess heat. That means, your evenings will likely be pretty toasty without a need for an external heat source.
8. Set Up A Shade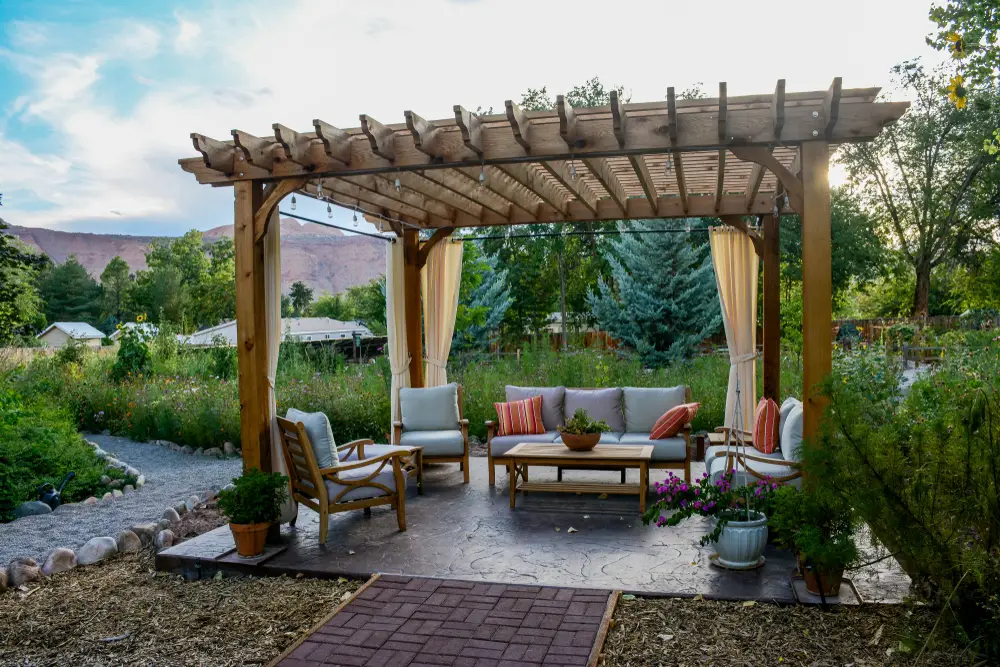 If you have natural shade from trees or a hedge around your patio, this is a great start. But if the position of the sun does not favor it, then consider installing a shade to house yourself and protect your guests from the sun. Having a pergola supporting a climbing vine such as English Ivy will certainly create an attractive retreat.
Gazebos, screened porches or patio covers are great for enhancing your outdoor living areas. They can also be of great help during a hot sunny day and will of course block the sun's stifling rays.
If your budget does not allow, consider installing a temporal gazebo or large patio umbrellas that can cast enough shadow around the furniture or gathering area.
9. Install Outdoor Ceiling Fans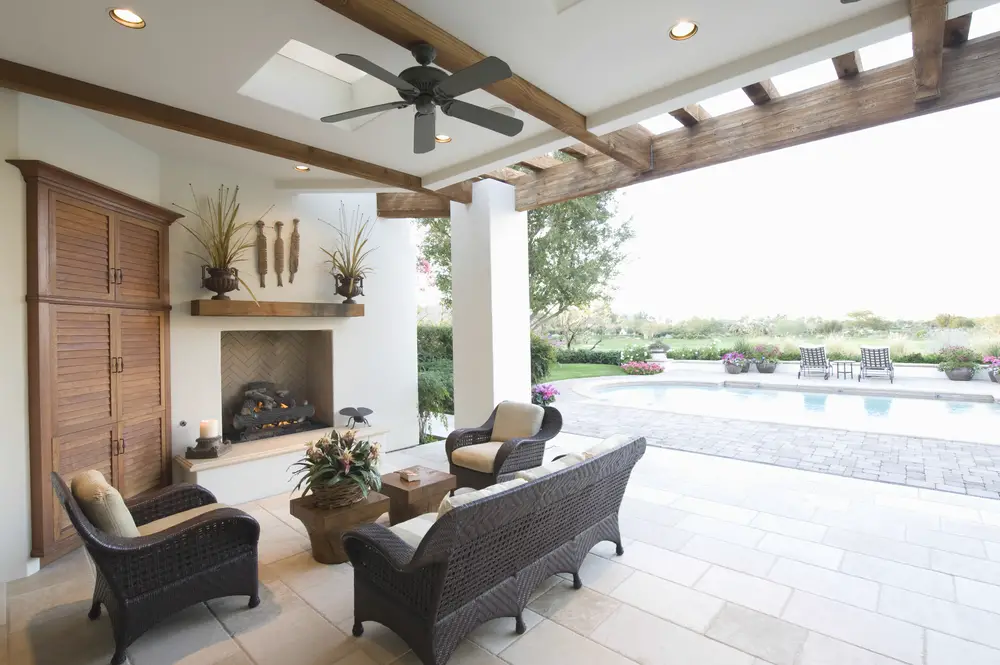 Installing an outdoor ceiling fan on the roof of your porch or above your patio sitting area will help keep your outdoor patio area cool. Even better (in my opinion) is that outdoor ceiling fans will discourage insects such as flies and mosquitoes.  
Outdoor ceiling fans are available in a variety of different options and styles, they can also be purchased inexpensively from your local home improvement store.
10. Modify Your Patio Furniture
Some outdoor furniture absorbs heat from the sun and becomes extremely hot to sit on. This also happens when you have a bare concrete, brick or stone patio that actively absorbs heat. They can literally burn your bare feet during a hot day. Making adjustments to an outdoor sitting area can give amazing results.
One of my favorite outdoor furniture materials is aluminum, it is an excellent material and very durable. Unfortunately, it also happens to be a metal and therefore it will heat up very quickly in direct sunlight.
If you have aluminum furniture I suggest that you move it under a cover during sunny days or alternatively, installing a seat cushion to the aluminum chair will also help prevent the chair from heating up too significantly.
Installing light reflective seat cushions on all of your patio furniture during the summer is a great way to reduce heat absorption and therefore how hot your chairs will be when your guests sit on them.
11. Consider Buying A Rug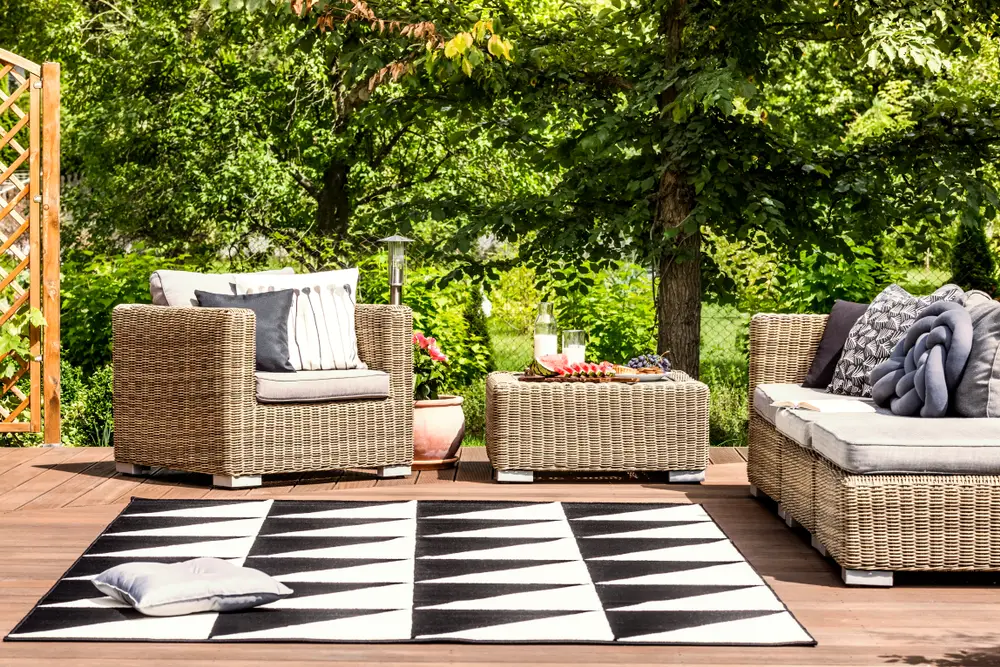 An outdoor rug is not going to help the temperature around you, however, it is something to consider if you have young children that are susceptible to running around your yard barefoot.
Be aware that the surface of your patio can get blistering hot during the summer and one way to avoid burning anyone's feet is to purchase a cheap outdoor rug.
12. Schedule Outdoor Gatherings And Cookouts In The Evening
Scheduling your get-together party and other family gatherings later in the day will spare you from the scorching sun during the day. This is a simple yet effective way of keeping your guests cooler without spending a single penny.
With some outdoor garden lights you will fully enjoy your patio while the sun has gone the other side of the globe. If you are worried about children with bedtime, let everything begin slightly before the sun completely sets down.
Conclusion
We have seen that you can still beat the high temperatures of the summer to have a great day out on the patio. Simply choose one of these options to keep your outdoor area cool and your guests and family will greatly appreciate that you did.