Patio electric heaters can greatly make you extend your outdoor life. They provide warmth during chilly evenings and cold seasons of winter and fall to enable you go on with your outdoor parties or relaxation without freezing.
Electric patio heaters have advantages over gas or propane heaters because they are energy efficient, don't emit gases and are easy to install and operate. Here are the best outdoor electric heaters for patio that will not disappoint:
Infratech WD-4024 SS Stainless Steel 39" Dual Element Fixture 4000 Watt, 240 Volt, Stainless Steel
Bromic Smart Heat Tungsten Electric 6000W Radiant Infrared Electric Patio Heater Model BH0420033
Fire Sense 02117 Telescoping Offset Pole Mounted Infrared Patio Heater With Wheels 1500 Watt Indoor Outdoor Powder Coated Steel Tip over Protection System Cover Included - Stainless Steel
OUR TOP PICK
Infratech WD-4024 SS Stainless Steel 39" Dual Element Fixture 4000 Watt, 240 Volt, Stainless Steel
BEST OVERALL
Bromic Smart Heat Tungsten Electric 6000W Radiant Infrared Electric Patio Heater Model BH0420033
6 Best Electric Patio Heaters
Electric patio heaters are exceptional at keeping outdoor and indoor areas warm. They use electric power and all you need is a standard AC output where you plug and use. These heaters come in different types, sizes and shapes. Discover some of the best electric patio heaters for your outdoor.
1. Infratech WD-Series Patio Heater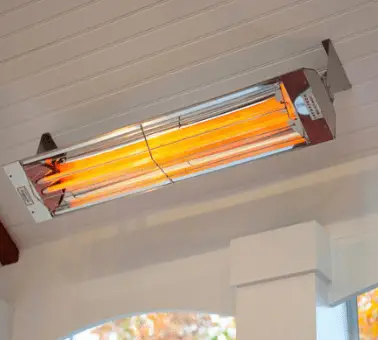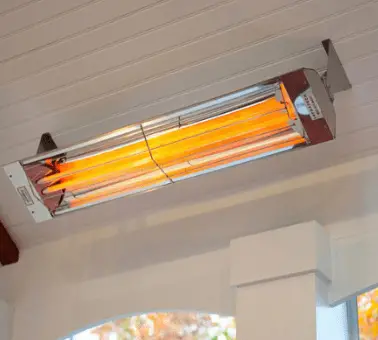 Features
6,000 Watts that can cover up to 120 square feet
Infrared heater that warms objects and people only
Can be used either outdoor or indoor
Produces soft warm glow that is not harsh
Made from a stylish durable stainless steel
This is a 90% energy efficient electric patio heater that provide warmth and ambient glow on outdoor spaces that include, porch, garage and indoor living areas. It is installed by mounting on the wall or ceiling. This heater can also be used commercially to provide comfort in restaurants and hotels.
Infratech WD-Series Patio Heater features a dual element to provide a more concentrated infrared heat that is only targeted to objects and persons rather than the air around. Since infrared heat cannot be blown away by wind, you can comfortably use this model in breezy areas.
This electric heater is made from durable recyclable and eco-friendly materials that are durable and all weather resistant. In addition, operates silently without greenhouse emissions, odors or UV harsh glare. Infratech WD Patio heater is available in 3000 Watts, 4000 Watts, 5000 Watts and 6000 Watts respectively.
To maintain aesthetic appeal of your spaces, this patio heater remains hidden and use quartz elements to create heat electronically without emitting a bright harsh glare. The long bars of 33 to 61 inches long are strategically placed on the wall or ceiling without needs for ventilation.
While there are minimal clearance requirements for owning this heater, the manufacturer discourages plug in and use. For safety and maximum performance purposes, you are required to hire a licensed electrician to do the installation. If you decide to install, strictly follow the detailed instructions in the owner's manual on infratech's website.
Pros
Power Efficient thus economical to operate
Eco-friendly with no noise or gas emissions
Safe and a versatile central heater for a home
Sturdy and durable model featuring strong materials
Good for large outdoor spaces commercially and at home
Cons
May require professional installation which can be expensive
Very expensive but not hotter than propane outdoor heater
2. Bromic Tungsten Smart-Heat Electric Outdoor Heater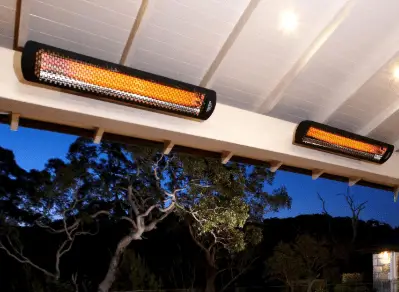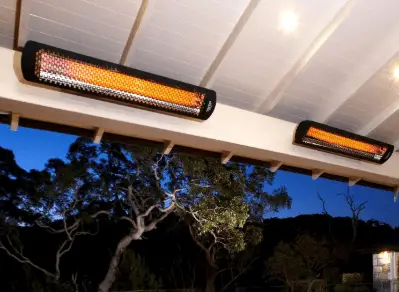 Features
6000 watts for up to 120 square feet
Has adjustable brackets for directional heating
Tough and all weather resistant stainless steel body
Frost heating tubes that reduces sharp glare
Emits heat accompanied by a soft amber glow
Supports smart system controls for custom heating
Bromic Tungsten Smart-Heat electric outdoor heater is a fully electric powered model best for keeping warm your patios, garages, basements and decks during cold weather conditions.
This outdoor electric heater is equipped with a cutting-edge infrared heating technology that directs radiant heat to objects around rather than the surrounding air. This greatly reduces power consumption thus reducing on running costs.
This Bromic outdoor heater has special reflector for excellent heat distribution. Its dual frosted infrared tube heating elements are specially designed to emit a low intensity glow for a jaw dropping ambience.
For good appearance, Bromic Tungsten Smart-Heat Electric Outdoor Heater is made from stainless steel materials styled with black high temperature ceramic coating that also enhances a reliable heating.
Safety has also been enhanced with an auto shut-off switch in the event of a mishap. It also supports a small control system that can be installed separately for total heating control.
Bromic Tungsten Heater is portable and can be used anywhere in a home. For perfect mounting on wall or ceiling, it comes with brackets that can also be adjusted to an angle for target heating.
Bromic Tungsten Smart-Heat electric outdoor heater is available in 2000 Watts,3000 Watts, 4000 Watts and 6000 Watts respectively.
Pros
Has a great heat range
The heater head can be tilted
No air or nose pollution
Easy to install and set up
Stylish attractive looks
Best for large outdoor spaces
Household and commercial use
Cons
Not equipped with a timer switch
Expensive installing a smart control system separately
3. Ener-G+ HEA-215110 Patio Heater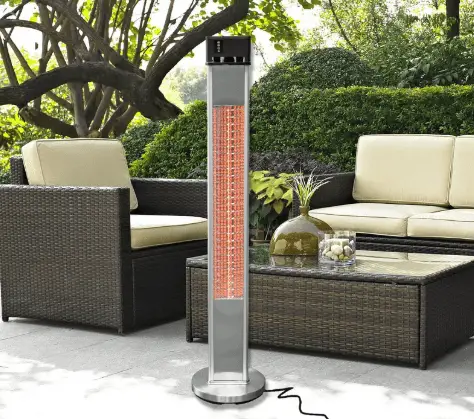 Features
A versatile outdoor heater
1500 Watts electric powered
Energy efficient and eco-friendly
Easy and cheap to install and use
Adjustable heating settings
Weather resistant stainless steel housing
Anti-tilt and safety aut0-shut off feature
Include a handheld remote control device
This is a free standing electric patio heater for outdoor warming during cold seasons of the year. It has an infrared heating element that directs heat to nearby objects rather than heating the air around first. This greatly helps in conserving energy thus reducing on running costs.
Ener-G+ HEA-215110 Patio Heater has three power output settings of 500, 1000 and 1500 Watts to select from at will using a handheld remote control. For safety reasons, this outdoor heater has anti-tilt and auto-shut off switch that activates immediately the heater tips over or overheat.
Housed in all metal stainless steel case, the unit is able to withstand adverse weather elements.  It is certified as weatherproof thus we recommend it as the best for outdoor use.
Pros
Has good heating range
Tip-over and overheating protection makes it a safe heater
Provides instant steady heat that is hardly affected by wind
IP44 certified weatherproof rating makes this safe for use outdoors
Cons
Not suitable for large outdoor spaces
Has no timer and thermostat
4. Versonel VSLWMH100 Infrared Heater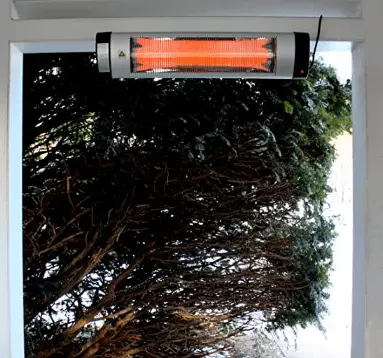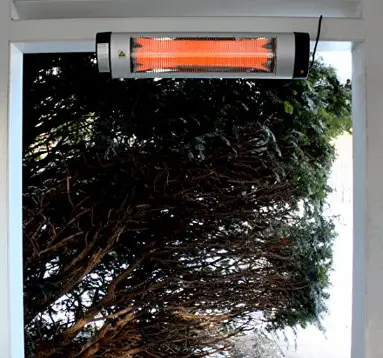 Features
1500 Watts Electric powered
Great for indoor and outdoor use
Eco-friendly with no noise or greenhouse emissions
Easy to assemble and mount on wall or ceiling
Automatically shut off in a mishap
Weather resistant stainless steel housing
For great warm indoor and outdoor comfort throughout the year, you need Versonel VSLWMH100 Infrared Heater. This is one of the best outdoor patio heater that you can place in your garage, basement, pool deck and indoor living areas.
Equipped with infrared quartz elements, the heat is quickly produced and directed on object and people around very quickly. While radiating, there is no odor, noise or harsh glare. Safety has also been enhanced by an auto-shut off switch which activates when the system is overheated or tips over.
The all metal casing provides for durability and resistance against harsh weather elements. Mounting this electric patio heater on the wall or ceiling is an easy process that you can handle yourself without hiring an electrician.
Pros
Has excellent heat output of over 5000 BTUs
Energy efficient and easy to operate
Strong and durable all metal body
Automatically shuts of when it sense danger
Friendly to environment
Cons
No temperature control or thermostat
Not suitable for large areas
5. Fire Sense Electric Infrared Patio Heater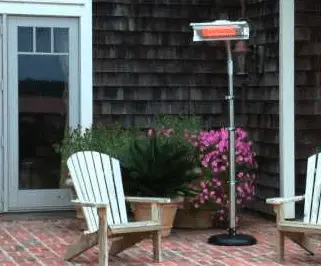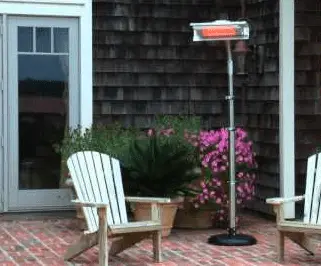 Features
1500 Watt electric power
Weatherproof body
90% energy efficient
Instant heating within seconds
Provides 9ft blanket heat
12ft electrical code
Anti-tilt protection system
Wheels for easy mobility
This is a free standing electrical heater for patio that can also be used indoor. This Stainless Steel Telescoping Offset Pole Mounted Infrared Patio Heater runs on runs on regular household electric current and efficiently converts power to heat energy. Operating this heater is less expensive as compared to traditional gas and propane outdoor heaters.
Made from stainless steel this model is durable and lightweight to carry around. Additionally, it is fitted with wheels that makes it convenient pushing it into position for spot heating. The heater has a 12 foot non-retractable power cord.
This infrared heater runs silently, does not produce odor or emit greenhouse gases. While this is a buy, plug in and use heater, you are advised to run it on a dedicated circuit for optimal performance.
Pros
Energy efficient indoor and outdoor heater
It radiates heat faster within seconds
Easy to move it around and position it due to light weight and attached wheels
Safe for household use due to anti-tilt protection feature
Cons
Some customers complain of difficulty in assembling
6. Hiland 1500W Folding Umbrella/Parasol Patio Heater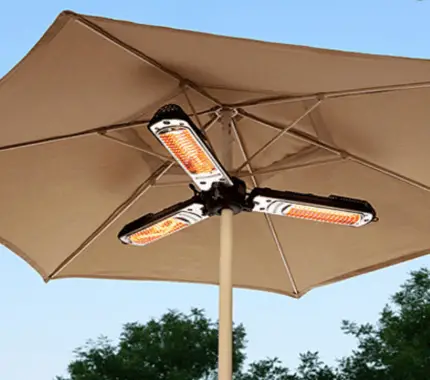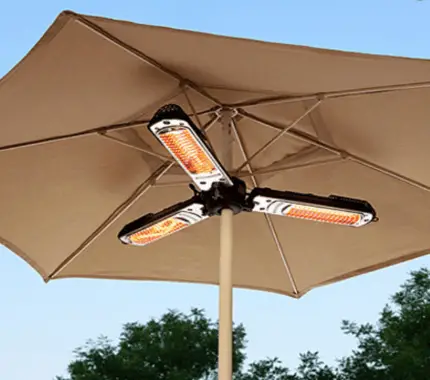 Features
1500 Watts of power that heats up to 15 square feet
Ideal for outdoor and indoor use
3 burners for even heat distribution
Output heat can be controlled at will
Housed in all mental stainless steel
All-weather and water proof
Does not produce noise, odor or emissions
Fast heating elements
This is a great outdoor electric heater for a patio or porch that will get you warm throughout the cold seasons. You can as well install it in your garage, workshop and inside your home.  The 1500 Watts power output gadget has 3 burners for effective distribution of heat.
For safety reason, Hiland 1500W Folding Umbrella/Parasol Patio Heater is equipped with auto-shut off valve feature that triggers in the event that elements overheats or the device tips over. There is also temperature control panel where you can decide on the level of heating.
This outdoor patio heater is all-weather resistant and can withstand weather elements such as rains, frost and snow. It can be mounted on wall, ceiling, or on a parasol pole without much effort.
Pros
Auto shut and  temperature control
Durable and all-weather materials makes it to last longer
Can be installed outdoors or indoors
Elements heats the air around faster
Cons
Not ideal for large area heating
You have to remove it when folding the umbrella
It is too bright
How to Choose an Outdoor Electric Patio Heater – Guide
It can be a difficult task choosing a patio heater. Here are things to look at:
Power Efficiency
To avoid energy wastage and reduce power costs, efficiency is an important factor when buying an electric heater. Heaters that use infrared heat technology are highly converts 98% of energy to heat that is directed to objects and people without losing it to the surrounding air, winds and other weather conditions.
Designs and Style
To uphold the aesthetic value of your outdoor spaces, style and design of an electric patio heater should perfectly complement your décor. Based on your preference you can choose from either ceiling and wall mounted heaters or free standing models.
Quality and Durability
Outdoor environment consist of harsh weather conditions that include rains, frost, snow and sleet among others. The outdoor electric heater you select should be made from quality materials that should withstand such adverse conditions. The model also has to be all-weather resistant, sturdy and durable.
Electric vs. Natural Gas vs. Propane Outdoor Heaters
There are three main categories of outdoor heaters based on the mode of powering namely; electric, natural gas and propane. Let us look at the difference between the three, their advantages and disadvantages:
Electric Outdoor heaters
These are electric powered heaters that converts electric energy to heat. They can be used in any set of space comfortably without worrying about ventilation. Electric heaters are decorative and stylish. You can decide to have one that is either mounted on ceiling or wall or placed on tabletop or a free standing type.
Pros
Here are the benefits that comes with electric outdoor heaters:
Simple to use or operate: You simply plug in any standard power outlet and go. You can decide to install it where you prefer without any concerns.
Safe for small and medium sized outdoor spaces: Electric heaters can safely be used in small, enclosed or less ventilated outdoor patios.
Energy efficient: More of power energy is converted to heat and there is little wastage into the air. This saves on cost of energy used.
Eco-friendly: There is no emission of CO2 gases, no noise or odor produced during heat radiation
Cost effective: Both purchasing and operational costs of an electric heater are pocket friendly.
Cons
Electric patio heaters can have the following disadvantages:
Not suitable for large outdoor spaces due to their slow heating rate compared to natural gas or propane
Limited placement: Electric heaters can only be used where there are both electricity supply and power outlets. This gives no other options when there is power outrage.
Natural Gas Outdoor Heaters
Natural gas heaters literary burns a natural flammable gas to produce heat. They are known to provide quick and plentiful warmth on decks and patios. These outdoor heaters are professionally installed in well-ventilated areas with good air flow.
Natural gas outdoor heaters are efficient for heating large areas and ideal when you are hosting outdoor dinners, large gatherings and parties.
Pros
The following are advantages of natural gas outdoor heaters
Quick and sufficient heating for large areas. Gas burns out quickly providing massive heat that travels and cover a large area as compared to electric models
Comes is stylish designs that blends well with outdoor décor
Cons
They are expensive to buy and operate as compared to electric models
They require high safety standards that include professional installation and a well-ventilated space
They are fixed to a permanent gas lines thus not possible to move them when needed
There is emission of gases during the burning of natural gas which can an environmental pollution factor
Propane Outdoor Heaters
These are flexible heating systems that are quickly hooked up to propane tanks. They are portable and sometimes fixed to a direct gas line. Propane heaters heats faster and are ideal for warming up a large area and large outdoor functions.
Pros
Quick set up, flexible and portable: They can be transported alongside their propane tanks to anywhere you desire
Can be used for providing warmth to a relatively large area as compared to electric patio heaters
Quickly heats up to release plentiful heat within few seconds
Cons
Professionally installed in well-ventilated areas for prober combustion of propane
It requires a propane tank or a connection to an existing direct propane gas line
Frequently Asked Questions
Here are fast answers to commonly asked questions about outdoor heaters:
Q: Why are electric patio heaters better than gas?
A: Outdoor electric heaters are efficient to operate, cost effective and simple to use. They are also safe and environment friendly. You can use your electric heater anywhere as long as there is electric power output. Gas heaters on the other hand are expensive to purchase, install and maintain in addition to emission of greenhouse gases.
Q: Can you use a patio heater in a covered patio?
A: Absolutely yes, you can use electric patio heated in a covered porch or patio. Electric models does not rely on oxygen supply to produce heat and can be used in small enclosed outdoor or indoor spaces without a problem.
Q: Are electric patio heaters expensive to run?
A: As compared to gas or propane heaters, they are relatively cheap to acquire and run. Since electric patio heaters convert above 90% of energy to heat, there is minimal wastage. There is no standard procedure for setting up and using electric patio heater and that makes it economical to use.
Conclusion
Cold weather conditions although unforgiving should not stop your outdoor living. Invest in a good electric patio heater to keep enjoying your outdoors any time of the year.