End of summer does not mean end of enjoying your outdoor space. You can still organize a successful backyard party during a cold fall or winter as long as you discover how to keep guests warm on a patio or deck. Here is how to heat up a patio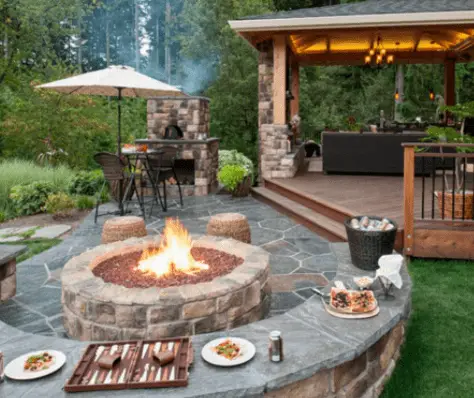 1. Set up fire
Fire literally ignites a party mood, create warmth and add interesting ambience to a patio or deck. Wood-burning fire pits or propane gas fire pits are commonly used for this purpose.
Fire pits come in different styles, designs and shapes to suit various patios. They can be permanently fixed at a strategic place or be portable.
Fire pits are the best option if you prefer a centralized heat source where your family or guest can gather around. Heat produced travels in all directions to keep everyone warm.
An alternative to fire pits is an outdoor fireplace. Although costly to install, this structure can add attractive features to a home outdoor living spaces. Additionally, outdoor fireplace also increases the value of a home.
A fireplace offers excellent relaxing ambiance and great heat during a chilly weather and thus the best option while planning a soiree during winter or cold weather. The structure comes in various designs and sizes whose installation costs also vary.
Chimeneas are a portable version of a fireplace that provide an affordable heating to a small gathering in a garden. They come in various designs to provide attractive appearance.
Although not covered to shield flying sparks, chimeneas can be comfortably used on covered patios or porches. Do not use them on surfaces that can easily get burnt such as grass lawns or wooden decks.
2. Add a Patio Heater
One of the convenient way of heating up your outdoors during cold weather is to add an outdoor patio heater. Available in various designs, heaters add warmth and cozy atmosphere to any space. While gas and propane patio heaters offer massive heat intensities, most people prefer electric patio heaters due to their efficiency and simplicity in running them.
Depending with the model of your patio heater, you can mount it on the wall or ceiling if it is not a freestanding type. Since electric heaters does not need ventilation to produce heat, you can use them anywhere as long as there is a standard power outlet.
Electric patio heaters use convers electric power to heat energy. Sophisticated models use infrared elements that directs heat to objects and people instead of the air around thus greatly saving on operational expenses. These heaters does not emit gases, odor or produce any noise thus regarded as Eco-friendly.
3. Cover your patio
Screen rooms, gazebos, patio tents and enclosed porches can offer incredible protection from raging cold or warm outdoor temperatures. Additionally, such covered spaces are perfect for keeping mosquitoes away and other night flying bugs that can cause discomfort.
Covering your patio makes it more versatile and your family or friends can use it year-round devoid of weather changes. If you have an outdoor fireplace or fire pit in a covered area, be sure to observe safety standards to avoid fire hazards.
4. Ignite the ambiance
Creating a theme for your winter party is a simple trick to make your guests feel welcomed and entertained. A warm ambiance of candles and soft outdoor lighting can be an ice breaker. A little bonfire could do the magic but only if you have enough space and a permit from the authorities.
5. Hot drinks and food
To excite your guests more, uncover your barbeque. Warm a pot of hearty soup, some kebabs, hot dogs, marshmallows and more. Hot drinks such as spiced apple cider, hot chocolate, hot toddies or coffees will also carry the day.
6. Go for Rugs
If you never had an outdoor rug, this will be the best time to install one. Concrete or stone patio gets extremely cold during chilly seasons. To protect your guests or family from the chills, cover the surface with an outdoor rug. Wooly cushions and blankets on your patio can also provide additional warmth for winter gatherings.
Conclusion
Family gatherings and outdoor parties during cold seasons are only fantastic when you protect your guests from the weather chills. With a good outdoor warming idea, you will spend time together, have more enjoyment and never forget the sweet moments.