Quality outdoor furniture will often cost more than indoor furniture. Choosing the best outdoor furniture for your climate will extend its lifespan and make it well worth the additional investment. So what is the best outdoor furniture for humid climates?
For humid climates, the best outdoor furniture is made from materials that can withstand heat and moisture and are resistant to rust. Cast aluminum, teak, resin wicker, and Polywood can all withstand humidity, making them suitable materials for humid climates.
Outdoor furniture is made from such a wide range of materials that it can be hard to know what is best for your lifestyle and climate. Our guide will give you insight into the best outdoor furniture options for humid climates, with their benefits and drawbacks.
The Best Materials Suitable For Humid Climates
Design matters, but the material makes an outdoor furniture set suitable for humid climates. Choosing suitable materials for your climate is crucial if you want your furniture to last.
There are so many patio materials to choose from, but these materials are most suited for humid climates:
Polywood
Cast Aluminum
Resin Wicker
Teak
Polywood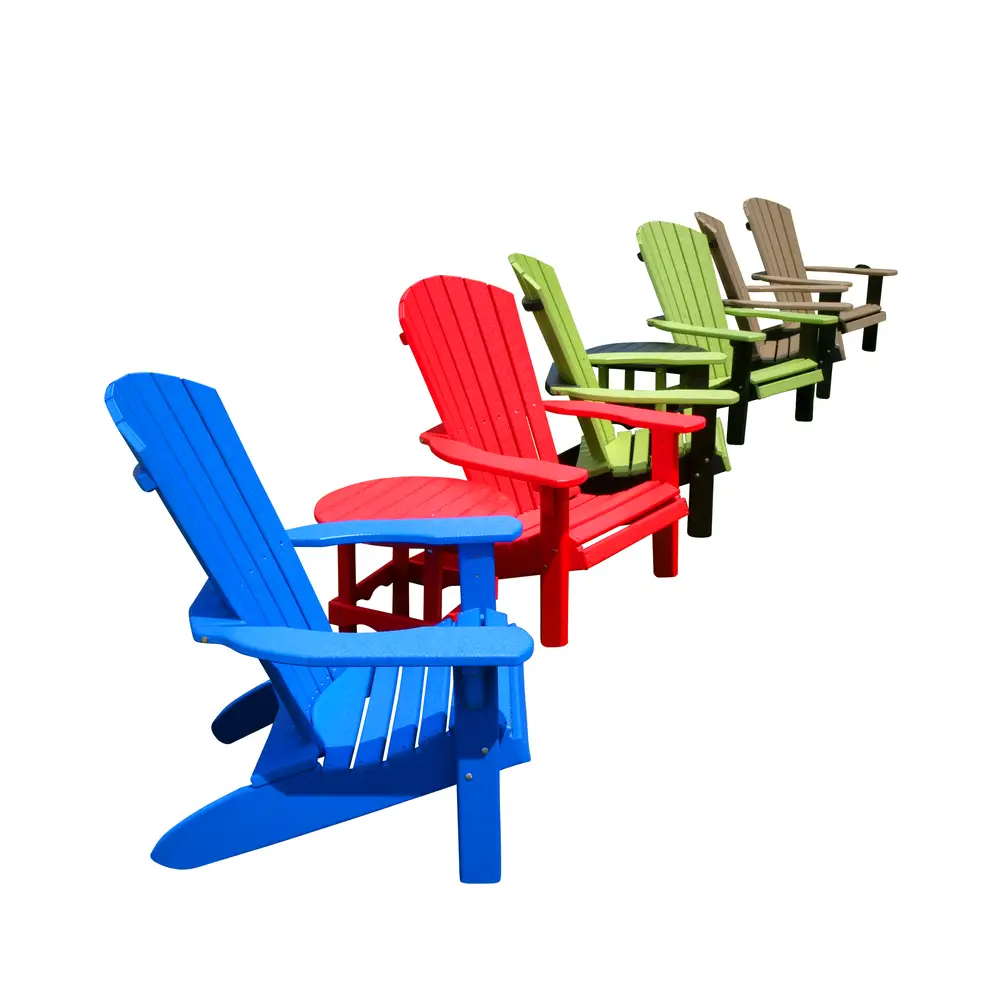 Polywood has so many benefits; it's no wonder it is one of the most popular materials used for outdoor furniture! Polywood or Poly lumber is made from high-density polyethylene (HDPE), perfect for any climate, including humid areas.
For those who are environmentally conscious, this material will call to you! HDPE is often made from used plastics and can also be recycled. It has a very high strength to density ratio, making it extremely strong and durable. Its density also makes it very heavy, perfect for windy areas.
Polywood furniture is very affordable and practically maintenance-free. Color-treated Polywood won't fade in the sun, as it holds color well.
Pro Tip: Dark brown colors made to look like wood can look cheap, so be careful with your color selection. Colors like light greys, whites, sage, and even light sand give a more elegant look.
Cast Aluminum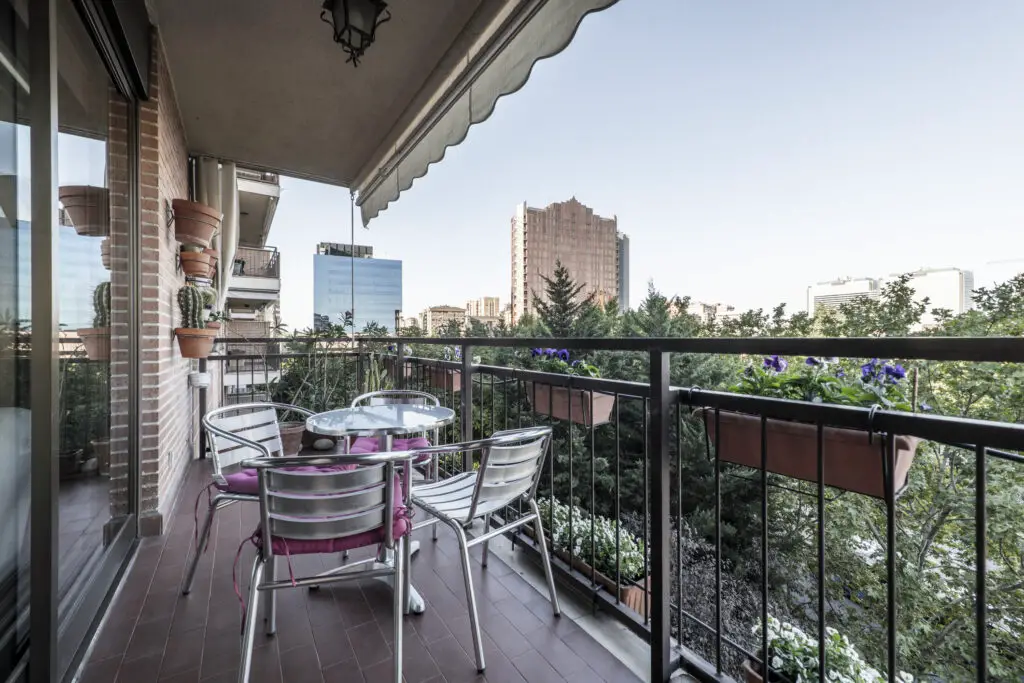 What makes cast aluminum so perfect for outdoor furniture is that it is weather-resistant, very strong, and easy to clean. Unlike iron, aluminum does not rust.
When choosing aluminum furniture, be sure to go for cast aluminum instead of regular (extruded) aluminum. Extruded aluminum furniture is made from hollow tubes bent into shape, whereas cast aluminum is solid, making it much stronger and harder to dent.
While cast aluminum does not rust, it can corrode when exposed to salt. If you live in a coastal area, opt for powder-coated cast aluminum to protect it from corrosion. Powder coating also gives you endless color options to choose from! Choose a powder coating with a UV protector as the sun can damage the powder coating.
Another great benefit of cast aluminum is that it is made from molds. The molds allow for intricate design details (think vintage Italian patios) that will add flair to your outdoor space. If that is not your style, there are plenty of modern designs to choose from.
Aluminum is a very lightweight material, which can be both a pro and a con. It is easy to move around, and depending on the design, it can be folded up and stored if your space is limited. The drawback is that it will blow away! If you live in a windy area and your outdoor space is not protected from wind, aluminum is not the best choice for you.
One other great benefit of cast aluminum furniture is that by its nature, aluminum does not retain heat like other metal outdoor furniture. That is not to say that aluminum furniture will not get hot in direct sunlight, but it will cool down significantly faster than other types of metal furniture.
Resin Wicker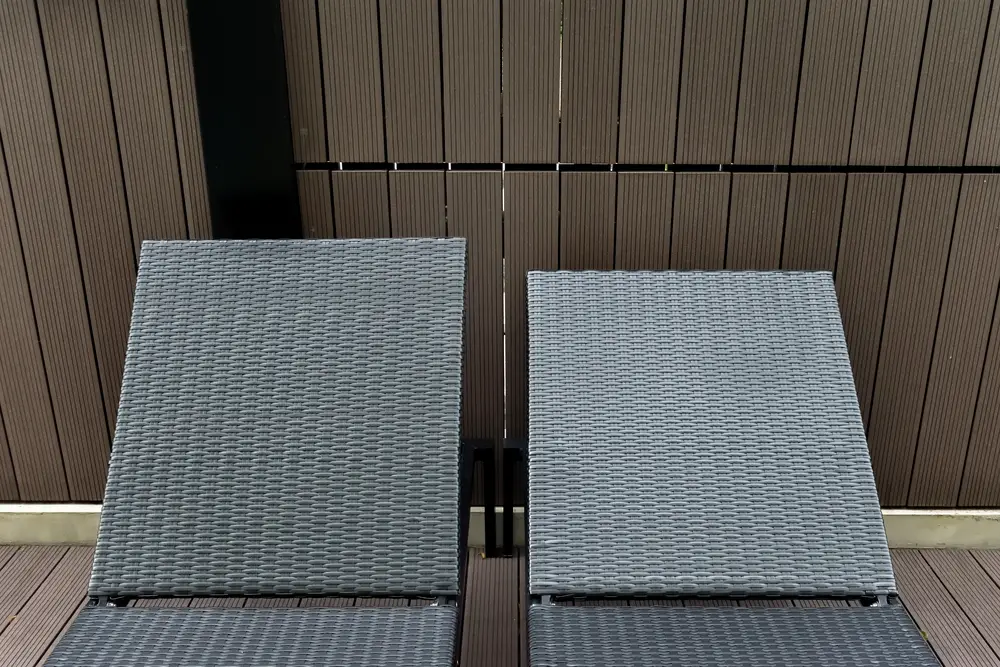 Unlike natural wicker that is made from plants, usually rattan or bamboo, resin wicker is made from synthetic material, mostly polyethylene. However, resin wicker can also be made from other plastics like PVC or Nylon.
Resin wicker provides the same look but with added benefits. It is resistant to rot and is not susceptible to pests. It is more durable than natural wicker, which tends to dry and crack with age, causing the weave to unravel.
Resin made from HDPE is UV resistant, high quality, and very durable. It is nonporous, making it moisture resistant and perfect for humid climates. While it is expensive, it is more affordable than natural wicker and very easy to clean. All you need is warm, soapy water.
If you lean towards organic, earthy design styles, resin wicker might be for you! Soft natural colors compliment coastal homes and give a warm, inviting feel.
Teak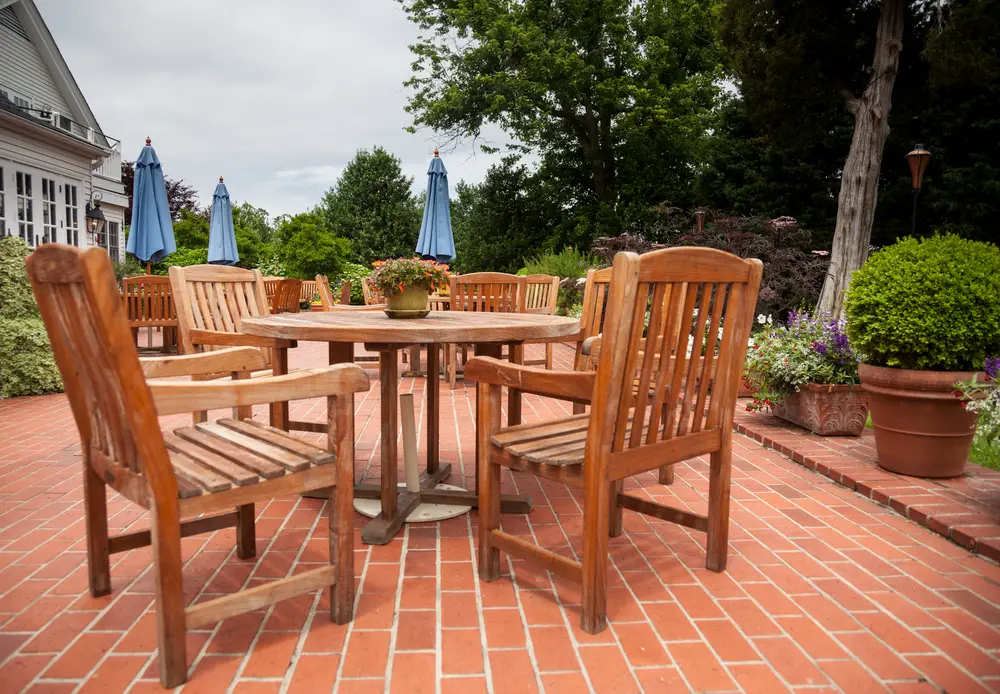 The best natural material for outdoor furniture is teak. Unlike bamboo and rattan, susceptible to mildew and rot, teak wood has a natural oil protecting it from mildew, rot, and pests such as termites.
Teak is a tropical hardwood that is extremely strong and durable. Due to its exceptional durability, it is one of the most expensive materials for outdoor furniture. Treated teak furniture is easy to clean, but as with all wooden furniture, it is best to use coasters to minimize stains.
When cared for properly, teak wood can last for decades. However, it does require care and maintenance. Teak needs to be treated with teak oil regularly to prevent the wood from aging. Be sure to use good quality teak oil to ensure proper protection.
The Best Upholstery Fabric For Outdoor Furniture
Some outdoor furniture sets can be quite uncomfortable without cushions. Along with adding much-needed comfort, cushions can add a pop of color for more neutral sets and prolong your furniture by breathing fresh life into a set you may bore from otherwise.
Sunbrella cushions are a firm favorite among many boaters, and for a good reason! It is one of the strongest fabrics and is completely waterproof! Sunbrella's marine collection is the best fabric you can buy for use in humid climates.
Understandably, Sunbrella fabric is expensive. For a more affordable option, opt for a good quality outdoor fabric that is heat and water-resistant. Alternatively, bring your cushions inside at night and when it rains.
How Do You Protect Outdoor Furniture From Moisture?
Perhaps you have an old set of outdoor furniture that is not so moisture-resistant and will have to make do until you can purchase a better quality set. How can you protect it from moisture?
The easiest way to protect outdoor furniture from moisture is to cover them with a water-resistant cover. While this may not look appealing, it works well and can be removed when guests arrive or in pleasant weather. A cover with UV protection will also protect your furniture from sun damage.
Cushions can be treated with a waterproofer like Scotchgard Heavy Duty Water Shield or brought inside during harsh weather conditions, provided you have storage space.
Conclusion
With today's advanced materials, not even your climate will limit your choice of quality outdoor furniture! From modern, coastal, to natural, there is something for everyone. Ultimately, among Polywood, Teak, resin wicker, and cast aluminum, the material you choose comes down to your décor style and budget. 
References
https://www.hayneedle.com/tips-and-ideas/outdoor-furniture-material-care-guide/