A pressure washer is a very essential machine for cleaning all aspects of home exteriors and outdoor spaces such as patios, driveways, garage floors, front entrances stairs, walkways, outdoor furniture, wood decks, windows, vehicles, walls, fences and more.
To deliver efficient cleaning power and a sparkling surfaces you need a powerful versatile pressure washer machine. After researching and testing several models, we found the following as the best electric pressure washers for home use:
Our Top 3 Picks
WestForce 3000 PSI Electric Pressure Washer, 1.85 GPM 1800 W Electric Power Washer, High-Pressure Cleaner Machine with 5 Nozzles, Hose Reel, Foam Bottle for Homes, Cars, Driveways, Patios
TEANDE 3800PSI Electric Pressure Washer, 3800PSI High Pressure Washer for Cars Fences Patios Garden Cleaning, 2.8GPM 1800W Power Washer
Sun Joe SPX3000 2030 Max PSI 1.76 GPM 14.5-Amp Electric High Pressure Washer, Cleans Cars/Fences/Patios
OUR TOP PICK
WestForce 3000 PSI Electric Pressure Washer, 1.85 GPM 1800 W Electric Power Washer, High-Pressure Cleaner Machine with 5 Nozzles, Hose Reel, Foam Bottle for Homes, Cars, Driveways, Patios
ALSO GREAT
TEANDE 3800PSI Electric Pressure Washer, 3800PSI High Pressure Washer for Cars Fences Patios Garden Cleaning, 2.8GPM 1800W Power Washer
6 Best Electric Pressure Washer
Strong Power, versatility and efficiency is what defines a good power washing machine. There are plenty of pressure washers out there but choosing the best one for a perfect cleaning jobs can be a hard task. Here are detailed reviews that will help you to choose the most powerful electric pressure.
1. WestForce Electric Pressure Washer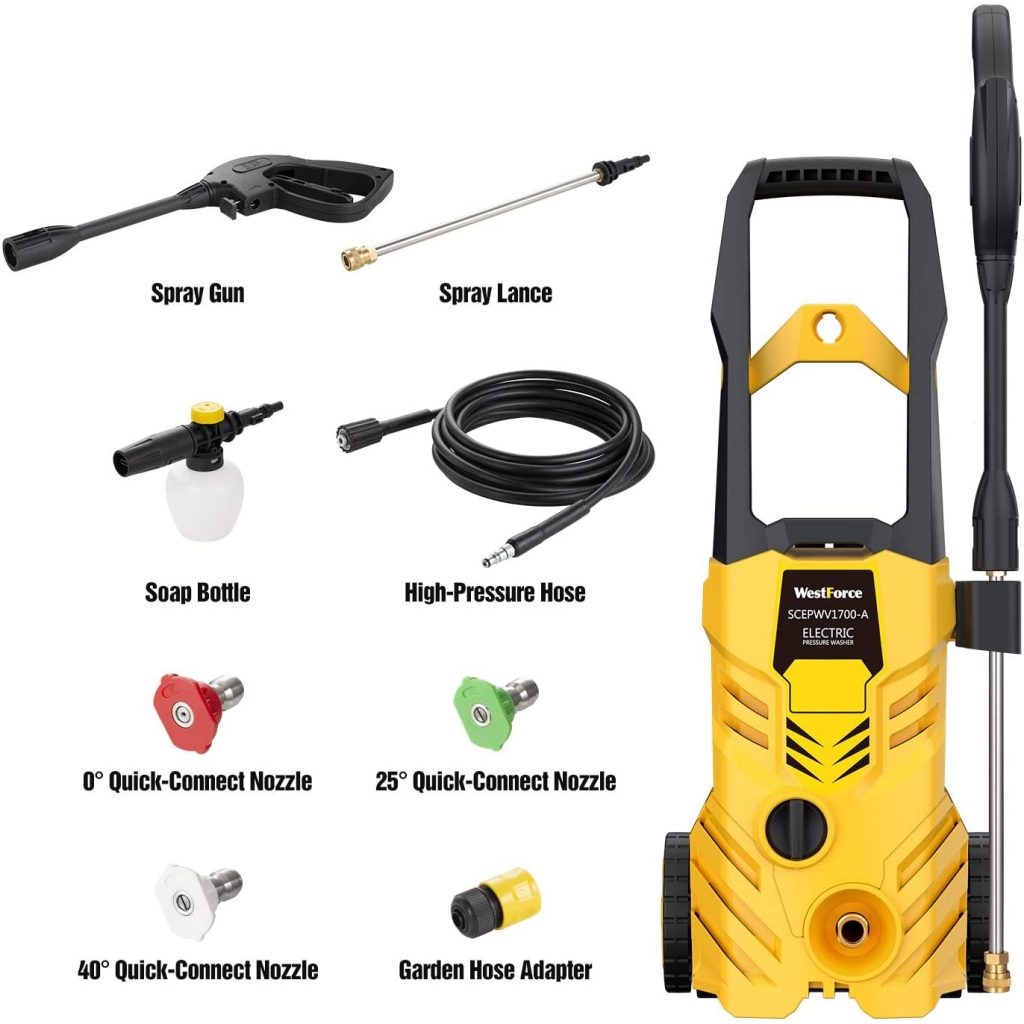 Product Information Summary
Powerful 1600 W/13 A copper motor
Water pressure of 2600 PSI and flow of up to 1.6 GPM
Total Stop System (TSS), GFCI protection and IPX5 waterproof protection
20 ft high pressure hose and a 35 ft power cord
Four quick-connect nozzles (0°, 15°, 25°, 40° ) and a foam lance
This is a strong pressure washer that delivers a powerful cleaning force to deal with any dirt and grime on various surfaces in a home. It is the right machine to remove mud and stains on your pavements, patio, decks, lawn and outdoor furniture. Additionally you can also use it for cleaning many other items including cars, trucks, boats, bicycles, etc.
WestForce Electric Pressure Washer is equipped with a powerful motor for efficient and fast working. To reach more exterior outlets, this pressure washer includes a 35ft power cord and a 20ft high pressure hose. For tackling light, medium or heavy tasks easily, you have 4 interchangeable nozzles that include 0°, 15°, 25°, 40° and soap bottle.
Structurally this machine is lightweight, has a stable base, comfortable handle and 2 sturdy wheels. This makes it highly portable and easy to move around especially when handling various projects. Safety is also enhanced through the Total Stop System that automatically shuts off the pump when the trigger is not engaged.
Rain or water is not a threat to this machine due to a good waterproofing abilities. It is also covered with a 24-month warranty from the date of purchase. For perfect storage after use or during transportation, you have a hose wider, a holder for the spray gun and a hunger for its power cord.
Verdict
Customers have expressed total satisfaction with this product with no any major concern. It is a powerful, safe and reliable pressure washer you should have for your home projects.
2. TEANDE 3800 PSI Electric Pressure Washer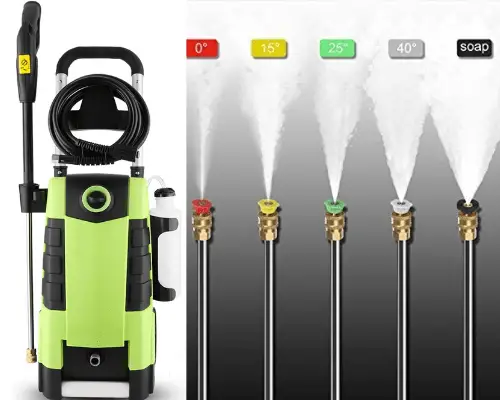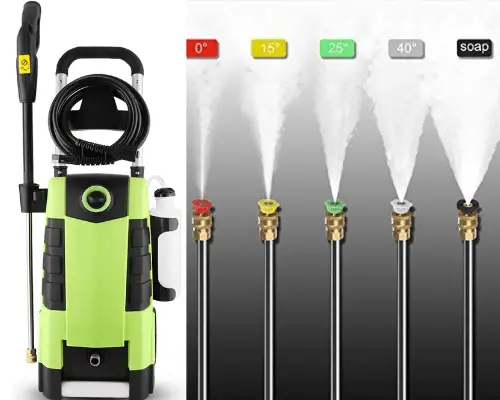 Product Information Summary
Powerful Motor 120V, 60Hz, 1800W
Rated Pressure from 3000 PSI to 3800 PSI
Water Temperature Range 40° F (4° C) – 104° F (40° C)
Max Flow Rate 2.8 GPM
Hose Length 19.8 ft (6m)
Power Cord Length 35 ft (10.6 m)
Soap Tank Capacity 0.26 gal. (1.0 L)
Total Stop System (TSS)
Sincere free customer service
If you are looking for a robust powerful pressure washer, TEANDE 3800PSI Electric Pressure Washer is something to consider. With up to 3800 PSI pressure and 2.8 GPM max flow, this is the most cost effective and advanced cleaning machine for any project.
This multipurpose washing machine can be used for cleaning around home including driveways, decks, patios, concrete floors, fences washing and cars among many others. It effectively strip dirt and grime off surfaces within a shortest time.
It includes 5 nozzles with different pressure levels for cleaning varieties of surfaces. The soap can is large and able to store enough soap for entire cleaning without need to keep adding more. The long hose and nozzles plus power cord makes it comfortable to far or hard to reach areas.
Unlike many pressure cleaners, this machine has easy pump-to-hose and hose-to-wand connections thus easy to use. The unit is also light enough to even carry with one hand, although it got wheels that work well for moving it around.
The onboard reel provides the best storage for hoses and cables. This not only saves on time when unwinding but also prevent it from getting entangled. Safety of the bump and items around has been guaranteed by Total Stop System that automatically shuts off the machine when the trigger is not engaged.
Verdict
This product has received high customer ratings. There are no concerns expressed and we recommend it as cost effective, strong and versatile washing machine for your home cleaning tasks.
3. Sun Joe SPX3000 Pressure Washer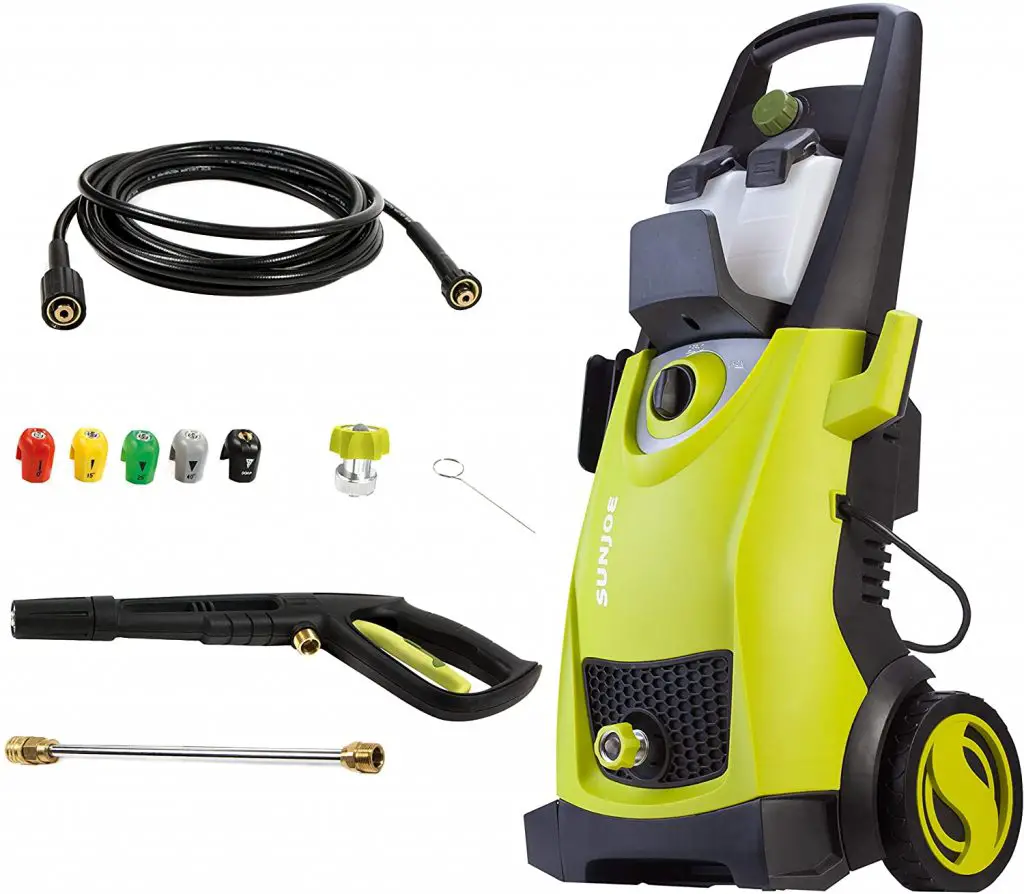 Product Information Summary
5 Quick-Connect spray tips
It provides 35-ft cord, 20-ft power hose
Powerful 14.5-amp/1800-Watt motor
TSS (Total Stop System)
Dual detergent tanks
Dimension 15.6 x 13.5 x 33.9 in
31 pounds of weight
Full 2-year warranty
This is the best budget pressure washer for variety of cleaning tasks around home including buildings, vehicles, patio, lawn, driveways and more. With a water pressure of up to 2013 PSI/ 1.76 GPM, it can blast through any dirt to unveil a sparkling surface.
During our testing, the machine perfectly removed tar and grease from concrete garage floor, oil stains on driveways, caked mud on vehicles, heavy mildew stains on patio and other stubborn gunk and grime.
Sun Joe SPX3000 Pressure Washer is equipped with two onboard removable 0.9L detergent tanks for storing different types of detergents. This gives you a privilege to simultaneously tackle different cleaning projects easily.
It also include 5 interchangeable spray nozzles for different levels of pressure when tackling various surfaces. For wider area coverage, a 20 ft long, 30ft power cord and a 34 inch extensions wand is included. The two rear wheels enhances portability and movement during cleaning.
To save on energy and avoid damage to the pump or surroundings, its Total Stop System (TSS) automatically shuts off the machine typically when the trigger is not engaged. Additionally, Sun Joe offers a 2 year warranty of support or new products from the date of purchase.
Verdict
Most customers are happy about the product given the comparison between price and its pressure capacity. There are few concerns about the hose connections being difficult to mount. We recommend it for home use.
4. WHOLESUN 3000PSI Electric Pressure Washer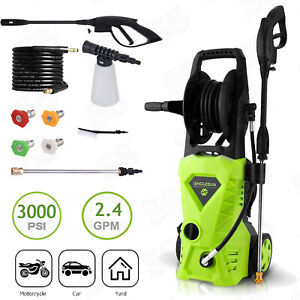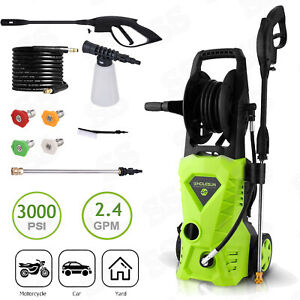 Product Information Summery
Max pressure of 3000 PSI with 1.8GMP
4 nozzles (0°, 15°, 25°, 40°)
6m high-pressure hose 
Safe Total Stop System
13.8 x 7.9 x 7.9 inches of dimensions
18.74 pounds of weight
A powerful pressure washer from WHOLESUN that provides light and fun working of outdoor cleaning tasks. It generates efficient cleaning power that bust through dirt, grime and stains with minimal effort in the shortest time possible. It is also ideal for removing green algae, moss and grease from patios, pathways and decking.
It is equipped with 4 adjustable nozzles for tackling light, medium and heavy cleaning tasks as needed. Safe to use on concrete surfaces, patio, gardens, lawn, fences, walls other outdoor machinery and equipment such as cars, trucks, bicycles, garden tools, outdoor furniture and others grimy surfaces.
WHOLESUN 3000PSI Electric Pressure Washer includes a 20ft long hose for large area coverage without moving the machine. It also comes with a gun handle, brush, gun lance, detergent bottle in addition to the 4 adjustable nozzles. All these accessories can be stored on the device to economize on space.
The electric power washer features a Safe Automatic Complete Stop System that shuts off the pump motor when the trigger gun is not engaged. It is quiet, light to carry and with 2 big rear wheels for easy maneuverability. This machine can be used horizontally or vertically thus great stability.
Verdict
This product has great ratings from customers who are happy. There are no concerns reported. For a powerful fast and reliable cleaning experience we recommend this product for your home outlets cleaning tasks.
5. Homdox 3000 Psi Electric Pressure Washer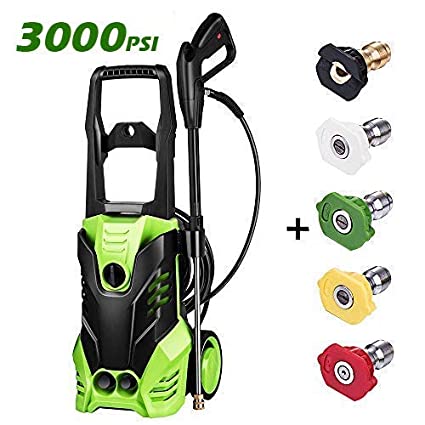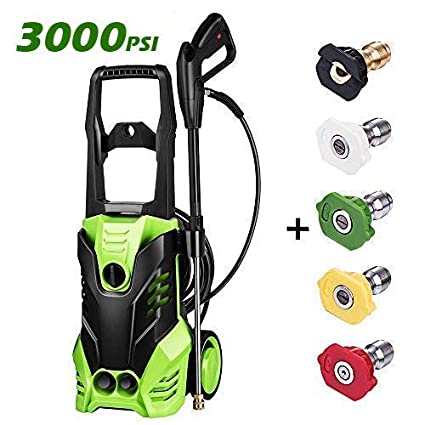 Product Information Summary
Material: Plastic and Metal
Dimension: 11.7 x 10.5 x 29.6inch
Power Cord Length:32.8ft (10meters)
High Pressure Hose Length:19.7ft (6 meters)
Voltage: 100-120V/60Hz Wattage: 1800W
Rated Pressure: 2200PSI Max Pressure: 3000PSI
Flow Rate: 1.7GPM
Max inlet water pressure: 1Mpa
Protection Type: IPX5 Water Temperature: 0-40℃
This is a light weight, high power and easy to assemble cleaner machine that will blast through grime and dirt to restore your surfaces. Homdox electric pressure washer is a powerful cleaner machine that has maximum cleaning and scrubbing abilities. It is the most ideal for pressure cleaning of homes, vehicles, driveways, decks, patios, boats, outdoor furniture and others.
It has 5 interchangeable nozzles with low to high pressure levels for tackling medium to heavy cleaning tasks on various surfaces as indicated below:
Red: 0 degrees – For areas that are high and hard to reach; also for cleaning crevices in patio, sidewalks or driveways.
Yellow: 15 degrees – For use on concrete, brick and other hard surfaces with stubborn dirt and stains.
Green: 25 degrees – For use on painted surfaces, wood siding, fences, and lawnmowers.
White: 40 degrees – For use on delicate surfaces such as windows and screens.
Black: Soap – Use to spray soaps and detergents as you clean.
Homdox 3000 PSI Pressure Washer Electric has a 6 m High pressure hose and a 10m power cord for greater reach of any home exterior spaces. Additionally, the axle mounted wheels allow smooth rolling during movements.
Efficient pressure washing has also been enhanced by the pistol style grip trigger spray wand that easily dispense cleaning solution without much effort. Its soap applicator makes it easy to apply soap on a surface during the cleaning process.
For safety reasons, the machine is fitted with a Total Stop System which automatically turns the pump motor off when the trigger is not engaged. This not only save energy but also prolong the life of the machine.
Verdict
Most of the customers who have used this product have expressed maximum satisfaction citing fast work delivery, efficiency and durability. We therefore recommend this product as a top rated electric pressure washer for home use.
6. RYOBI Electric Pressure Washer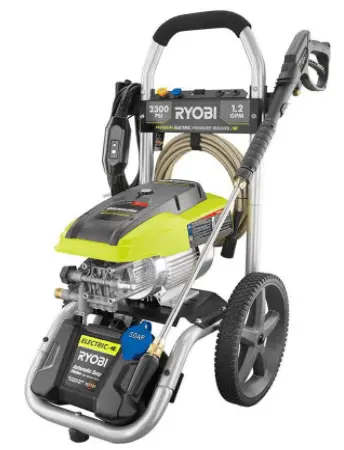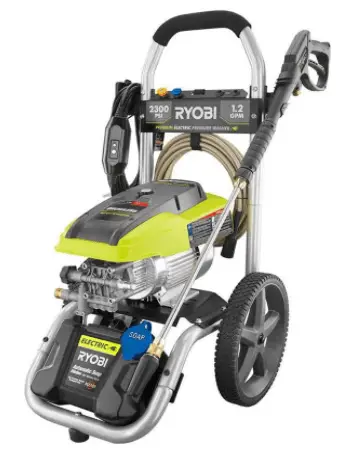 Product Information Summary
2,300 PSI 1.2 GPM for powerful, efficient cleaning
Powerful 13 Amp high performance brushless induction motor
Turbo nozzle that delivers 50% faster cleaning power
25 ft. non-marring high pressure hose that will not leave scuffs on the job
Professional metal spray wand with quick-connect coupler for easy nozzle changes
On board accessory storage for user convenience
Performance tested and rated in accordance with PWMA standard PW101
3-year limited warranty for guaranteed performance
The RYOBI 2,300 PSI Pressure Washer is a versatile machine engineered to handle even the toughest cleaning jobs in your home. This Pressure Washer features a powerful 13 Amp High Efficiency Brushless Electric Induction Motor and Pressure Technology and a Turbo Nozzle that delivers up to 50% more cleaning power.
With 2,300 PSI of force, RYOBI electric pressure washer offers quick cleaning of driveways, patios, windows, outdoor furniture, decks and other areas around a home. This product is backed with the RYOBI 3-Year Limited Warranty and is guaranteed to deliver quality results for years to come.
Verdict
This is one of the high performance electric pressure washer on the market that offers faster and powerful cleaning power for your home needs. The accredited performance and 3-year limited warranty makes this a great deal for anyone looking for a versatile, powerful and efficient pressure washer.
How to choose the best pressure washer – Buying Guide
The following are what to look for in a good pressure cleaner;
Cleaning Power
Cleaning power measured in PSI or GPM determines the magnitude of a project you can handle. Pounds per square inch (PSI) is the cleaning force of water the machine can generate.
Gallons per minute (GPM) is the volume of water delivered through the machine. The higher the PSI or GPM the more powerful is the pressure washer and thus the higher performance output.
Nature of the Task
The nature or size of the project you are handling determines the type of pressure washer to use. You will need a washer with higher PSI and GPM when handling large projects for perfect outcome. Higher ratings means that you can clean large a large area within less time.
Heavy duty pressure washers generate between 2800 PSI and above at 3 to 4 GPM. They are also strong structurally and can handle commercial or large scale tasks such as cleaning large areas, paint stripping, washing a large building and more.
Medium-duty pressure washers are rated between 2,000 and 2,800 PSI and 2 to 3 GPM. This is good power for any home exterior cleaning of patios, walkways, feces and driveways. These type of machines can also remove most stains and dirt to reveal a clean surface.
Light-duty models are typically for small tasks around home. They have power output ranging between 1300 and 1900 Psi at 2 GPM. These lightweight machines are suitable for jobs such as patio cleaning, grills and windows, vehicles, small patio and decks cleaning.
Attachments
These are important accessories that will enable the operator to handle and complete the cleaning tasks without struggle or wasting much time. Pressure washers comes with different varieties of attachments that include nozzles, hose, and detergent bottle or tank, brush and wand extensions.
Ensuring that you have the right accessories for your project is very important before you settle on a particular model.
Cost
While cost might vary from one brand to another, more powerful machines are pricey. Because gas pressure washers are known to have more power and durable, they are expensive compared to electric types. Hot water power washers are also good at dealing with any type of dirt and thus cost higher as compared to cold-water pressure washers.
Frequently Asked Questions
Are you looking for the right pressure washer for handling your cleaning tasks? Here are frequently asked questions and answers that will guide you appropriately.
How does a pressure washer work?
Pressure washers and power washer machines work in the same manner by pumping water at a high pressure through a hose and nozzle. The only difference is that, power washing uses heated water unlike a pressure washer that uses cold water.
Hot-water pressure washers are complex to operate unlike the cold water models. Although expensive, the hot water models cleans better and faster without need for detergents or chemical cleaners. Do not use heated water in a cold-water pressure washer.
Pressure cleaners (power and pressure washers) uses either a gas engine or electric motor for pumping of water. While both types of washers deliver outstanding cleaning power and experience, there is a slight difference on how they are powered, performance output and cost.
What are the types of pressure washers?
There are two major types of pressure washers namely:
Electric Pressure Washers
These models are connected to electricity using power a cord and start by a flip of a switch. They are lighter, less mobile and quieter. Electric power washers are best for handling lighter and medium-duty tasks around a home.
Electric pressure washers have some advantages over gas models. They are affordable in terms of cost and maintenance. You can comfortably use them indoors because they doesn't produce smoke or fumes. Their light weight nature makes them the easiest to carry around.
Gas Power Washers
These are way more powerful machines that are powered by petroleum. To start them you pull a manual starter or push an electric starter. Gas pressure washers can be used commercially for tackling heavy tasks such as cleaning of patios, decks, driveways and walkways, vehicles and exterior of houses.
Since they are not tethered by electricity cord, these models are portable. Gas power washers are considered more durable and sturdy. Main disadvantages include noise, fumes, heavier, expensive and requires frequent maintenance.
How do you use a pressure washer?
When properly used, a pressure washer serves as a faster and most efficient way of dealing with toughest dirt and grime around your home. The machine settings depends on the surface you are cleaning.
This brings us to a question, can power washing damage a concrete patio? Yes, if a high water pressure nozzle is used on delicate surfaces, they can completely get damaged or broken. Also, pointing of a water jet at one point for longer can also cause surface chipping or paint stripping.
Expert tips on how to use a pressure washer
Always begin by reading the instruction manual from the manufacturer.
Have some knowledge on how to control the pressure system and choose the right nozzle for the surface you are cleaning.
Keep work area clear from obstacles such as furniture to avoid accidents.
Ensure there are no flammable or explosive elements around.
Wear a face protection mask to cover your nose, eyes and ears
Stand on a stable surface to avoid accidents such as falling.
Set to a recommended pressure and distance for a given surface.
Check the incoming water pressure to avoid air lock in the pump.
Ensure the brushes, nozzle tips and other attachments match the type of project you are cleaning.
Do not expose a pressure washer to rain or wet conditions to avoid risk of electrical shock.
Do not leave a spray gun unattended while the machine is running.
Do not point the spay gun towards electrical fixtures, power lines, animals or plants.
Keep children or other bystanders away from the site.
Use a pressure washer with cold water only or up to the designated limits.
For a good cleaning experience, you may need additional pressure washer tools and accessories. However, they should be compatible with both the machine and surface you are cleaning. Among them include the following:
Scrubbing brushes for removal of stains and tougher dirt.
Extension wands to easily handle high or hard to reach areas
Pressure washer detergents or cleaning chemicals for dissolving stains.
How do you maintain a pressure washer?
While good care enhances performance and durability of a machine, regular inspection and maintenance by authorized service personnel is highly recommended by the manufacturer. In the event of a problem, you may perform the following troubleshooting procedures:
If the engine or motor is not starting check the user manual on how to relieve pressure buildup in the machine, check if the power cable is properly connected or if your home circuit breaker has tripped.
Sometimes engine not running smoothly may imply a clogged or damaged air cleaner or fuel filter. They should be replaced as soon as possible before you start a cleaning task.
Pump pulses due to low water volume or pressure due to a blockage at the inlet filter or nozzle.
Water leakage happens due to loose connections or worn out O-rings and they ought to be replaced.
Always winterize the pressure washer during cold months of winter when you are not using it. This will prepare it for storage and later use in spring without malfunctioning.
The machine should be stored in a dry place free from dust. You may acquire a storage cover to help in keeping off dust and moisture.
Why buy a power washer?
Outdoor cleaning can be boring, time consuming and tough when using ordinary cleaning methods. Investing in a power washer makes cleaning to be fun, saves time and costs. With high pressured water, you can quickly eliminate any dirt, grime, stains and debris to have a brighter clean surface.
Dirt and grime makes an outdoor space unsightly and automatically reduces the value of a home. Removal of oil stains on a driveway or on garage floor can be done safely using a pressure washer without involving a chemical cleaner that may end up being ineffective or harsh on the surface you are cleaning and plants around.
Some microbial cleaners take weeks to completely degrease a stain. Scrubbing with soap and water is also a time consuming process that may also damage a concrete surface. All these can be avoided by simply investing in a pressure washer for fast, trusted and effective outcome.
The Bottom Line
Pressure washers are great machines for stripping off dirt and grime from surfaces without a struggle and within a short period of time. Pressure washing not only makes your surfaces to look new again but also to make them last longer. Investing in a good pressure washer saves you money, adds fun to cleaning tasks and delivers sparkling results.