Concrete is a popular material for construction of patios, driveways, walls and other masonry due to its durability. However, a plain concrete surface can be unappealing to look at and at the same time vulnerable to elements.
Can you Paint a Concrete Patio floor?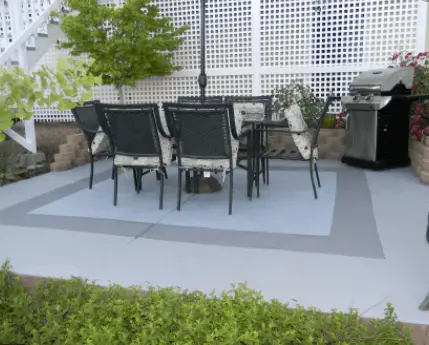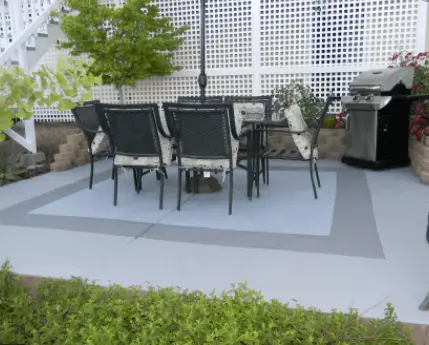 Yes, you can spruce up the beauty and durability of your outdoor concrete patio by applying a protective coat of paint. This will mask surface imperfections to give concrete a new life.
Further, a good concrete paint offers protection against water penetration, rust, UV radiations, wear and tear and other surface damages.
How to Paint a Concrete Patio
The following are steps for painting a concrete patio:
1. Clear the surface
Create a good working space by removing any items from your patio including furniture, plant pots and toys. Paint or some cleaners may contain ingredients that are harmful to vegetation around such as grass and flowers. Cover the neighboring plants or areas you don't want to messed up with paint or cleaning solutions.
2. Repair scratches
Cracks and dents are common in old concrete. Check if there are any cracks on your concrete patio and fix them using a suitable filler. Before applying a masonry filler, clean the cracks with a wire brush and vacuum to blow out all dust or dirt. You may use a broom instead. The concrete has to be clean and dry before you proceed.
Use a scrapper to apply the filler deeper into the cracks small layers at a time as you let each to dry. Sand down your concrete filler or grout with a fine sandpaper. Be sure to read and follow the label instructions, some products may not require sanding.
3. Clean the surface
Sweep the concrete using a broom to remove any debris such as vines dry leaves. Give your concrete patio a thorough scrub using your concrete cleaner and follow with a pressure washer. This will ensure all grease, salt deposits and other stains are cleared for paint to adhere properly.
Before using any cleaner, read and follow the label instructions. Wear protective clothing is demanded. If there are molds, moss or algae, use a stiff brush to scrub just before power washing. Old paint or sealer should also be stripped by use of an appropriate remover.
For proper sticking of paint on new or bare concrete, etching may be required. Acid solution such as muriatic or phosphoric acid is applied to make a smooth concrete surface to be rough textured. The acid should be neutralized by a sprinkle of baking soda before a rinse.
4. Concrete painting
Before painting the concrete has to be dry completely. Concrete notoriously absorbs water or moisture and applying before it dries will cause the paint to peel in future or not adhere well. Drying of concrete can be naturally or by use of a drier.
Painting of an outdoor patio cannot be done by just any paint. There are specific paints that contain additional features. You can use paints in the following categories.
Outdoor concrete paints that are resistant to water, salt, oil and grease.
Latex oil-based or water-based exterior paints that withstand foot traffic.
Masonry paints that are mixed with epoxies and binders
After choosing the best paint for your concrete patio or garage floor, decide on the ideal color based on the exterior of your home or outdoor furniture. You may also consult a color specialist at the store. Your painter may also be of help when you want to create some patterns in your painting.
Given the porous nature of a concrete, you may also require to primer to avoid using too much paint. A good exterior-grade primer gives a nice, even surface to work with and the outcome is astonishing.
Before getting started, there are also other tools and equipment you will need for painting your cement patio. They include the following:
Paint brushes and roller
Masking or painter's tape
Plastic sheet or tarps
When you are all set, choose a dry day with no signs of rains. Ideally it should be within a dry week. The temperature also need to be ideal. For oil-based paint apply when the temperatures are between 40 – 90 Degrees Fahrenheit and about 50 – 85 Degrees Fahrenheit for Latex paint.
Protect surfaces bordering concrete patio such as walls, decks, door and windows using tarps
Although optional, begin by applying a primer using a roller or thick paint brush and let it dry for at least 12 hours
Using clean dry small brushes, apply a coat of paint around edges, joints and other tiny areas then follow with the first coat of paint using a clean big brush or roller and let it dry.
After at least 12 hours, apply additional coats as directed by the manufacturer
Let the paint dry and cure for at least 24 hours to walk on and a week to place on furniture.
How to Choose your Concrete Paint
To successfully paint your concrete patio, you need to choose the right paint by factoring in the following:
Versatility
There are two major types of concrete paints namely; acrylic latex paint and epoxy paint each with own advantages and disadvantages.
Acrylic latex paint is typically a water-based formula that can be easily applied or washed off on concrete or other masonry surfaces. Although budget friendly option, acrylic latex doesn't last longer as compared to epoxy paint. Acrylic latex paint formulated for patios and porches are designed to resist fading, cracking, UV damage and scuffing although it will not take long before you apply a touch up coat.
Epoxy paint on the other hand is an extremely durable option suitable for exterior surfaces. The paint is expensive and labor-intensive to apply. Epoxy paint creates a shiny, glossy finish that is resistant to scratches fading and cracking. However, it can create a slippery surface and this is why it is important if you look at anti-slip property when choosing one for your patio or porches.
Weather tolerance
Weather elements will always take a toll on your exterior concrete surfaces and other outdoor installations. One of the reasons for painting your concrete being protection against elements, you need to find a paint that has good water repellency abilities, resistant to intensive sunlight and above all long-lasting without cracking and peeling off.
While no paint is made to last forever on surfaces, exterior-grade and epoxies will hold up to elements with minimal touch-ups and repainting. Avoid low-grade paints that give in to rains, sunlight and cold. They usually crack, fade or peel off thus exposing the concrete to elements.
Color and Glossiness
While there are plenty of paints out there, only few come in several colors where you can have an option for choice. Most epoxy paints have base colors or include color flakes to decorate the appearance of the floor surface.
Further, you may want to give a though on glossy or sheen finish. A glossy surface creates a smooth surface the usually reflect light. Glossy finish are easy to clean and maintain and they are resistant to stains and scratches.
Best Paint for Concrete Patio
The following are some of the best paints to use on outdoor concrete
1. Rust-Oleum Decorative Concrete Coating
This is a durable, water-resistant and versatile paint suitable for patios, porches, garages, pool decks, walkways and other concrete surfaces. Rust-Oleum Decorative Concrete Coating offers a multi-colored textured finish not common in other paints.
Rust-Oleum Decorative Concrete Coating is an all-weather paint with superior water repellency that makes it ideal for rainy conditions. Further, the paint holds up in heat and cold conditions. It is evident that you will not see the paint peeling off or losing its sheen regardless of the weather conditions.
To apply this ready-to-use formula, use a roller and follow the label instructions. When applied correct, the paint takes less time to dry. Do not allow traffic until the paint is completely cured.
2. INSL-X Sure Step Acrylic Anti-Slip Concrete Coating
This is an extremely durable, skid resistant coating for interior and exterior concrete or asphalt. It can be applied to all concrete, masonry and wood surfaces. Sure Step is the best finish for tennis courts, patios, walkways, steps, ramps, concrete pool decks, and more. It is available in White, desert Sand, Light Gray, Saddle Brown, Gray Pearl, Pine Green and Tile Red.
INSL-X Sure Step Acrylic Anti-Slip Concrete Coating offers excellent abrasion resistance as well as long lasting color retention, even when exposed to intense sunlight. When properly cured the finish is also resistant to water damage from standing water and resistant to mold and mildew growth.
This durable acrylic is a slip resistant formula that provides a lightly sand finish texture to the concrete or masonry surface. Apply this paint as directed by the manufacturer to enjoy the light aggregate finish with a slight satin sheen that is not affected by any frequenting foot traffic and elements.
3. In The Swim Patio and Deck Paint
This is a water-based acrylic non-slip concrete patio and deck coating with excellent appearance and lasting properties. Unlike most paints, In The Swim Patio and Deck Paint can be applied to damp surfaces, cutting the time between site preparation and roller painting.
First time applications of this formula will need a minimum two coats for a surface with normal porosity. For perfect outcome, Patio and Deck Paint should be applied with a 1/2″ nap roller on smooth surfaces and a 3/4″ nap roller cover on rougher surfaces respectively.
Coverage is excellent with 90 – 125 sq ft per gallon on average. Apply 2 coats on a damp surface with no standing water, wait 4 hours between the first and second coat. After painting, curing takes 24 – 48 hours after which you can allow foot traffic.
4. INSL-X TuffCrete Waterborne Acrylic Concrete Stain Paint
This is acrylic concrete paint also suitable for coating stucco, brick and other masonry surfaces. TuffCrete Concrete stain paint is a non-fading, durable and fast drying formula, resistant to detergents, grease, and oil. It is available in White, Light Gray, Desert sand and pearl Gray.
If you want to use as a stain, simply apply one coat. An additional coat creates an opaque finish that meet your concrete paint needs. Before you start the painting process, be sure to read the manufacture's label for preparation and application tips.
5. KILZ Interior/Exterior Slip-Resistant Decorative Concrete Paint
This is slip-resistant decorative paint formulated for patios, driveways, porches, garage floors, pool decks and other concrete surfaces. KILZ Interior/Exterior Slip-Resistant Decorative Concrete Paint provides a durable protective finish that also enhances the appearance of your concrete surfaces.
This paint when cured fills in hairline cracks thus making your cracked concrete to look new again. Further, the coating stands up to heat from car tires or sun, dirt and grease. It is available in tan and gray color options.
Before applying, be sure to read the label instructions. It is recommended you use this product with a ¼ inch adhesive roller cover. KILZ Slip-resistant Paint recoat should be applied after 4 hours and it typically dries to the touch in 1 hour.