Outdoor furniture is designed to last, however, not all materials will hold up well in harsh outdoor weather conditions. In this guide we advise on the best material for outdoor furniture, highly durable, weather resistant and beautiful in appearance.
Best Material for Patio Furniture
From Adirondack chairs to patio dining sets, outdoor furniture comes in variety of materials including wood, metal, polywood, glass, fabric, synthetic resins and concrete among others. From our research and test experience, we found the following materials suitable for any type of outdoor furniture.
Hardwood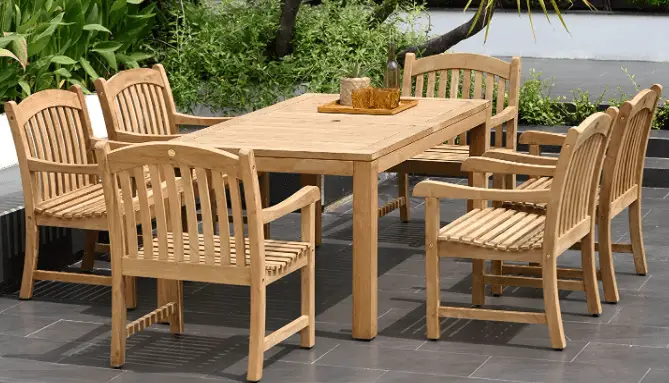 Wood is a leading raw material for furniture, fittings and other decorative accessories in homes and commercial properties. Wood is naturally beautiful, strong and easy to work with thus a great choice for making tables, chairs, benches and other furnishings.
Wood comes in various types with soft wood species such as pine, cedar and fir being inexpensive and commonly used for indoor furnishings. Hardwood on the other hand is stronger and weather resistant thus suitable for making outdoor furniture and other fittings.
Using a hardwood on outdoor furniture is not enough to counter elements. Waterproofing wood for outdoor use through treatments such as painting, staining or sealing will protect your patio furniture from absorbing water, warping and rotting. Wood is a highly absorbent material that will be damaged when exposed to water.
Teak is one of the most sought material for outdoor patio furniture. It boast class, strength and durability. Its high demand and limited availability has made this fine-grained hardwood to be very expensive. It is incredibly strong, non-brittle and resistant to warping, cracking or rotting. Teak has high natural oil content that makes it to repel water and pests.
Teak outdoor furniture will last a lifetime when the wood is properly sealed. Some regular cleaning and refinishing will make your furniture to remain looking new every season. Other hardwood suitable for outdoor garden furniture include Shorea, Eucalyptus, Ipe and White Oak.
Metal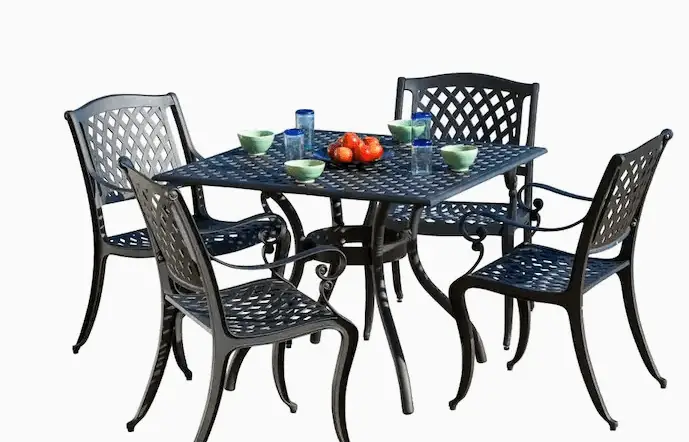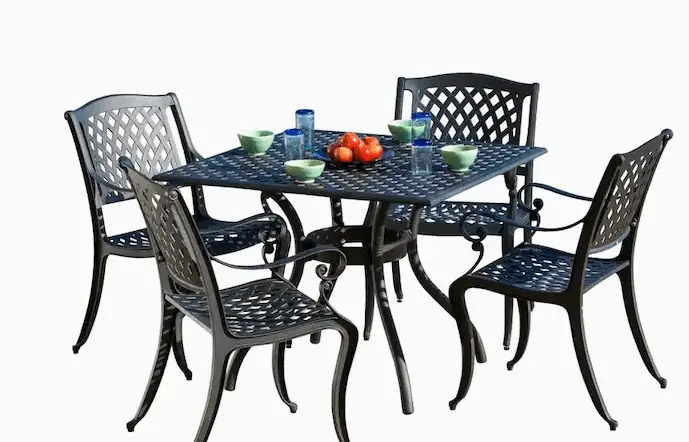 Metal also a strong and durable material for outdoor patio furniture. The material can easily be designed into various styles as needed. However, metallic garden chairs and tables have their own drawbacks including rust and corrosion, heavy weight and sometimes heat up in the sun. Popular types of metals for patio furnishings include:
Cast Aluminum
Aluminum is strong, durable and lightweight material that does not rust. Powder coating aluminum makes it more weather-resistant and easy to apply other decorative coatings. Due to its lightweight nature, you may need to secure your aluminum patio furniture from winds. To reduce heating up during hot sun, invest in quality cushions and some shade as well.
Wrought Iron
Iron has been used in many projects due to its strength and durability. With proper care, the material can last a lifetime. Wrought iron patio furniture are heavy thus not blown by speeding winds. Iron can easily corrode and rust in moisture but several weather resistant coating can prevent the problem.
Stainless Steel
Stainless steel remains stainless, or does not rust thus a great material for outdoor furniture. The garden tables and chairs made from stainless steel are heavy and well secured in winds. Though expensive, stainless steel is durable, strong, and easy to clean and does not rust. Like other metals, stainless steel gets hot in the sun.
Resin Wicker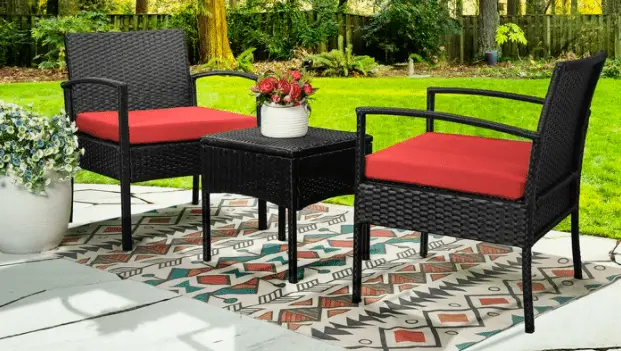 Also known as all-weather wicker, this is a longer-lasting, weather-resistant synthetic fiber weave wrapped over a metal or wood frame. Traditionally, plant material such as cane, seaweed, bamboo and rattan were used to make wicker furniture. This aesthetically attractive plant based wicker is susceptible to damage from rainy weather, moisture and humidity thus not ideal for outdoor use.
Today, outdoor wicker patio furniture is typically made with thin strands of PVC, nylon, polyethylene, or high-density polyethylene combined with a metal framework. The high quality synthetic resin is lightweight, weather-resistant and fade-resistant.
All weather synthetic wicker is chemically infused with color to offer a vibrant tone on your outdoor spaces. The material can easily be styled into any design to fit any imaginable decor. A simple cleaning with soapy water is all required to keep your wicker furniture looking great year in year out.
Polywood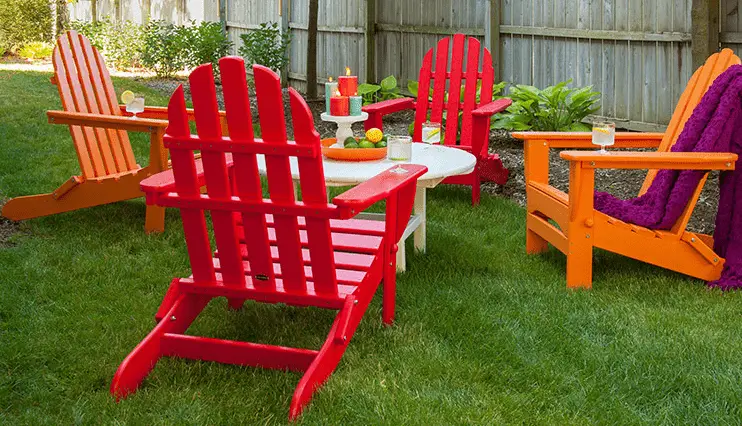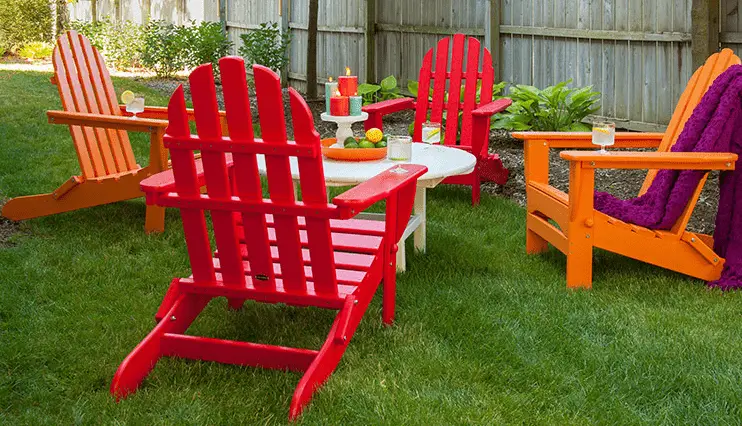 In both performance and style, recycled plastic patio furniture scores highly. Polywood is a popular brand of material made from recycled plastics. Items made from this material are strong and extremely durable. Recycled plastic outdoor furniture can last a lifetime without fading, rotting, and cracking even when exposed to sun, rain or moisture.
Furniture made from this eco-friendly material requires little to no maintenance. A simple cleaning with soap and warm water will remove stains, dust and pollen. A power washer can also be used to dislodge any dirt and stains. Further, you can easily move or rearrange the furniture during and after cleaning due to its lightweight nature.
Fabric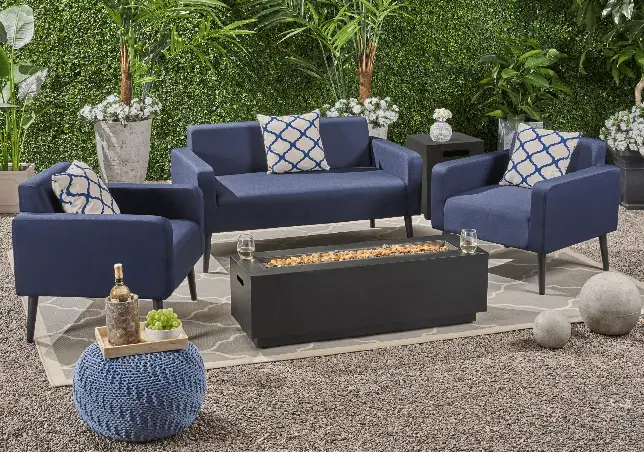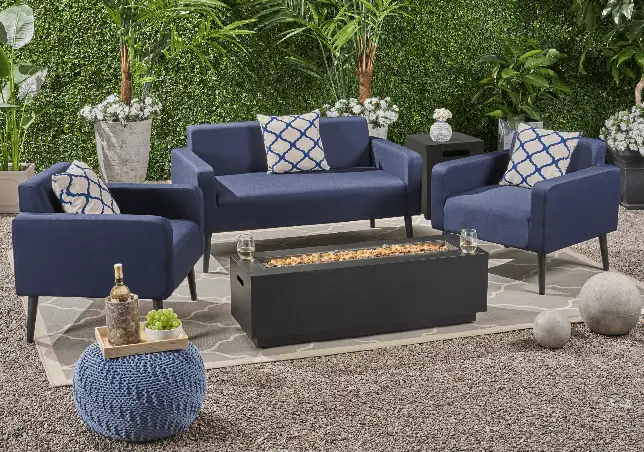 Fabric is a classic material for upholstered furniture and cushions. Outdoor fabrics are typically treated for resistance to water, fading, stains, UV and other elements. Popular types of outdoor fabrics include; polyester, solution-dyed Acrylic or olefin, PVC (Polyvinyl Chloride) and marine vinyl among others.
There is no much effort required in maintaining outdoor fabrics. A simple cleaning of your patio cushions will remove dust and pollen. One of the main challenge with most outdoor fabrics is the growth of mold and mildew. Proper cleaning and covering when not in use will prolong the life of your outdoor investment.
Tempered Glass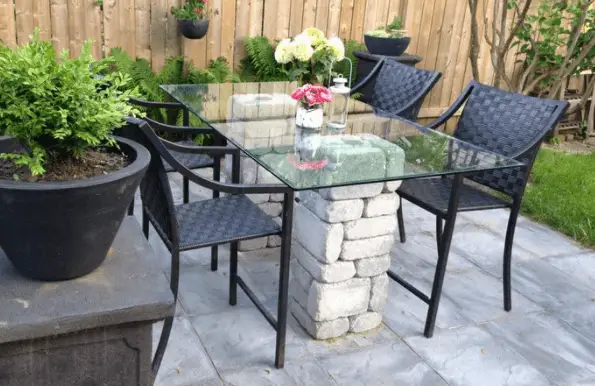 Tempered glass resist temperature changes thus a great material for outdoor tabletops. Coating the glass with lacquer will provide a hard and durable surface that is resistant to harsh outdoor conditions. Outdoor patio table with a glass top will attract more dirt that will make it to lose its visual appeal thus need to clean it regularly with non-abrasive cleaner or material.
Concrete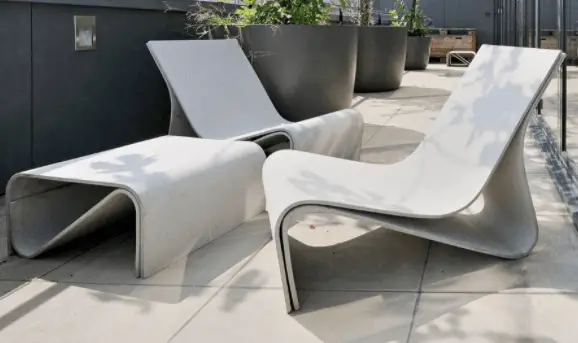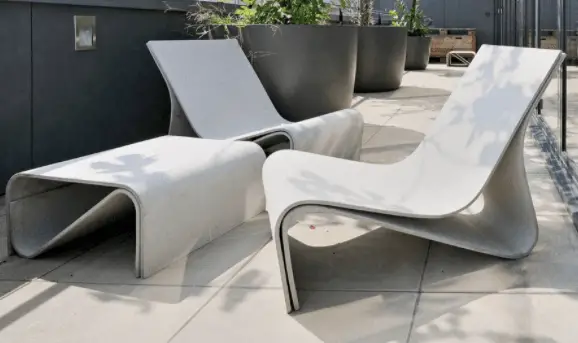 Concrete is strong, timeless and can withstand harsh outdoor conditions for many years. It can be poured into various designs and shapes to create a reliable furniture in a garden. To make it more appealing and comfortable, other materials such as fabric can be added.
Concrete will remain looking good without any serious care and maintenance. Waterproofing treatments such as sealing, staining and painting will prevent your outdoor concrete benches and tables from spalling or cracking. Concrete is heavy and your furniture will remain immovable.
How to Protect Outdoor Patio Furniture
One of the main reason for choosing a highly reliable material for outdoor furniture is to reduce maintenance expenses. Outdoor furniture may face a number of problems that include the following.
Rain and moisture
This is a great challenge to every homeowner panning to invest in outdoor furniture. Rain and moisture will cause issues such as mold and mildew, rust or corrosion, warping and rotting. Without addressing these issues, buying an outdoor furniture is just pouring money down the drain.
In addition to choosing a water resistant outdoor furniture, also invest in a furniture cover. It helps in protecting your furniture from elements especially when not in use. During harshest conditions such as winter and torrential rains, storing your furniture in a garage or basement will be a great idea.
Sun and heat
Summer and warm weather is great for outdoor relaxation. This is the time we put to use our outdoor furniture. When the sun gets too hot we found it uncomfortable to sit on the heated outdoors seats. The heat does not just scare you away but it also deteriorate your outdoor furniture and with time it will crack or fade.
Investing in some shade will be a great relief to yourself and also to your furniture. Lasting patio cover ideas such as a covered pergola, patio umbrellas, retractable awnings and sunscreens are recommended.
Winds
Speeding winds are a threat to most outdoor investments. Winds will blow away lightweight items and structures. If your furniture is not heavy enough, find a way of securing it. High winds can also damage most outdoor structures including patio awnings and umbrellas. Consider closing them in storms and hurricanes.
Theft
It is possible to lose your expensive furniture to a thief. This is common in areas without proper security measures. Fencing, installing CCTV cameras and keeping your furniture indoor can reduce chances of being stolen. A lightweight furniture can be more targeted by thieves than a heavy one.
Wildlife
We all love the sound of singing birds or the sight of monkeys jumping in a nearby forest without knowing problems they pose on our backyard investments. Felines, birds and monkeys are able to vandalize your outdoor furniture, plants and other furnishings. Safe animal repellents will can help in curbing such cases.
Final Though
Furniture is a great addition to any outdoor space for luxury and comfort. A quality garden furniture come with weather resistant material that will withstand the harsh outdoor conditions. To ensure you are enjoying the fruits of your labor, clean and protect your patio furniture from elements, theft and wildlife as recommended in this guide.