Outdoor furniture can be a great addition to a patio or garden. Due to harsh weather elements, outdoor chairs and tables should be designed to last. Polywood is a popular material for outdoor furniture today. Made of fully recycled materials, polywood patio furniture are attractive, durable, comfortable, weather resistant and maintenance-free.
Polywood Patio Furniture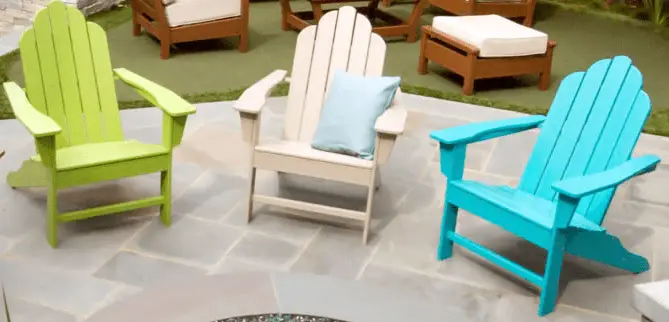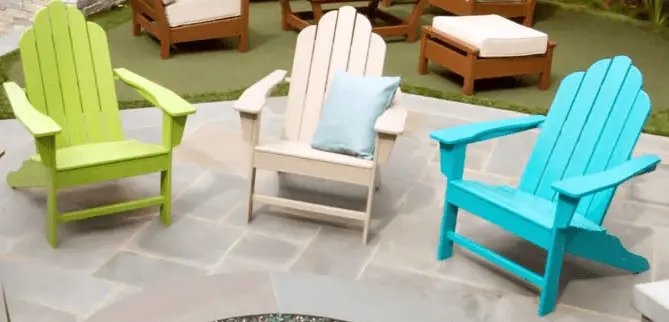 Polywood is industrially made by recycling high-density polyethylene plastics mixed with dye and foaming agents. Plastic is obtained from items such as milk jugs and detergent bottles which are thoroughly cleaned before being processed. Poly lumber is usually shaped into planks and boards that appears like painted wood from afar.
In outdoor furniture, polywood is used in making everything including Adirondack chairs, picnic tables, garden benches, gliders and armchairs. Recycled plastic outdoor furniture made primarily of HDPE plastic is highly durable. Selective additives such as UV protective agent and fade-resistant vibrant colors makes the material to do well in sun.
Polywood is America's leader in developing outdoor furniture with recycled plastic lumber. Their commitment to quality allows for many seasons of relaxing and enjoying your outdoor living. Good customer support and long product warranty makes them a great choice.
Why you should choose Polywood Patio Furniture
Polywood is built to withstand hot sun, snowy winters, and requires no painting, staining, or waterproofing. The poly lumber comes in variety of colors and finishes incomparable to wood, metal or other materials used for outdoor furniture. The following are reasons to choose polywood patio furniture
1. Eco-friendly material
Recycling plastic to make useful items such as patio furniture is great for environment. Most plastics end up in landfills and water bodies affecting marine life. Further, this great initiative greatly reduces pressure on wood which is usually harvested from forests that serves as home to many species of life. Lumbering is not only destructive to trees that purify air but it is also a carbon footprint process.
2. Maintenance Free
Polywood patio furniture does not absorb water or moisture thus don't require refinishing, repainting, staining or waterproofing. These are very important maintenance practices for wood or metal outdoor patio furniture usually carried out on a regular basis. Recycled plastic patio furniture are UV treated, easy to clean and does not crack or fade.
3. Affordable
Compared to other types of patio furniture, recycled plastic are the least expensive in many markets. Although stylish, wood, aluminum or wrought iron patio furniture are very costly. A residential customer also gets a longer warranty of more than 15 years after buying polywood patio furniture, which is not possible with other furniture materials.
4. Highly durable
With little care and maintenance, polywood patio furniture can last a lifetime. The material does not crack, rot or fade in elements. This is a great bet for large families or households with kids and pets. The sturdy plastic can tackle well any kind of abuse including high traffic.
5. Beautiful
Recycled outdoor furniture come in variety of colors from rich earth tones to vibrant pastels. They are a great choice for brightening out your outdoor spaces without using any paint. They can also be customized into various designs and shapes that you like.
Although the recycled plastic outdoor picnic and dining tables won't provide the high-end look wood or wrought iron offers, the vibrant pastels doesn't look ordinary. Some brands comes in a wood looking appearance difficult to distinguish from the real wood.
6. Lightweight
Heavy outdoor furniture can be very difficult to move from one point to another or when storing. Recycled plastic furniture makes this a very easy task. It is easy to carry and move the furniture for easy cleaning or when you want to do a rearrangement.
Recycled plastic furniture Care and Maintenance
Polywood will not promote mold and mildew growth and this makes cleaning a pretty easy task. To maintain the beauty of your Polywood furniture, clean it regularly with soap and warm water. Use only nonabrasive soaps and cleaning material, a sponge or washcloth should be enough to remove any sticky dirt.
A soft bristled brush can be used to effectively remove dirt from any cracks and creases. A power-washer with 1500 psi or less is also great for cleaning your polywood outdoor furniture. After cleaning gently pat dry using a towel or let them air dry.
Do not place any items on furniture that will leave stains. Also, avoid placing hot items near or directly onto the plastic furniture to avoid melting. Covering your outdoor furniture or storing them in garage during winter will make them to remain looking good year round.
Final Thought
Apart from making outdoor patio furniture, the high-density plastic lumber like poly wood can also be used for other projects that can be affected by harsh weather conditions. This includes fences, decks, docks, garden beds, and playground equipment. Recycled plastic is thus a great material for outdoor upgrades.