Polywood furniture is an incredible eco-friendly initiative furniture brand that has created iconic outdoor pieces since 1990. Polywood has become increasingly popular over the decades due to the product's low maintenance, water-resistance and durability qualities.
Polywood makes high quality outdoor furniture. Polywood is made from High-Density Polyethylene (HDPE) from recycled plastic containers that would otherwise end up in landfills or the ocean. HDPE is a lightweight yet immensely strong material that withstands the outdoor elements for generations. Polywood furniture comes in numerous color options and it is extremely low maintenance.
Polywood generally makes a great outdoor furniture option for most homeowners. This outdoor furniture offers an array of different styles suited to various tastes and functions. Their staple Adirondack chair is a testament to the enduring quality and timelessness of Polywood outdoor pieces.
Let's dive into what exactly Polywood furniture is, its benefits and let's also discuss some drawbacks of Polywood furniture compared to other outdoor furniture materials.
What Is Polywood Furniture?
Polywood furniture is a proprietary product specializing in repurposed plastic furniture. The Company broke new ground in establishing recycled plastic lumber (RPL) as a go-to material for outdoor furniture. Polywood's mission for the past three decades is to repurpose plastic that would otherwise be confined to landfills and oceans.
HDPE lumber is the durable plastic material from which Polywood is fashioned. Although Polywood is a plastic product, it's a sophisticated, patented and complex formula that makes it extremely desirable for use in outdoor furniture. You will typically find HDPE plastic used in everyday items such as milk containers and deodorant canisters.
On the Polywood website, the business claims to recycle approximately 30,000 post-consumer plastic containers every hour and 400,000 plastic containers a day. HDPE is incredibly robust and possesses infinite recyclability potential.
Something else that makes Polywood unique is that it is manufactured and distributed in the United States.
How Long Does Polywood Furniture Last?
Due to Polywood's HDPE make-up, Polywood can last for a very long time. The typical life expectancy for Polywood furniture (assuming it is properly taken care of) is at least 20-30 years. This synthetic wood material can endure various climate, temperature, and weather extremes. Therefore, your Polywood outdoor furniture can hold up against persistent inclement weather, humidity and the harsh UV rays of the sun, regardless of where you reside.
Polywood furniture has undergone rigorous American Society for Testing and Materials (ASTM) standard testing and the ASTM standards have verified the high and enduring quality of Polywood.
Years of intensive testing of Polywood material have proven that its high-quality plastic toughens out the harshest elements. In addition, Polywood is also highly scratch-resistant due to its layers of reinforced coating.
Polywood is also imbued with protective chemicals, which safeguard against moisture absorption. There are also specialized resins in Polywood that further seal and harden the surface layer of the furniture. Polywood is, consequentially, incredibly moisture-resistant.
Whereas most woods are inherently susceptible to termites and other insects, Polywood is made of plastic and is incredibly insect-resistant.
Does Polywood Furniture Need to Be Treated?
If you are considering purchasing some Polywood furniture you have probably owned some wooden and/or wrought iron outdoor furniture. These make excellent materials for outdoor furniture and they both have their place depending on your needs. Something to note, however, is that both wood and wrought iron furniture will require significantly more maintenance than Polywood furniture.
Wooden furniture typically requires regular staining or painting every 2-3 years, whereas, iron furniture requires applications of rust protectant every few years.
One of the most valuable features of HPDE Polywood furniture is that no re-staining, re-painting or application of rust protectant is required. Yes, like any other piece of furniture, Polywood will require cleaning with a wipe and some water from time to time. Besides that minor inconvenience, Polywood furniture is by far the lowest maintenance piece of outdoor furniture on the market.
The Benefits Of Polywood Furniture
Polywood furniture offers a unique array of styles. One of the aspects that sets Polywood apart is that the chairs aren't made out of a solid mold. Polywood chairs are constructed piece by piece, and this workmanship illustrates the sophisticated value of the product.
Another valuable characteristic of Polywood is its low maintenance and convenience. Polywood furniture is simple to clean and requires nothing more than essential household cleaning items, like warm water, a sponge and soap.
Polywood Furniture Can Be Left Out In The Winter
Winter brings an array of issues that present a series of problems to some outdoor furniture. Freezing temperatures can cause some outdoor furniture to become brittle and crack or the metal and aluminum to expand, contract and warp.
Due to its non-porous quality, moisture doesn't seep into the surface. Therefore, bacteria, mildew, and mold won't propagate and ruin your pieces. Polywood is fashioned to sustain all seasons, and both snow and rain won't wreck your Polywood outdoor components.
You can also check out our comparison of the most water-resistant outdoor furniture materials here.
Polywood Is Resistant To UV Rays
POLYWOOD AD420BL Modern Adirondack Chair, Black
Capable of withstanding a range of environmental stressors, including sun, snow, and strong winds.
Weatherproof. Will not splinter, crack, chip, peel, or rot when exposed to the elements.
Easy to assemble. Clear instructions and marine-grade quality hardware make assembly a snap
Easy maintenance. Requires no painting, waterproofing, or staining.
A contoured seat and waterfall front increase comfort.
Polywood can sustain decades of direct sunlight exposure. The composite layers of HPDE belonging to Polywood are treated with intense UV inhibitors and stabilizers and reinforced into the material during manufacturing. 
The product is certified to withstand direct UV exposure for 75 years, and this synthetic woodlike material is safeguarded from prolonged sunlight more than any other material on the market. Polywood is also impervious to salt-laden air and humidity.
Polywood Furniture Is Extremely Fade Resistant
During the construction of the various Polywood boards, a colored dye is infused continuously throughout the process. In addition, there isn't a requirement for painting or water-proofing. HDPE is exceptionally durable, and the color treatment guarantees longevity.
Because of Polywood's material and finish, the furniture will resist fading for more than a decade without any additional treatment.
What are the Drawbacks of Polywood Furniture?
Polywood makes an excellent outdoor furniture material but like any other product, it does have its drawbacks.
Polywood Furniture Gets Hot In The Sun
During the warmer seasons, Polywood furniture does retain some heat. However, heat tends to dissipate more quickly from Polywood when compared to other plastics. The surface of your Polywood typically won't get hot enough to burn you, but for best practice avoiding leaving your Polywood furniture out in direct sunlight on a hot sunny day.
Polywood Furniture Is Expensive
Polywood furniture has a reputation for being more costly than most other materials available on the market. This characterization is not always totally fair, as many types of wooden outdoor furniture can be more expensive, however, keep in mind that Polywood is more expensive than lower tier plastics and even some wooden furniture.
Check out the table below for a comparison of different materials and their costs. Acacia wood is one of the most common woods for outdoor furniture so we used that material in the below table, however, keep in mind that Teak, Mahogany and Redwood also make excellent outdoor furniture and they are on the costlier side.
| | | | |
| --- | --- | --- | --- |
| Material | Polywood | Acacia Wood (varies by material) | Wicker |
| Adirondack Chair | $200-$250 | $129+ | $140-$200 |
| Lounge Chair | $299 | $220+ | $140+ |
| Garden Bench | $299 | $150+ | $229+ |
Polywood Furniture Is Heavy
Heavy outdoor furniture is a double-edged sword. On the one hand, you don't want your chairs to be blown around every time that a gust of wind picks up on your patio. On the otherhand, nobody want's 500 pound Adirondack chairs.
While Polywood furniture weighs no where near 500 pounds, the typical Polywood Adirondack chair will weigh nearly 40 pounds. In comparison, a typical Acacia wood Adirondack chair weighs approximately 26 pounds and a lower grade plastic Adirondack chair weighs in at around eight (8) pounds.
How Polywood Differs From Plastic
Polywood is a thermoset product created via exposure to varying degrees of vacuum, heat, and pressure. Thermoplastics have many advantages and render the product significantly superior to ordinary plastics. As Polywood is subjected to thermoforming, it's immensely strong (as strong as aluminum), weathers the impact of various forces, and resists corrosive chemicals.
Polywood is approximately 50% more dense than standard outdoor plastic material. Polywood can also sustain significantly more weight than most other materials, the typical Polywood Adirondack chair for example as a weight capacity of between 325-350 pounds.
On average, each individual Polywood chair weighs from 30 -50 lbs. These stalwart pieces require one to two people to lift and move. There isn't a need to worry about violent winds uprooting and lifting your Polywood furniture. Although a lightweight material, plastic is brittle and susceptible to the elements.
Comparing Polywood To Actual Wood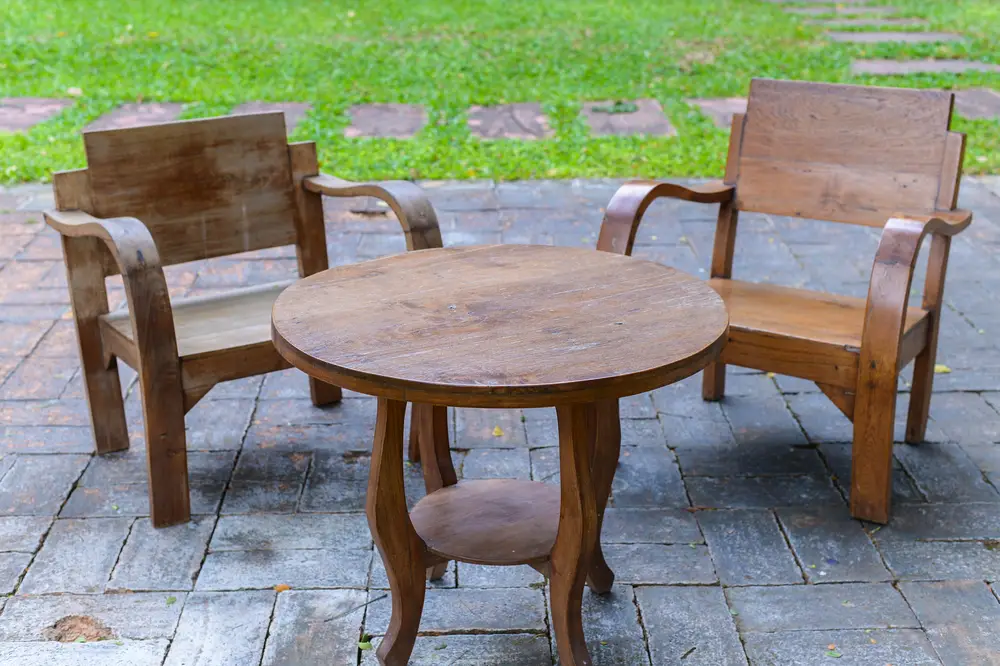 As a buyer of outdoor furniture, there are beneficial properties specific to some wood species, like disease and insect resistance, worthy of consideration. However, there are also disadvantages like warping under sunlight and various weather conditions. Buyers prefer the natural aesthetic of wood for their living arrangements.
Although there are weather-resistant wood species, like Redwood, Teak, Cedar, and White Oak, they need treatment and maintenance. The longevity of these species is determined by care and treatments that could become expensive and unrealistic to maintain. In addition, wood can fade, warp and rot.
With Polywood, there isn't a concern with maintenance, care, and longevity. This eco-friendly product withstands all elements for generations, and it possesses all the features and sensations typical of wood. Therefore, you're getting a superior product and the sought-after aesthetics of timber.
It's relevant to mention that Polywood isn't composite wood. Composite wood is fashioned with HDPE and wood pulp. The features, advantages, and disadvantages of Polywood and composite wood are significantly different. Polywood is more robust and long-lasting.
Conclusion
Polywood is an incredible eco-friendly initiative that has grown significantly over the past thirty years. Polywood makes an excellent option for most homeowners that are interested in high quality and low-maintenance outdoor furniture.
Polywood is also lightweight, strong (as aluminum) and pest, rot, disease, moisture, and weather-resistant. Polywood maintains all the appreciated aesthetics of wood while outranking also outranking wood in a lot of other considerations.
References
https://www.forbes.com/sites/jimvinoski/2022/03/30/how-polywood-turns-millions-of-pounds-of-plastic-waste-into-beautiful-outdoor-furniture/?sh=6acb5c036325
https://www.acg.org/indiana/events/acg-indiana-polywoods-company-story
https://homeguides.sfgate.com/what-is-polywood-12188955.html
https://www.houzz.com/discussions/2370451/polywood-patio-furniture
https://www.lowes.com/pl/Polywood–Patio-furniture-Outdoors/4294610451?refinement=4294684349